Prince William Thinks Meghan Markle 'Treated' Kate Middleton Unfairly When The Actress Spoke About Their Fight During Tell-All, Insider Says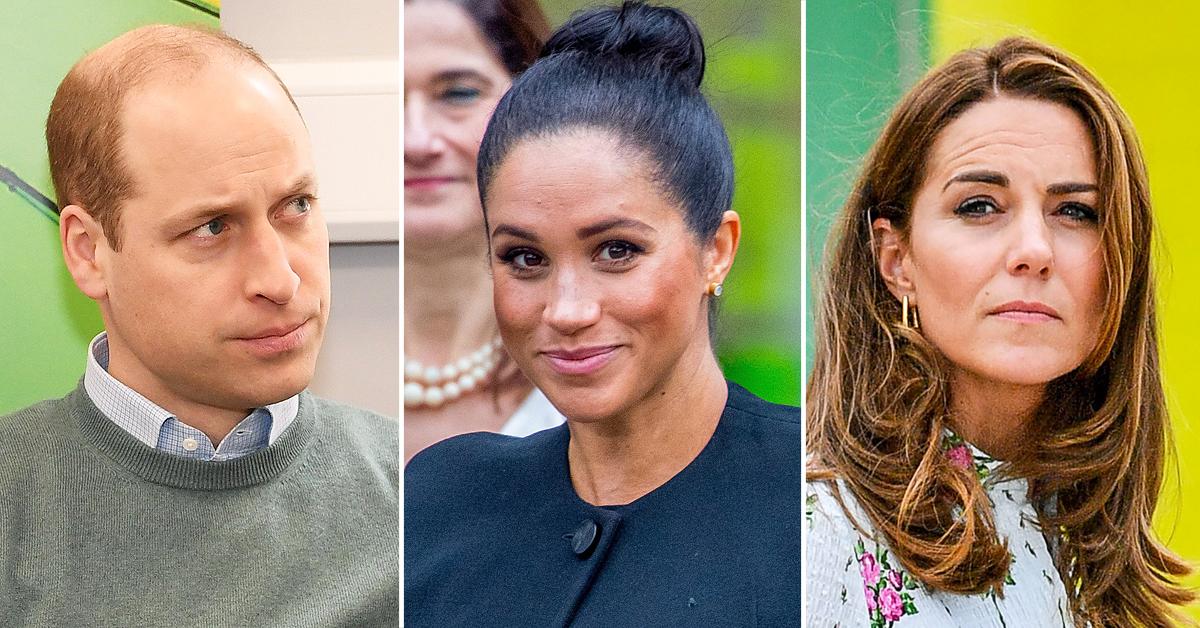 Even though Prince William and Prince Harry aren't in the best spot right now, it seems like the latter has an issue with Meghan Markle — especially after she discussed her previous fight with Kate Middleton during her tell-all with Oprah Winfrey.
Article continues below advertisement
Much has been made of the troubles between Kate and Meghan, and William and Harry – but perhaps the biggest strains now exist between William and Meghan," a source told the Daily Mail. "First and foremost, William cannot countenance the way Meghan has treated his wife. He feels Kate tried at the beginning, but it was never enough."
"Kate attempted to try and help Meghan understand the responsibilities of royal life, but her efforts were constantly misinterpreted," the insider added.
Article continues below advertisement
During Harry and Meghan's tell-all, the former actress revealed the mom-of-three made her cry before her wedding to Prince Harry.
Article continues below advertisement
"A few days before the wedding, she was upset about something pertaining — the flower girl dresses, and it made me cry and it really hurt my feelings," Meghan explained. "I thought in the context of everything leading up to the wedding, that it didn't make sense to not just be doing whatever anyone else was doing, knowing what I was going through with my dad and what not."
She added, "There wasn't a confrontation, I don't think it's fair to her to get into the details of that because she apologized and I have forgiven her. What was hard to get over was being blamed for something that not only I didn't do, that happened to me, and the people who were part of our wedding going to our comms. team and saying this didn't happen."
Article continues below advertisement
Naturally, William was upset Meghan spoke "so publicly" about his wife, the source said. "Meghan would have been acutely aware that Kate is powerless to fight back. Despite her growing confidence in public, Kate is a deeply sensitive woman who likes to stay behind-the-scenes as much as possible to support her family and the country. William thinks the way she has been treated is unfair."
Ever since Meghan and Harry started dating, William wasn't a fan of the California native.
Article continues below advertisement
"William soon began to wonder about some of Meghan's traits and motivations," another source said. "He was worried that at times she seemed to be more concerned about her personal progression or profile over the wider goals and aims of the Royal Family."
Article continues below advertisement
"But he largely kept any reservations to himself as he desperately wanted her to be happy and appreciated the huge adjustment of entering the Royal Family," the source said. "Following Megxit though, everything changed. He could no longer hide his true feelings because he felt like she had publicly attempted to disrespect his family and the Queen."
Though William and Harry were seen talking at Prince Philip's funeral on April 17, a royal expert points out that the two won't mend their relationship overnight.
"Anyone thinking that this would be resolved at a wake is sadly misguided. It's going to take more than one or two conversations, but I think this is a significant start," Katie Nicholl shared. "Let's not forget that before Harry arrived in the U.K., all conversations had basically ceased. This was the icebreaker, this was the baby step. And everyone's hope is that these conversations continue productively and not be leaked to the media. Things were not going to be resolved in one or two family meetings."