'I Wish I Hadn't Done the Whole Thing': Thomas Markle Regrets Staging A Photoshoot Before Meghan Markle's Royal Wedding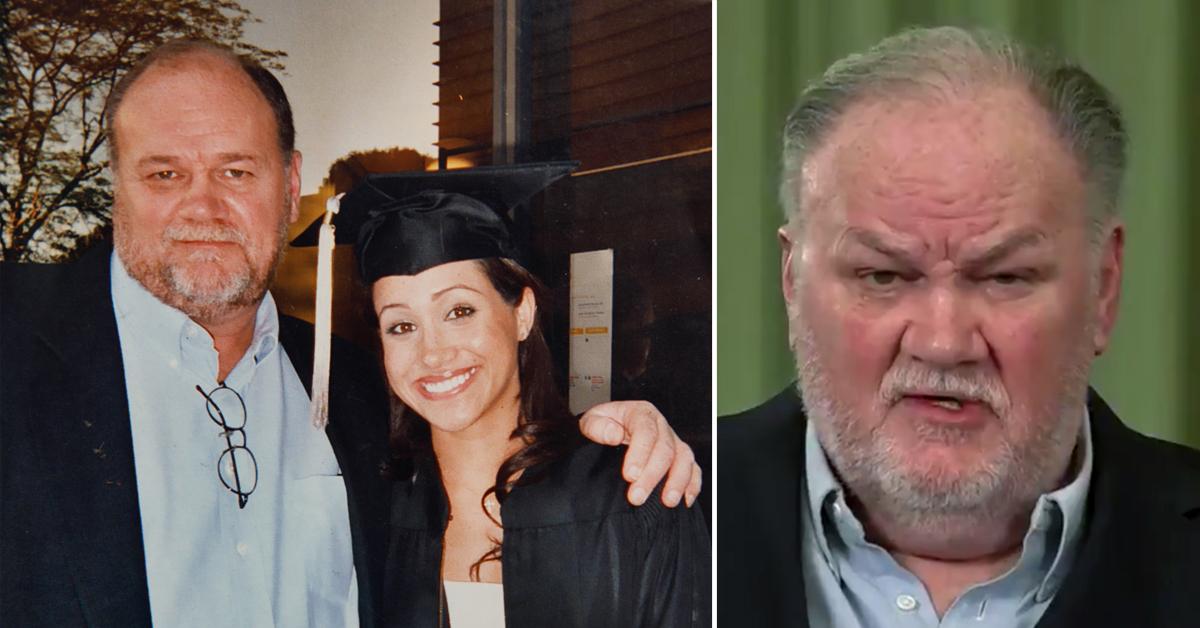 Is Thomas Markle trying to make amends to his daughter, Meghan Markle? The lighting director confessed he shouldn't have staged a photoshoot for paparazzi in Mexico ahead of his daughter's wedding in 2018.
"I wish I hadn't done the whole thing," the 76-year-old told Good Morning Britain on Tuesday, March 9. "But here's the other side ... It's like no one took any time to protect any member of our family. We were attacked by the press every day — my oldest daughter, my son, myself, my grandchildren — all of us were attacked by the press. Nobody was there to care for us. No one looked after us."
Article continues below advertisement
"My oldest daughter was contacted by a man named Jeff Rayner who was a photographer, who said, 'If you can convince your dad, we can make him look good,'" Thomas explained. "For an entire year, outside my house, somebody was taking photographs of me. I couldn't go anywhere or do anything without being photographed buying something, coming out of a store."
"And god forbid I'm buying beer for the guys at the guard gate … everybody knows I don't drink. But I bought beers for the guys at my guard gate," he continued. "They [the press] were making me an alcoholic, calling me names, talking about the way I dress. So, I, yes, I went for this deal where this man was going to make me look better. Maybe I got sucked into it, but I believed him, and I thought it was going to work. It didn't work. Of course."
Article continues below advertisement
Despite messing up his relationship with his daughter, Thomas added that he "would love to hear" from the pair. "In spite of all that, I still apologize. I'm apologizing today again," he said.
Meanwhile, while speaking with Oprah Winfrey, Meghan noted that ever since her dad started working with the press, she doesn't think they will be able to repair their bond.
The breaking point came when Thomas lied to her and claimed he didn't talk to the press about his involvement in her wedding, even though he did.
"If we're going to use the word betrayal, it's because when we were told by the comms. team that this was going to be a story coming out – the tabloids had apparently known for a month or so and decided to hold until the Sunday before our wedding to create drama, which is also really key in all of this," she explained.
Article continues below advertisement
"We called my dad and I asked him and he said, 'No, absolutely not [I didn't talk to the tabloids],'" Meghan shared. "I said, 'You know, the institution has never intervened for anything for us but they can try to go in and kill this story, but if they do this once, we're not going to be able to use this leverage to protect our own kids one day.' I said, 'I just need you to tell me the truth and we can help.' And he wasn't able to do that."
Article continues below advertisement
"That, for me, has really resonated, especially now as a mother," she concluded. "I look at Archie and think about this child and I go, 'I genuinely can't imagine doing anything to intentionally cause pain to my child; I can't imagine it.' So, it's hard for me to reconcile that."
At the end of the day, Thomas — who wasn't aware that Meghan had suicidal thoughts when she was part of the royal family — has "apologized" for the incident "many times."
"However, I love my daughter very much," he noted. "Had I known she was having psychological problems, I would have been there for her. Biggest problem here is she's pretty much ghosted all of her family on her mother's side and on my side. She really had no one to reach out to. She would have had us if she kept us."
Article continues below advertisement
Thomas and his daughter haven't been in touch ever since he recovered from heart surgery in 2018. "At that point we pretty much said goodbye," he said. "The bottom line is, she didn't lose me. She made a statement saying she lost me. She didn't lose me. I would have always been there for her. I'm there for her now if she wants me."
He concluded, "I'd like to say again, I'm sorry for what I've done. This was two years ago. This was a long time ago and I've certainly tried to make up for it. The stories in the paper, each time are because I haven't heard from you. They know where I live, now we're closer together, they're probably about 70 miles from me now. So, I'm available any time that we can get together. I'd love to get together. I'd certainly like to see my grandson."