Meghan Markle Formally Complained To ITV About Piers Morgan's Comments 'Out Of Concern For Others Dealing With Their Own Mental Health': Report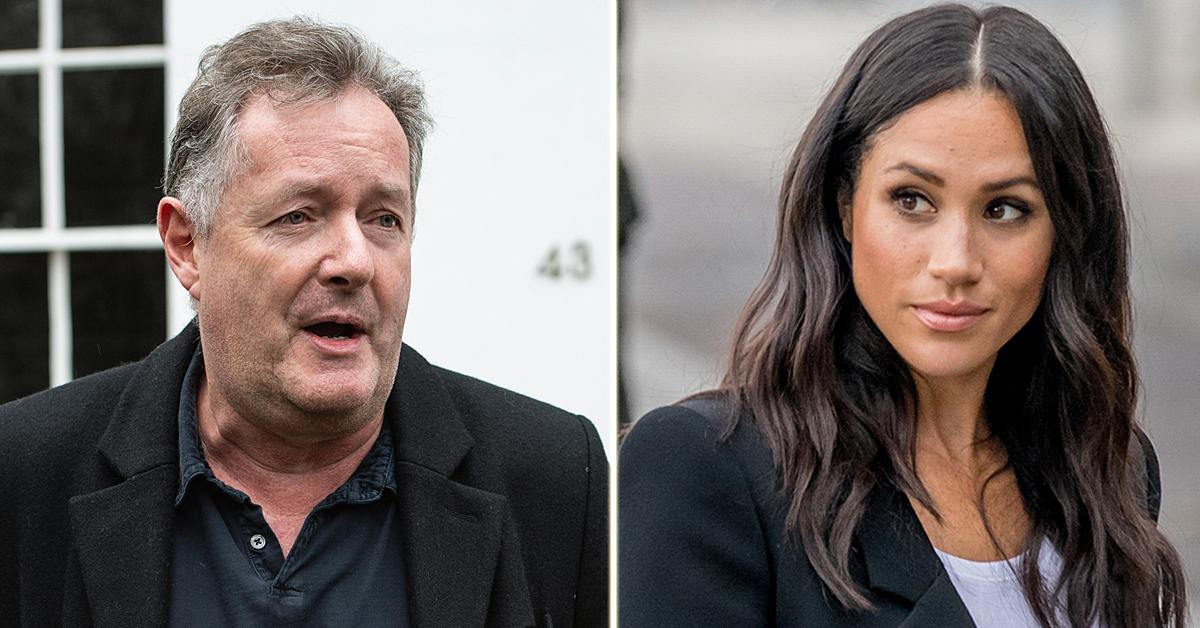 Meghan Markle formally complained to ITV after Piers Morgan stated he didn't believe she had suicidal thoughts, the Daily Mail reported on Wednesday, March 10.
Article continues below advertisement
According to the outlet, Meghan "wrote to ITV's boss to complain about Piers Morgan hours before the Good Morning Britain co-host quit on the day the show scored its highest ever ratings and beat BBC Breakfast."
The 39-year-old was reportedly not upset that Morgan "didn't believe a word she said" while speaking with Oprah Winfrey, but was nervous that his remarks could affect "others dealing with their own mental health," an insider said.
ITV, Prince Harry and Archewell Foundation wouldn't comment on the complaint, but none of them denied it was made.
On Monday, March 8, Morgan made some harsh comments about the Duchess after she was candid about not wanting to be alive anymore. "Who did you go to? What did they say to you? I'm sorry, I don't believe a word she said, Meghan Markle," he said. "I wouldn't believe it if she read me a weather report."
As a result, U.K. media regulator Ofcom said they received over 41,000 complaints and launched an investigation under its "harm and offense rules."
Article continues below advertisement
The next day, Morgan's coworker Alex Beresford called him out for bashing Meghan. "I understand that you don't like Meghan Markle. You've made it so clear, a number of times on this program. A number of times," noted Beresford. "And I understand that you've got a personal relationship with Meghan Markle and she cut you off, she's entitled to cut you off, if she wants to. Has she said anything about you since she cut you off? I don't think she has. But yet you continue to trash her."
Article continues below advertisement
Morgan stormed off but eventually came back to set and set the record straight about his beliefs on mental health. "I still don't believe what Meghan Markle says generally in this interview and I have serious concerns about the veracity of a lot of what she said," he shared. "But let me just state my position on mental illness and on suicide."
"On mental illness and suicide, these are clearly extremely serious things and should be taken extremely seriously, and if someone is feeling that way they should get the treatment and the help that they need every time. Every time," he added. "And if they belong to an institution like the royal family, they should seek that help and be given it. It's not for me to question if she felt suicidal; I am not in her mind and that is for her to say."
Shortly after, ITV revealed Morgan had quit the show. "Following discussions with ITV, Piers Morgan has decided now is the time to leave Good Morning Britain. ITV has accepted this decision and has nothing further to add," the network said.
Article continues below advertisement
On March 10, Morgan stood by his comments about Meghan, writing on Twitter: "On Monday, I said I didn't believe Meghan Markle in her Oprah interview. I've had time to reflect on this opinion, and I still don't. If you did, OK. Freedom of speech is a hill I'm happy to die on."
Article continues below advertisement
"I don't believe almost anything that comes out of her mouth and I think the damage she's done to the British monarchy and to the Queen at a time when Prince Philip is lying in hospital is enormous and frankly contemptible," he said outside his home. "If I have to fall on my sword for expressing an honestly-held opinion about Meghan Markle and that diatribe of bilge that she came out within that interview, so be it. I think it's fair to say, although the woke crowd will think that they've canceled me, I think they will be rather disappointed when I re-emerge."