Prince Philip's Funeral Watched By 13.6 Million People While Meghan Markle & Prince Harry's Tell-All Brought In 13.1 Million Viewers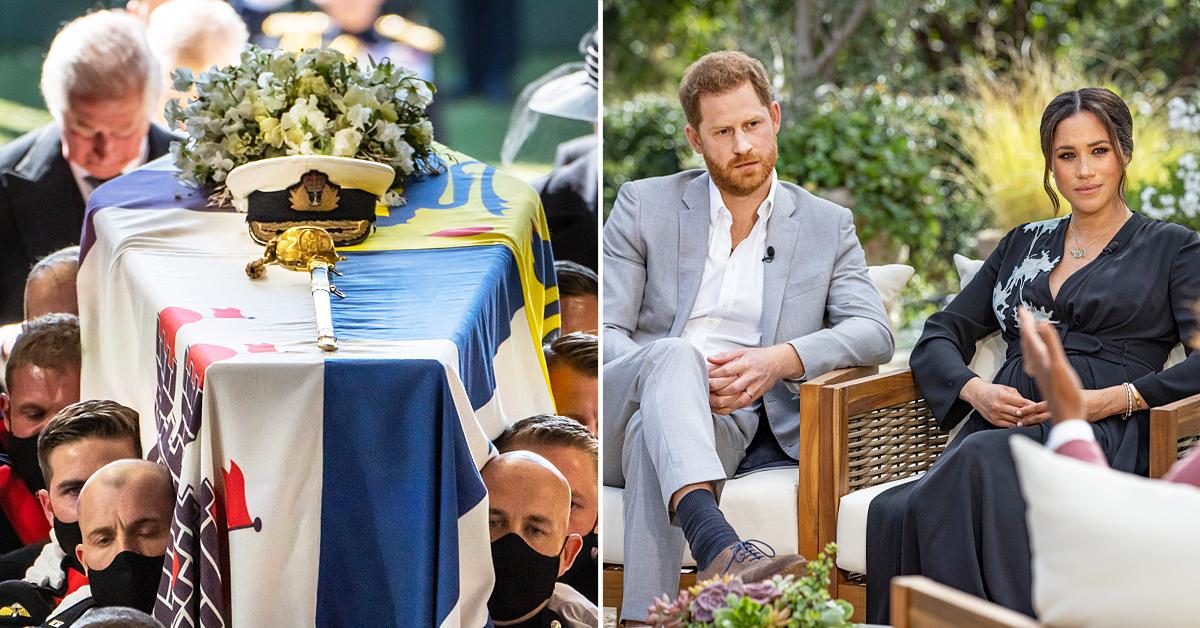 The royal family said goodbye to Prince Philip on Saturday, April 17, and even though COVID-19 restrictions were eased in England, 13.6 million viewers still tuned into the event.
Article continues below advertisement
The event was covered by the BBC (11 million of the viewers), ITV (2.1 million viewers) and Sky (450,000 viewers).
Meanwhile, Meghan Markle and Prince Harry's tell-all, which aired on CBS on March 7, only had 13.1 people tuning in.
Harry, 36, arrived in the U.K. on April 12 — the first time since he left the royal family in 2020. While chatting with Oprah Winfrey, he and Meghan discussed why they had to uproot their lives since they never felt supported by the brood.
Article continues below advertisement
Article continues below advertisement
"I love William to bits. He's my brother. We've been through hell together. But we are on different paths," he said about his sibling. "The relationship is space. Time heals all things, hopefully."
"There is a lot to work through there," Harry said about his father. "I feel really let down, because he's been through something similar. He knows what pain feels like. I will always love him, but there is a lot of hurt that's happened. I will continue to make it one of my priorities to try to heal that relationship. But they only know what they know."
Article continues below advertisement
Since this was Harry's first time in the U.K. since he dropped many bombshells on television, people were curious if he would mend things with his father and brother. Harry and William didn't walk next to each other when trailing Philip's coffin, but they were seen chatting outside the chapel following the service.
"They were talking. They were possibly overcome by emotion. They were talking — and that's got to be a very good sign. Let's hope that they sort their recent troubles out because the Queen needs them both," commentator Eve Pollard said about the pivotal moment.