Prince Charles 'Not Wanting To Give Prince Edward' The Title Of Duke Of Edinburgh 'Has Caused A Stir At The Palace,' Source Claims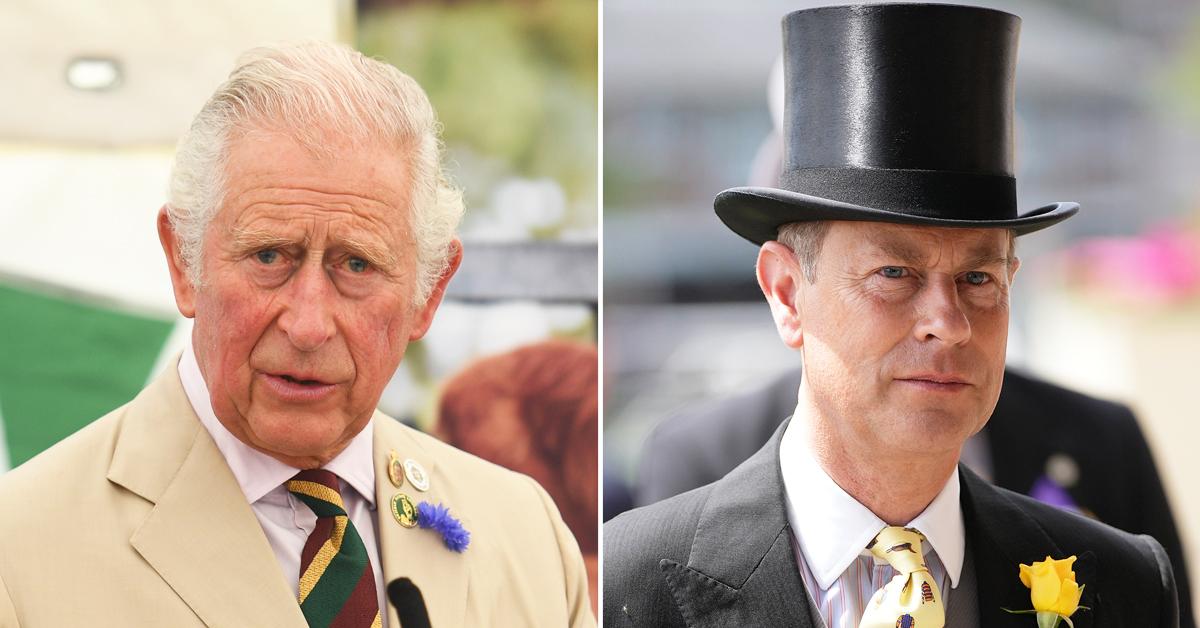 Is a war between the royals brewing? It sure looks like it. Since Prince Charles may not give his younger brother Prince Edward the title of the Duke of Edinburgh, the latter is "fuming," a source told In Touch.
Article continues below advertisement
"To be honest, Prince Charles not wanting to give Prince Edward [the title] when he becomes king has caused a stir at the Palace," the insider claimed.
Prince Philip inherited the title in 1947, and after he died in April, Charles, 72, got the title.
Article continues below advertisement
In 1999, before Edward, 57, married Sophie Rhys-Jones, it was announced he would get the title. "The Queen, The Duke of Edinburgh and the Prince of Wales have also agreed that the Prince Edward should be given the Dukedom of Edinburgh in due course, when the present title now held by the Prince Philip eventually reverts to the Crown," Buckingham Palace said at the time.
Article continues below advertisement
"Prince Edward firmly believes that Prince Charles has no right to take the title away from him," the insider added.
"What's even more upsetting for Prince Edward is that his beloved dad, Prince Philip, promised him that he'd inherit the title shortly before he passed," the source continued. "It's what Prince Philip wanted, but now that he's no longer around to have a say or step in, Prince Charles is taking it upon himself to potentially deny him of the privilege."
"To say that Prince Edward is appalled is an understatement," the insider claimed, adding that Queen Elizabeth and Prince Philip's youngest child "feels frozen out by Charles."
Article continues below advertisement
However, a spokesperson for Charles said that nothing has been decided yet.
"All stories of this nature are speculation and no final decisions have been taken. It would be inappropriate and disrespectful to the Queen to comment on matters of accession and we will be maintaining our long-standing policy of not doing so," they said.
"It's a very bittersweet role to take on because the only way the title can come to me is after both my parents have actually passed away," Edward previously said. "It has to go back to the Crown first. My father was very keen that the title should continue, but he didn't quite move quickly enough with Andrew, so it was us who he eventually had the conversation with. It was a lovely idea; a lovely thought."