Piers Morgan Calls Prince Harry A 'Spineless Whiny Cry Baby Who Blames His Family For All His Supposed Woes' After Podcast Interview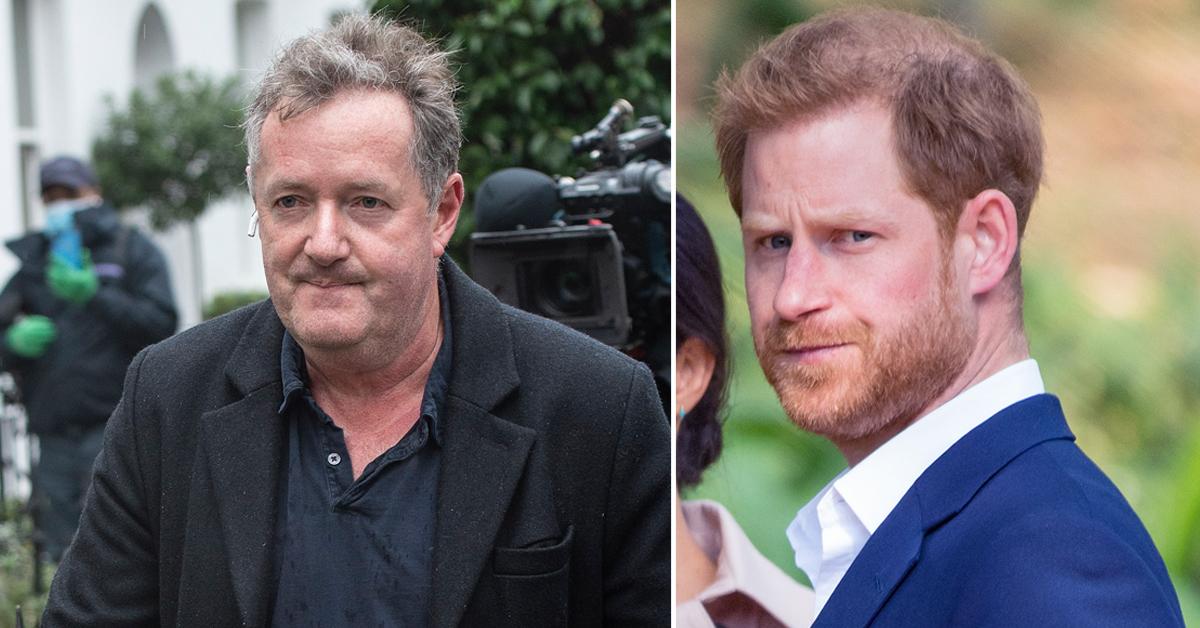 Called out ... again. Prince Harry shared new details about his life while talking to Dax Shepard last week, and it's safe to say that Piers Morgan is livid with the dad-of-one's comments.
Article continues below advertisement
"And Harry's spent the past few weeks publicly trashing his family on any media outlet that will have him," Morgan wrote in a column for the Daily Mail. "I didn't think the world's most spoiled brats could plunge any lower than their two-hour Oprah whine-athon in which they branded the royals a bunch of horrible uncaring racists without producing a shred of evidence to support their claims, and bitterly attacked the institution of the Monarchy whilst continuing to trade off their royal titles to the tune of hundreds of millions of dollars."
Article continues below advertisement
He continued, "But Harry's new orgy of unsavoury self-indulgent podcast tripe on was even worse. The Prince of Compassion used his latest interview (he gives a lot of interviews for a guy who quit Britain to safeguard his privacy, doesn't he?) to launch an astonishing rant about the terrible 'genetic pain' he claims to have suffered at the hands of his awful father, and then said that Prince Charles has only been such a bad parent because he himself had been treated just as badly by HIS parents, the Queen and Prince Philip."
Article continues below advertisement
While chatting with Shepard, Harry said: "There's no blame. I don't think we should be pointing the finger or blaming anybody," the dad-of-one told Shepard. "But certainly when it comes to parenting, if I've experienced some form of pain or suffering because of the pain or suffering that perhaps my father or my parents had suffered, I'm going to make sure that I break that cycle so that I don't pass it on."
Despite being open and honest, Morgan wasn't pleased that Harry would throw his family under the bus. "Harry's gone from being a courageous war hero to a spineless whiny cry baby who blames his family for all his supposed woes and who like his wife, shamelessly and cynically weaponises issues like mental health and racism to silence critics. Neither he nor Meghan shows an ounce of the compassion they love to preach about to those closest to them," the TV journalist wrote.
Article continues below advertisement
"Nor do they seem to appreciate just how chronically unself-aware they sound constantly bleating about their poor oppressed lives from the comfort of their $11 million Californian mansion, while much of the world reels from a deadly pandemic," he added. "Harry has lost his country, his dignity and now seems to be losing his mind too as he condemns everything from his grieving grandmother to free speech. It's time His Royal Hypocrite stopped abusing his family, stopped moaning about everything all the bloody time, stopped exploiting his royal titles for huge financial gain, stopped trashing America's constitution — and grew a pair."