Piers Morgan Calls Meghan Markle A 'Cynical Disingenuous Manipulator' After Writing Children's Book About 'Father-Son Relationships'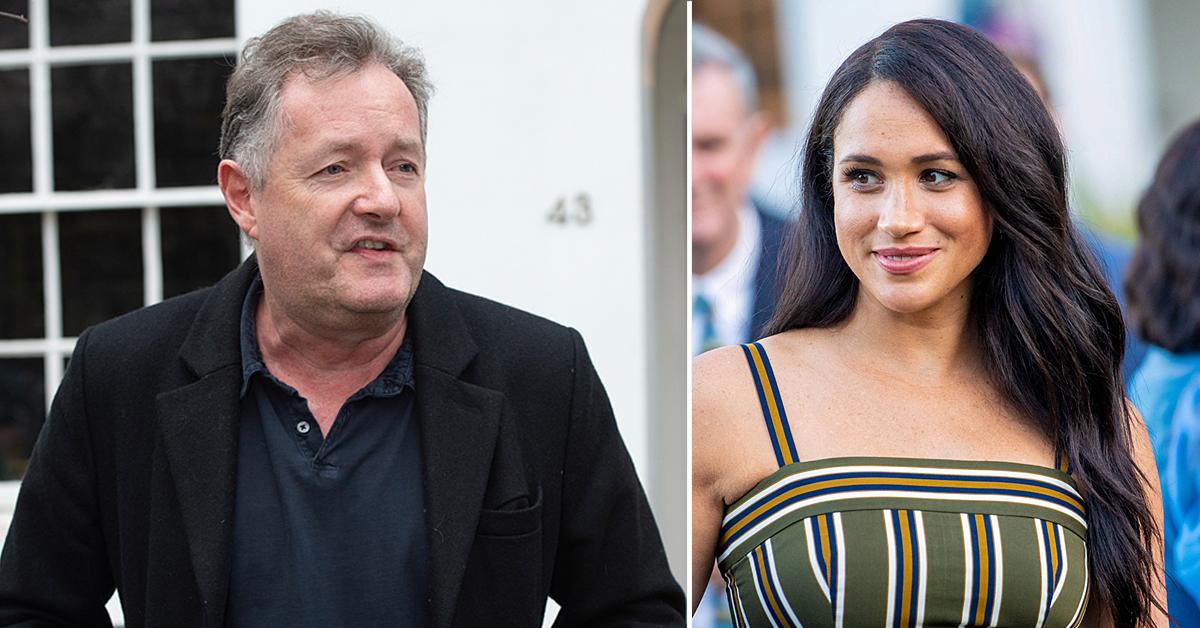 Another day, another Piers Morgan rant. This time around, the TV personality called out Meghan Markle's new children's book, which talks about the bond between a father and son — even though she is on rocky terms with her father, Thomas Markle.
Article continues below advertisement
"Lest we forget, Ms Markle has ruthlessly disowned her father Thomas and refuses to have anything to do with him despite the fact they now live just 70 miles from each other," he wrote for his column in the Daily Mail. "She is also reported to have disowned every other Markle, none of whom were invited to her wedding."
He continued, "She also spray-gunned Thomas in her lie-packed Oprah whine-a-thon in a manner that was more 'ice, rage and irritation' than 'warmth, joy and comfort.' As for Harry, he trashed his father, Prince Charles, in the same interview, moaning about how Daddy had stopped taking his calls or giving him cash, sounding like some needy spoiled brat teenager rather than a 36-year-old multi-millionaire doormat who ditched his family, country and duty because his chillingly controlling and ambitious wife wanted him to. And unforgivably, he did this as Charles was desperately worried about HIS father, Prince Philip, who was lying seriously ill in hospital and later died."
Article continues below advertisement
The British journalist ultimately said Meghan should not "dishing out advice to anyone about the relationship between fathers and children is absolutely ridiculous given the appalling relationships she and her husband have with their own fathers."
Article continues below advertisement
"This new book about father-children relationships is just another example of Meghan Markle's never-ending penchant for preaching what she never practices," he said.
"And THE truth is that she's a cynical disingenuous manipulator intent on wrecking the Royal Family's image around the world with her shameless, shameful, money-grabbing victim-playing antics, and dragging her hapless husband along for the ride," Morgan said.
Article continues below advertisement
"If she really cared about father-child relationships, she'd take a chauffeur-driven limousine on the hour-long trip to see her own father who's never even met either Harry or Archie," he fumed. "And if she really cared about father-child relationships, she would never have trashed Harry's family on global TV in the horrible way that she did, causing yet more damage, possibly irreparably, to Harry's relationship with his father. But then as we've seen from her gruesomely self-interested behavior during a pandemic that's caused so much devastation and pain to billions around the world, Meghan Markle doesn't really care about anyone but herself."
Article continues below advertisement
Morgan previously bashed the former actress, 39, on Good Morning Britain, but his remarks got him fired.
Now, people on Twitter are sick of hearing Morgan talk about Meghan. One person wrote, "Can we have a universal 'Block Piers Morgan Day'?? I will start," while another echoed, "Anyone else noticed that the only thing keeping Piers Morgan relevant is his unhinged obsession with Meghan and his insatiable desire in whipping up hatred toward her? It's beyond creepy now. Makes me really uncomfortable."