Meghan Markle's Friend Janina Gavankar Claims Royal 'Family & Staff Knew' About Her Struggles, Says 'There Are Many Emails And Texts To Support That'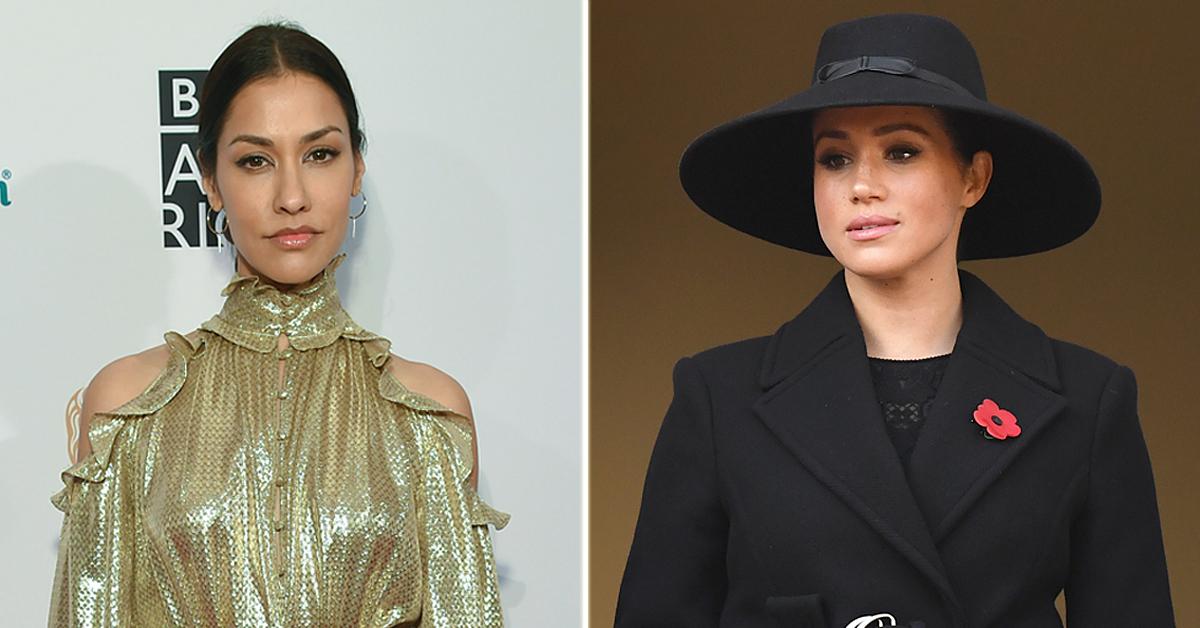 Setting the record straight! Meghan Markle's friend Janina Gavankar claimed the royal family was well aware that the Duchess was having a hard time behind closed doors.
"You know, after reading this short statement that came out from Buckingham Palace today I thought two things. At one side, I thought, I'm so thankful that they are finally acknowledging the experience, but on the other side, I know that the family and staff were well aware of the extent of it and, though their 'recollections may vary,' ours don't because we lived through it with them. And there are many emails and texts to support that," she said on ITV's This Morning on Wednesday, March 10 — one day after Queen Elizabeth II said the comments the couple made on TV were "concerning."
Article continues below advertisement
During the chat, one of the interviewers asked: "Are you saying that the whole family and the whole staff knew that there was a woman within the palace walls who was deeply struggling?"
"I don't know who knew," she said, adding, "I know that the family and the staff knew."
Article continues below advertisement
The True Blood alum, 40, added that Meghan — who revealed a member of the royal family was "concerned" over Archie's skin color — "spoke" to her about the racism claims.
"She told me what you now know," Gavankar said.
Gavankar even revealed she "watched the special" with the Suits star, adding that she is excited Meghan got to clear the air about her life now.
"We're all happy that we're in a new era," Gavankar noted. "You know, we get to tell the truth. Things are different now, yes. But I will say, I don't speak for them. I speak for myself."
Article continues below advertisement
Article continues below advertisement
Following Meghan and Prince Harry's bombshell interview, Buckingham Palace responded to the allegations. "The whole family is saddened to learn the full extent of how challenging the last few years have been for Harry and Meghan," the statement began. "The issues raised, particularly that of race, are concerning. While some recollection may vary, they are taken very seriously and will be addressed by the family privately. Harry, Meghan and Archie will always be much loved family members."
Ahead of the tell-all, former palace aides came forward and claimed Meghan had bullied them when she lived at Kensington Palace. The actress' team clapped back and dismissed the accusations, and many of her friends defended her.
"What do you say to the accusations about her bullying people?" Gavankar was asked during the interview.
"Well, I have known her for 17 years and I have seen the way she regards the people around her and the people she works with, and I can say she's not a bully," Gavankar replied. "But I can also say that I am personally glad that people are doing their due diligence because I also know why someone had to leave. And it was for gross misconduct. And the truth will come out: There's plenty of emails and texts about that."
Article continues below advertisement
She added, "I'm not going to get into the details of it. I don't feel like that's my place. But also, I'm just happy that it's actually getting looked into because the truth really does set you free."