Revealed: Princess Anne Was The Royal Whom Meghan Markle Claimed Questioned Baby Archie's Skin Color, Lady Colin Campbell Claims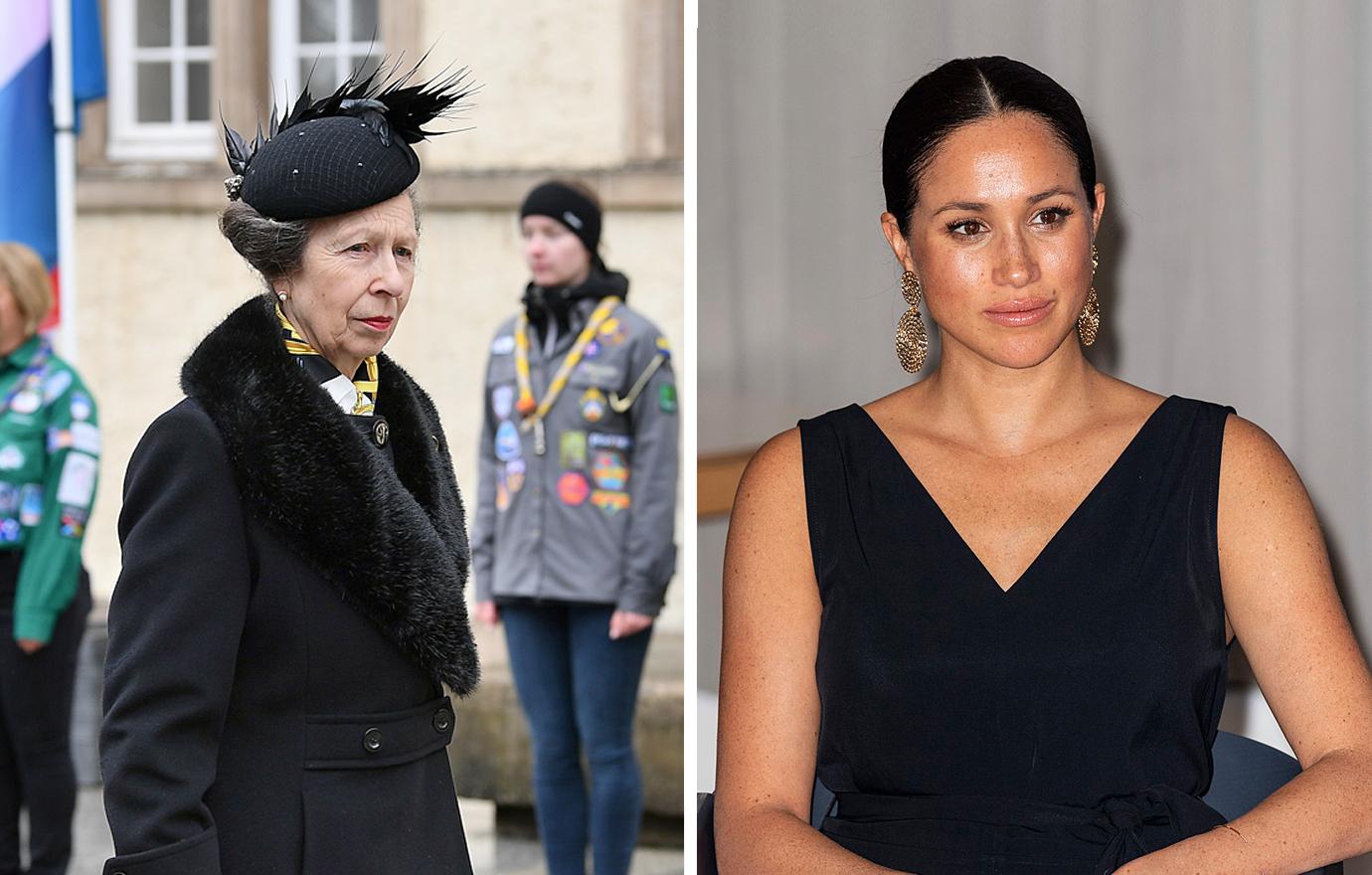 Has the truth finally come out? Princess Anne is apparently the royal whom Meghan Markle claimed questioned her son Archie's skin, Lady Colin Campbell claimed. However, she claimed the incident was a big misunderstanding.
Article continues below advertisement
"I have spoken to this family friend and we have both decided that the most judicious thing is that I relieve who the person is," Campbell, who married and then divorced Lord Colin Ivar Campbell, said in a new YouTube video called "Lady C REVEALS the Royal Meghan and Harry wouldn't name + why Prince Albert intervened," which was released on Tuesday, March 30. "The fact of the matter is the person said nothing about Meghan's complexion, nothing about the color of her skin, nothing about her race, nothing about the color of the baby's skin and future baby because this was a warning issued by a concerned member of the family."
Article continues below advertisement
She continued, "Meghan was lying and Harry was speaking the truth when he said that the conversation heavily spun by Meghan incidentally, and to an extent him, because she has managed to convince him that any criticism of her is based upon race, and he's so dumb that he's actually swallowed that lie."
Princess Anne "objected" Meghan's relationship with Harry from the start, Campbell claimed, and the 70-year-old "objected to the fact that Meghan was a fragrant operator."
Article continues below advertisement
"She could see her coming a mile off. She thought there was something bizarre about Meghan. Some of those are my words, some are not, some are Princess Anne's words, I gather," Campbell stated. "It just turned the Princess off."
Article continues below advertisement
Anne also "objected to the fact that Meghan was superficial and so culturally ignorant," Campbell continued. "She made her feeling very clear and she said she did not think Harry should marry Meghan Markle. She thought that everyone going along with it was making a great mistake because she was going to turn out nothing but trouble."
"There were no concerns about Meghan's color, Princess Anne was rightly concerned that if the marriage proceeded and there were children there would be huge problems, not because of Meghan's color, but because of Meghan's inability and determination to remain unable to appreciate the cultural differences and to actually have respect for the institution in to which she was marrying, and the family in which she was marrying."
Article continues below advertisement
During the tell-all, Meghan claimed someone in the royal family had "concerns" over Archie's skin color. Following the chat, Oprah Winfrey revealed Prince Philip and Queen Elizabeth were not in on those conversations.
Article continues below advertisement
The 94-year-old monarch replied to the accusations a few days later.
"The following statement is issued by Buckingham Palace on behalf of Her Majesty the Queen," the statement, which was shared on social media on Tuesday, March 9, began.
"The whole family is saddened to learn the full extent of how challenging the last few years have been for Meghan and Harry. The issues raised, particularly that of race, are concerning. Whilst some recollections may vary, they are taken very seriously and will be addressed by the family privately. Harry, Meghan and Archie will always be much loved family members."