Prince William & Kate Middleton's Kids 'Surprised' Queen Elizabeth & Prince Philip 'With Personalized Easter Eggs, Which They Made & Decorated Themselves'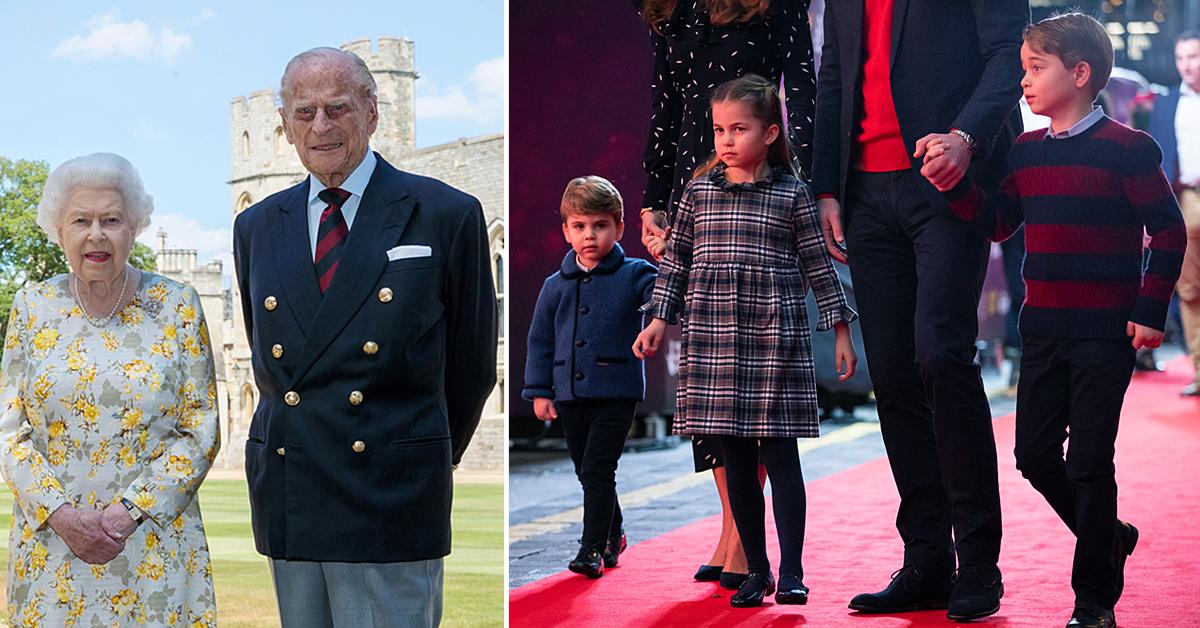 A holiday treat! Kate Middleton and Prince William's three kids, Prince George, 7, Princess Charlotte, 5, and Prince Louis, 2, "surprise[d]" their great-grandparents, Queen Elizabeth and Prince Philip, "with personalized Easter eggs, which they made and decorated themselves," a source told Us Weekly about how the royal family celebrated the fun holiday on Sunday, April 4.
Article continues below advertisement
Additionally, the couple held an Easter egg hunt for their tots, while Kate, 39, helped them bake "a delicious chocolate cake covered in mini Cadbury eggs."
"They don't allow George, Charlotte and Louis to have chocolate and sweets every day, so it was a real treat," the insider shared.
Article continues below advertisement
George and Charlotte are currently off from school at the moment, so the mom-of-three "has been busy keeping them entertained."
"They enjoy family bike rides, playing tennis and George and Charlotte are taking horse riding lessons. Charlotte is obsessed with horses, just like her great-grandmother. It's her favorite activity," the source explained.
Article continues below advertisement
Louis is eager "to learn too," but his parents are waiting since they feel he is "a little too young."
During Meghan Markle and Prince Harry's tell-all interview, the former explained that Kate made her cry before her wedding in 2018.
Article continues below advertisement
"A few days before the wedding she was upset about flower girl dresses and it made me cry. It really hurt my feelings," the Suits star said. "It was a really hard week of the wedding. And she was upset about something, but she owned it, and she apologized. And she brought me flowers and a note, apologizing. And she did what I would do if I knew that I hurt someone, right, to just take accountability for it."
Article continues below advertisement
Now, it seems the two women haven't communicated since Meghan aired out their dirty laundry on television.
"Kate's biggest fear is the Meghan will reveal the contents of anything she says. There is no trust after what Meghan did. It is clear that Meghan shares private conversations with reporters and TV personalities, which makes it very hard to move forward. Kate would pick up the phone in a second if she thought it would help, but having another private call leaked to the press isn't going to help anyone," an insider exclusively told The Royal Observer.
Article continues below advertisement
"The children always brighten up her day, and she always says that when she goes through a difficult time, having her family there always helps. She feels so blessed to have her kids and a loving family. George and Charlotte are back at school, but she's been spending her evenings with them," the source explained of their close bond.