Prince William & Kate Middleton Get Sporty During Final Day In Scotland — Watch Their Fun Tennis Match!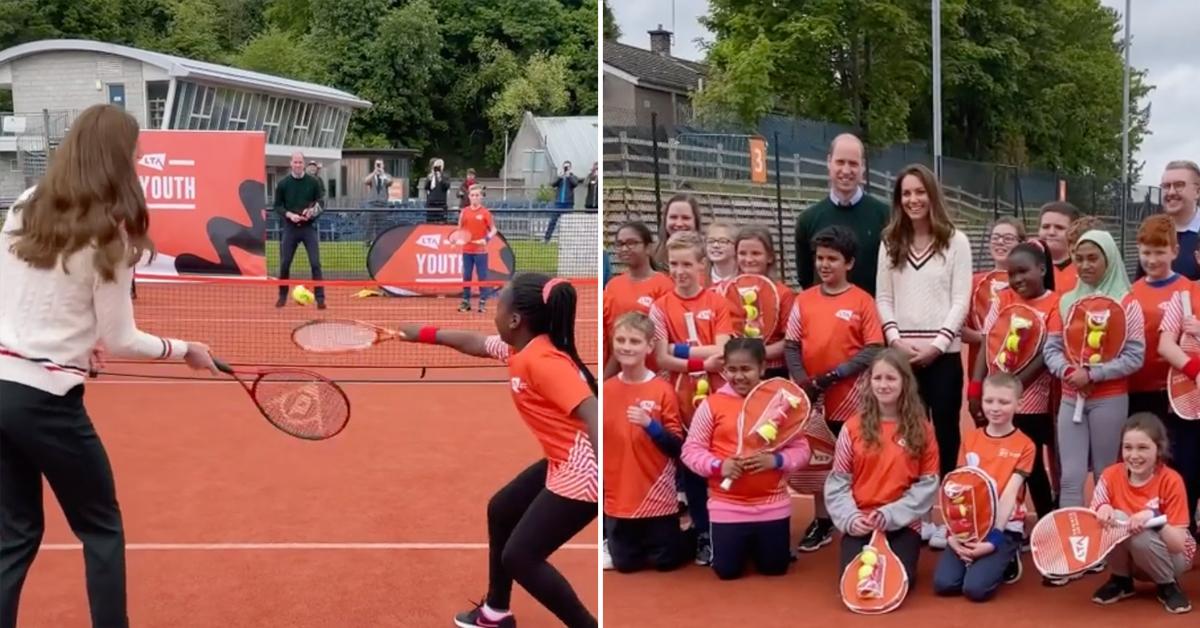 Prince William and Kate Middleton aren't afraid to show off their athletic skills! In fact, the couple faced off while playing tennis with kids on their final day in Scotland.
Article continues below advertisement
"Team Duchess Vs Team Duke 🎾," Kate and William's official Instagram account captioned a video of the pair on the court. "Thanks to the @LTA's youth programme, tennis around the UK is being made accessible to as many children as possible."
Article continues below advertisement
"Through its inclusivity approach, children are able to enjoy the benefits of playing and staying in tennis, whatever their age, gender, ability, disability, or background," the message continued. "The LTA has done incredibly well to create environments that allow kids and parents to have fun whilst learning, with now over 685,000 members playing on more than 23,000 courts. (P.S. Team Duke was the clear winner 😎)."
In the clip, the mom-of-three — who wore a white sweater with dark pants and white sneakers — was seen on one side of the net, while her husband, who wore a green sweater and pants, was teamed up with a little boy.
Article continues below advertisement
In the end, William was victorious — and even did a little dance to celebrate. Despite losing, Kate couldn't stop smiling as she chatted with some of the kids and took a picture with them.
Article continues below advertisement
Of course, people loved seeing the duo out and about. One person wrote, "Pure motherly love pours from Her Highness's eyes every time she looks at a child. She is an actual angel 😍," while another added, "I love seeing William and Catherine getting involved in the activities and having fun! ❤️ Also, love William's mini dance when it was announced his team won 😂."
A third user added, "I enjoy watching this lovely couple and all the wonderful things they are doing from the USA. Tgey are a breath of fresh air! They bring laughs and joy whereever they go."
Article continues below advertisement
The day before, Kate and William had a busy day — they first went land yachting and then visited their alma mater, St Andrew's. Later on, they hosted an early screening of Disney's new movie Cruella, as they wanted to honor National Healthcare workers, who worked hard this past year.