Inside King Edward VIII & Wallis Simpson's Love Affair That Shocked The World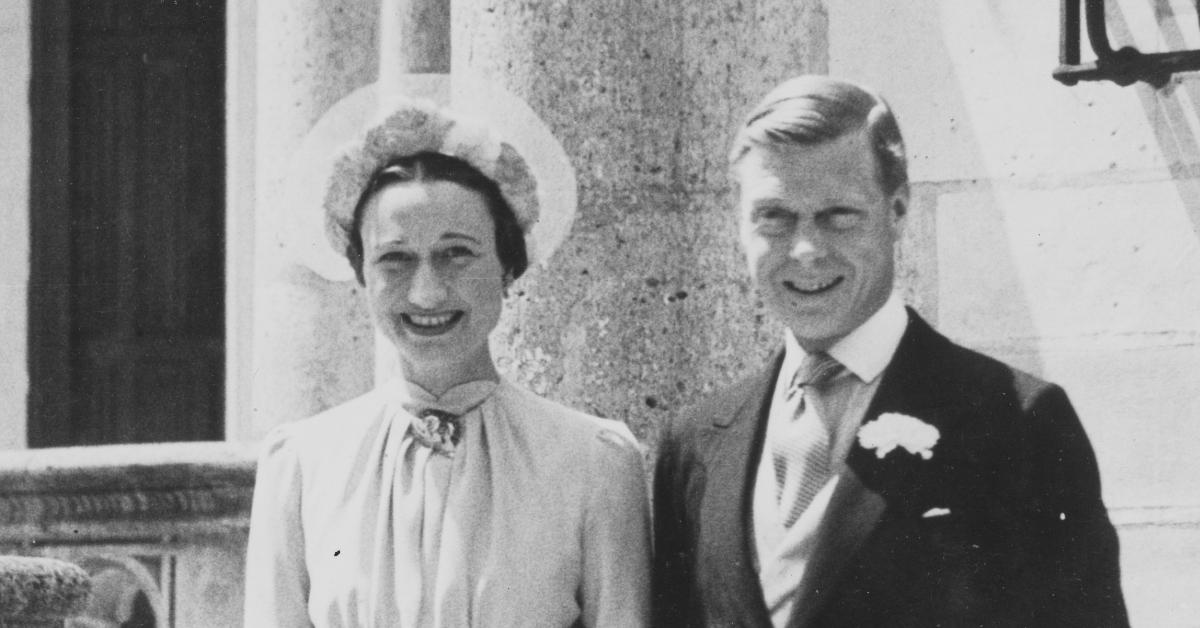 When King Edward VIII abdicated his throne so he could wed American divorcee Wallis Simpson, it was a scandal so huge, it almost brought down the British monarchy.
Article continues below advertisement
The shock waves were heard around the world. And while the shameless Duke and Duchess of Windsor tried to pass themselves off as a romantic, glamorous couple, they hid a string of sordid secrets, including: Wallis once worked as a hooker, Edward had a gay affair within a wealthy American man and the treacherous Duke and Duchess spied for Nazi Germany.
Wallis' transformation from sweet country girl born in Blue Ridge Summit, Penn., to one of the most infamous women in history was dramatic.
Article continues below advertisement
"She had the King in the palm of her hand," said royal author Christopher Wilson, who examined the Windsors' lives in Dancing with the Devil. "It's still hard to believe that this slip of a woman could wreak so much havoc and stir up so much hatred among the royal family — especially when you consider she came from nowhere."
Article continues below advertisement
"Her only known talent was the art of seduction, but she made powerful men go weak at the knees."
Born in 1986 to a well-off family, Wallis' father died when she was young. After that, life was a struggle.
At 20, Wallis wed Navy pilot Earl Spencer, who took her with him to his post in China. But soon he turned to boozing, and she reportedly had flings with British and Russian military officers.
In 1927, at age 31, she divorced Spencer, but stayed on in Hong Kong. To make ends meet, she worked in nightclubs and even as a prostitute in the brothels of the Repulse Bay area.
She wed second husband Ernest Simpson, a former captain in Britain's Coldstream Guards and shipping broker, in 1928.
Article continues below advertisement
They moved to London, and Wallis became part of the social set, meeting the future King Edward in 1931. Soon, he became fascinated with her and ditched two older women he'd been seeing.
While a handsome man, Edward — who was known to family members by his middle name David — was weak and timid while she was so strong-willed and determined.
"She was a dominatrix type," American author Gore Vidal wrote. "He needed a strong woman to bawl him out."
"The lasts time I saw them, she suddenly said, 'Pull up your socks. He said, 'Yes dear,' very meekly. That was the tone of their marriage."
Article continues below advertisement
Actress Jane Seymour, who played Wallis in a TV movie, suggested they had a kinky sexual relationship.
"She made him feel like a man," said the actress. "I heard that sexually he had needs — and that somehow, she fulfilled them."
Edward became King on January 20, 1936, on the death of his father, George V, and pleaded with Wallis to get a divorce.
By this stage Wallis was "bored with the King and wanted out," said Donald Spoto, author of The Decline and Fall of the House of Windsor. But the King "threatened to commit suicide, and she was cornered."
Article continues below advertisement
Remarked Vidal: "She never wanted to marry him. She had in mind being a Royal mistress."
Indeed, she was reputedly also carrying on an affair with Nazi German's Ambassador to London, Joachim von Ribbentrop.
Since the King is also head of the Church of England, Edward was barred from marrying a divorcee. But he declared: "The throne means nothing to me without Wallis beside me."
So after just 325 days as Monarch, he abdicated, confessing in a shocking speech on December 11, 1936, that he was quitting his post because he couldn't rule "without the help and support of the woman I love."
He and Wallis wed six months later, but were frozen out by high society.
Article continues below advertisement
They were given the titles of Duke and Duchess of Windsor and exiled to Paris.
Still, they led a lavish lifestyle. Their 12-bedroom mansion boasted a 24-karat gold gilded bathtub, swimming pool, cabanas and tennis court. Wallis always wore designer gowns and priceless jewels.
Article continues below advertisement
The Windsor became increasingly sympathetic to Hitler and reportedly leaked top secret military information to the Germany enemy.
To stop them doing further damage, they were then shipped off to the Bahamas, where Edward was appointed Governor.
Following the war, in 1947 in New York, they met playboy Jimmy Donahue, a homosexual and relative to the super-wealthy Woolworth stores family.
The Duke fell passionately in love with Donahue and plunged into a gay affair with him, claimed a source.
Article continues below advertisement
Donahue and the Windsors became inseparable for years until a shocking incident at the health resort in Baden Baden, Germany. Donahue and the Duchess got into an argument and he kicked her viciously.
The couple, minus Donahue, continued on with their empty but lavish lives. She had three face-lifts while he received "youth injections" of animal embryos at a Swiss clinic.
Article continues below advertisement
In May 1972, the Duke died at age 77 in his Paris home. His great love Wallis was suffering from senile dementia when she died 14 years later at age 89.
A final shocking scandal occurred a year later when her jewelry collection was auctioned off.
At least 30 costly baubles were recognized as ones the Duchess claimed were stolen during a 1946 visit to London.
"I believe the Duchess defrauded the insurers," said Leslie Field, historian of the Queen's jewels. "She could never wear those jewels again after she and her husband had collected the insurance."