Thomas Markle Says Meghan Markle & Prince Harry Should Be 'Embarrassed' For 'Attacking' Queen Elizabeth During Oprah Winfrey Interview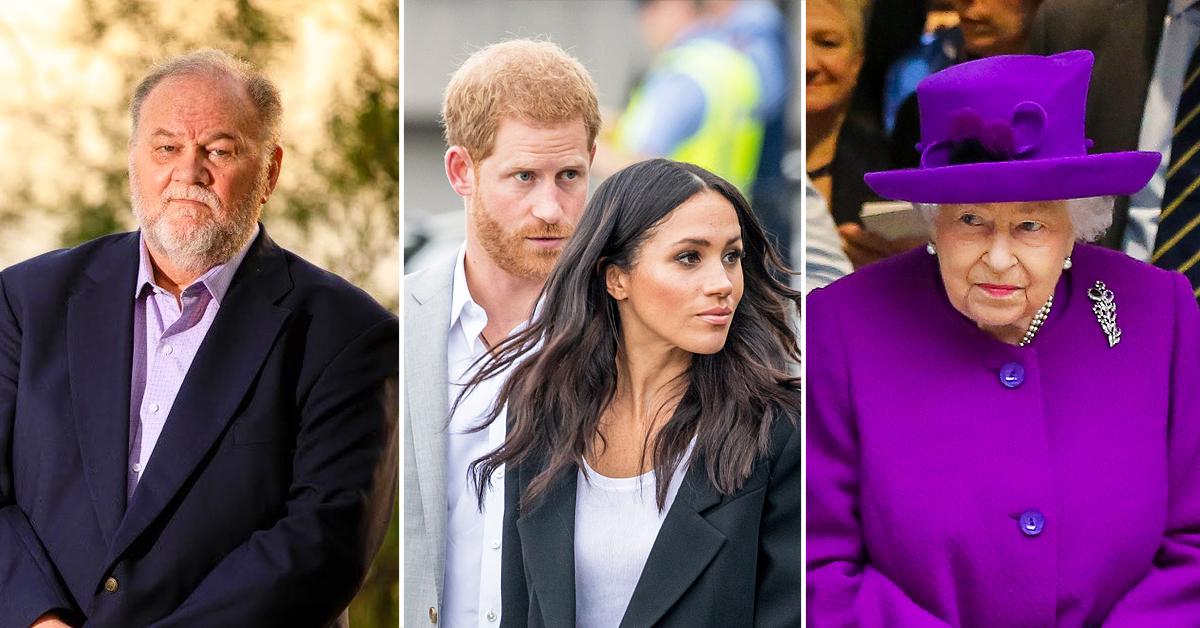 Article continues below advertisement
"For God's sake. Attacking their 95-year-old grandmother is unforgivable," Thomas said in an interview with GB News. "None of the rest of the world deserves what they've been shoveling out. It's embarrassing they are doing this."
The former lighting director also noted that it was hypocritical that the couple didn't want him talk to paparazzi before his daughter's wedding, but yet they can go on TV and air out their dirty laundry.
Article continues below advertisement
"It's embarrassing for them to be telling me a few years ago to 'never talk to the press,' but then they spend three hours on a show with Oprah where Harry claims he's reclaiming his mental illness and curing himself. It is a joke," he said. "You don't go on the TV and talk for three hours and get rid of your mental illness, you talk to a psychiatrist in a room somewhere and you work out your problems."
Article continues below advertisement
"The following statement is issued by Buckingham Palace on behalf of Her Majesty the Queen," the statement, which was shared on social media on Tuesday, March 9, began.
Article continues below advertisement
"The whole family is saddened to learn the full extent of how challenging the last few years have been for Meghan and Harry. The issues raised, particularly that of race, are concerning. Whilst some recollections may vary, they are taken very seriously and will be addressed by the family privately. Harry, Meghan and Archie will always be much loved family members."
Article continues below advertisement
Thomas also claimed his daughter was not honest while speaking to Winfrey. "She lied. She's been lying for years," he said. "Lying about the archbishop? How can you say, 'We've been married three days before we got married?' Her lies are so obvious, I don't know why she says them."
"She's changed, she's not the daughter I knew. My daughter was a much more giving, loving person than she is now. I don't know if he's the one behind it, but I really think that Harry and some of her friends have changed her. I love my daughter, but I don't always like what they're doing," he added.