Queen Elizabeth Won't Remove Prince Harry & Meghan Markle's Titles As 'It Would Look Very Petty,' Would 'Be Far More Insulting To Ignore Them,' Expert Claims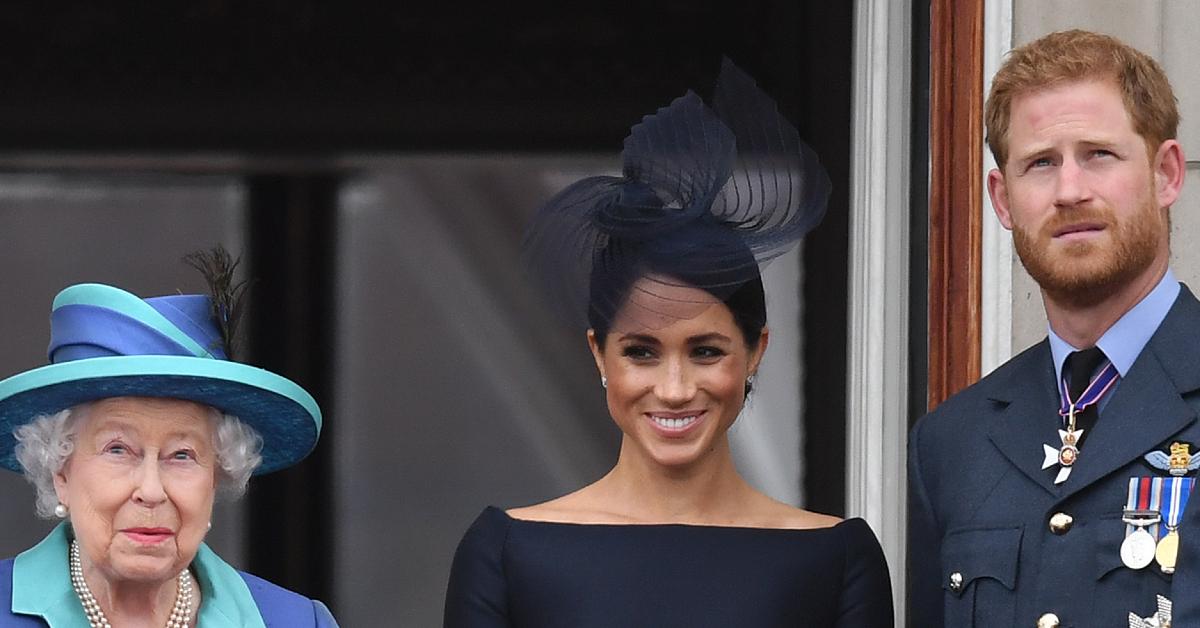 Though Piers Morgan and Lady Colin Campbell have pushed to take away Meghan Markle and Prince Harry's titles as they are no longer senior members of the royal family, it looks like Queen Elizabeth will not give into the pressure.
Article continues below advertisement
"I don't think removing the titles would make much difference and it would look very petty," royal biographer Ingrid Seward told the Daily Express. "I also don't think it is something the Queen would want to do at this stage of her reign. It would be far more insulting just to ignore them. Even excluding them from the Jubilee next year gives them ammunition to criticize the monarchy."
When the two decided to leave the U.K. and move to California, Buckingham Palace confirmed the news.
Article continues below advertisement
"The Duke and Duchess of Sussex have confirmed to Her Majesty The Queen that they will not be returning as working members of The Royal Family. Following conversations with The Duke, The Queen has written confirming that in stepping away from the work of The Royal Family it is not possible to continue with the responsibilities and duties that come with a life of public service," the statement began.
Article continues below advertisement
The message continued, "The honorary military appointments and Royal patronages held by The Duke and Duchess will therefore be returned to Her Majesty, before being redistributed among working members of The Royal Family. While all are saddened by their decision, The Duke and Duchess remain much-loved members of the family."
Over the past few months, Harry and Meghan have caused a commotion, as they have given several interviews about life in the palace.
Article continues below advertisement
Last week after the dad-of-two announced he would be releasing a memoir about his life, Morgan was beside himself.
Article continues below advertisement
"Harry's memoirs, for which he's being paid a reported $20 million — he says it's all going to charity, but let's keep a close eye on that claim — will be yet another chance for him to torch his family, and the institution they serve," Morgan wrote in his MailOnline column. "And every time he does this, and allows his wife to do it, he chips further away at the magic that sustains the royals in public life. They've become a pair of petty, spiteful, bitter little grifters intent on causing as much damage as they can."
"I've said this before, and I now say it again: the Queen should strip Harry and Meghan of all their titles with immediate effect," he said. "Compel them to do this malevolent, manipulative c**p in their names, not as royals. [Harry wants] all the hugely beneficial trappings of being a royal prince without having to do any of the hard duty graft the rest of his family put in to earn the title. He wants to cash in on the royal status to the tune of hundreds of millions of dollars, whilst simultaneously bleating on about how much he hates being a royal."