Cousin Love! Prince Harry Met Princess Eugenie's Newborn Son August During U.K. Reunion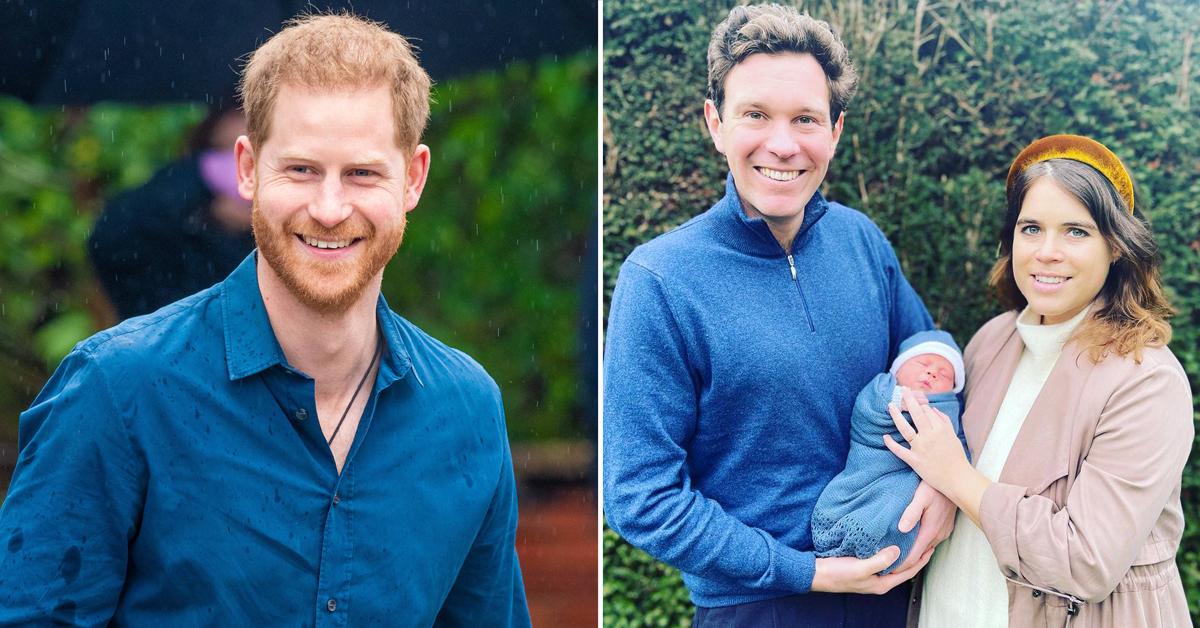 One good part of Prince Harry's trip to the U.K. is that he was able to meet Princess Eugenie's newborn son, August, ahead of Prince Philip's funeral, a source confirmed to Us Weekly.
Article continues below advertisement
Queen Elizabeth gifted Harry and Meghan Markle the property in 2018, but Eugenie and Brooksbank have been living there since the former actress and her husband moved to California.
Article continues below advertisement
"Frogmore Cottage continues to be [the couple's] residence in the U.K. and they are delighted to be able to open up their home to Princess Eugenie and Jack as they start their own family," royal reporter Omid Scobie wrote via Twitter in November 2020, quoting a source. "They have not moved out and will still stay at the house during U.K. visits."
Article continues below advertisement
As The Royal Observer previously reported, Harry reunited with Eugenie on April 12 — the same day he touched down in his homeland.
Harry and Eugenie have always had a close bond. "Out of all the Queen's grandchildren, Harry and Eugenie have one of the most natural connections," Scobie and Carolyn Durand wrote in their book, Finding Freedom. "Like Harry, Eugenie is loyal, honest and great fun. The two had many nights out together in London."
Article continues below advertisement
Eugenie — who gave birth in February — and Meghan, who is currently pregnant and unable to travel overseas, have been in touch throughout their pregnancies.
"These times tend to bring families together," a royal insider said. "What is lovely is Eugenie having her baby as Harry and Meghan are having theirs. They are very close. And they are all deciding to go their own route."
Article continues below advertisement
This is Harry's first trip back home since his tell-all interview with Oprah Winfrey aired on March 7. While all eyes will be on Harry and Prince William at the funeral — which will occur on Saturday, April 17 — the two will likely "put their differences behind them," royal author Ingrid Seward said.
"I think that Harry will want to get back to Meghan as soon as the funeral is over … so he won't have a great deal of time to be in a potentially embarrassing situation with his family."
"It's not about Harry this day. Harry knows that it's about his grandfather," she said. "They're all going to put on a very good show."