Meghan Markle & Princess Eugenie Are 'Very Close' And Knew About 'Each Other's Due Dates,' Insider Shares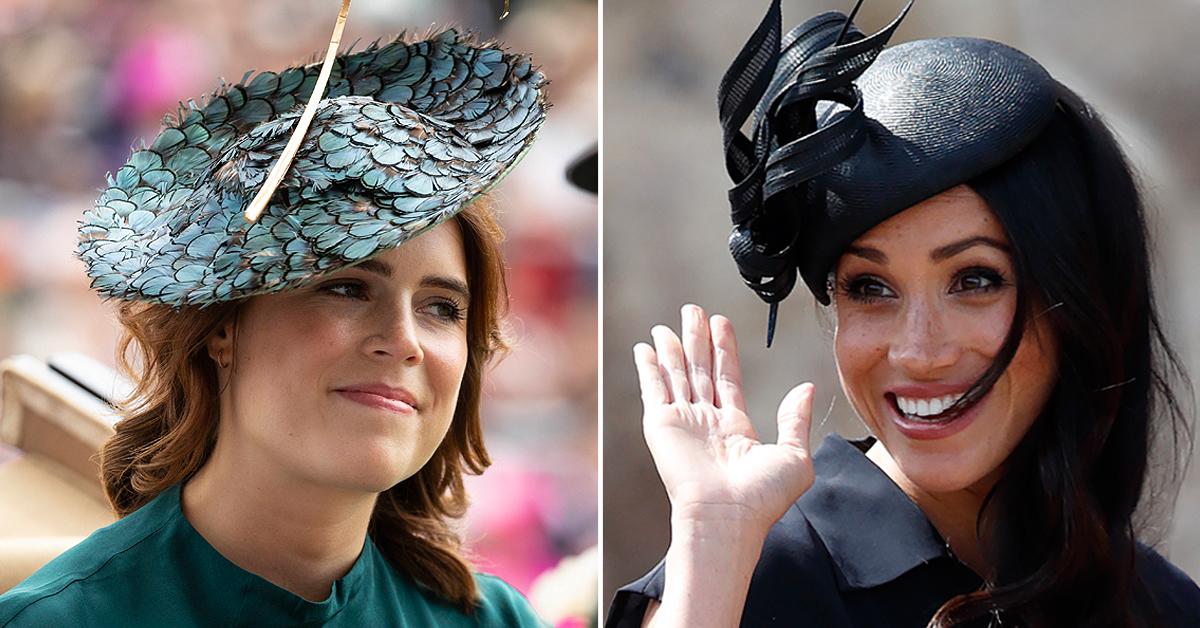 No royal feud here! Meghan Markle — who is pregnant with her second child — and Princess Eugenie, who just gave birth to a baby boy earlier this month, have kept in touch throughout their pregnancies, a source shared.
"These times tend to bring families together," a royal insider said. "What is lovely is Eugenie having her baby as Harry and Meghan are having theirs. They are very close. And they are all deciding to go their own route."
Article continues below advertisement
Eugenie's baby boy named August Philip Hawke Brooksbank was born on February 9, and just a few days later, Meghan and Harry announced they were expanding their family.
While some thought Harry and Meghan were overshadowing Eugenie's big moment, a family friend explained that Eugenie and her husband, Jack Brooksbank, "would have known about each other's due dates."
Eugenie and Brooksbank are now residing at Frogmore Cottage — the same place where Harry and Meghan lived after they welcomed their son, Archie.
This is hardly the first time Meghan and Harry and Eugenie and Brooksbank have made big announcements so close together.
In October 2018, Meghan and Harry announced they were expecting Archie at Eugenie's wedding.
Article continues below advertisement
"It did not go down particularly well with Eugenie, who, a source said, told friends she felt the couple should have waited to share the news," authors Omid Scobie and Carolyn Durand shared in their biography, Finding Freedom.
Eugenie reportedly "disappeared" from the wedding reception after hearing the news.
"Meghan put her foot in it when she decided that [Eugenie's wedding day] would be the ideal moment to announce that she and Harry were expecting their first child," Royals at War authors Dylan Howard and Andy Tillett wrote. "This was a huge social gaffe, even if you were not a royal — stealing the limelight from Eugenie, who was furious, as was her mother, Sarah."
Article continues below advertisement
Despite the ups and downs in their relationship, Harry is rather close with Eugenie.
"Eugenie had always been more than just a cousin to Harry. They were also the closest of friends," the book reads. "Out of all the Queen's grandchildren, Harry and Eugenie have one of the most natural connections. Like Harry, Eugenie is loyal, honest, and great fun. The two had many nights out together in London."
"Harry had always confided in his cousin when it came to the women in his life," they added. "Not only did he trust her implicitly, but friends say that she gives great advice and has always been 'beyond wise' for her years."
PEOPLE spoke with a source about Eugenie and Meghan's relationship.