Kate Middleton Emulates Princess Diana In Stunning New Portrait For Her Photography Book — See The Subtle Nod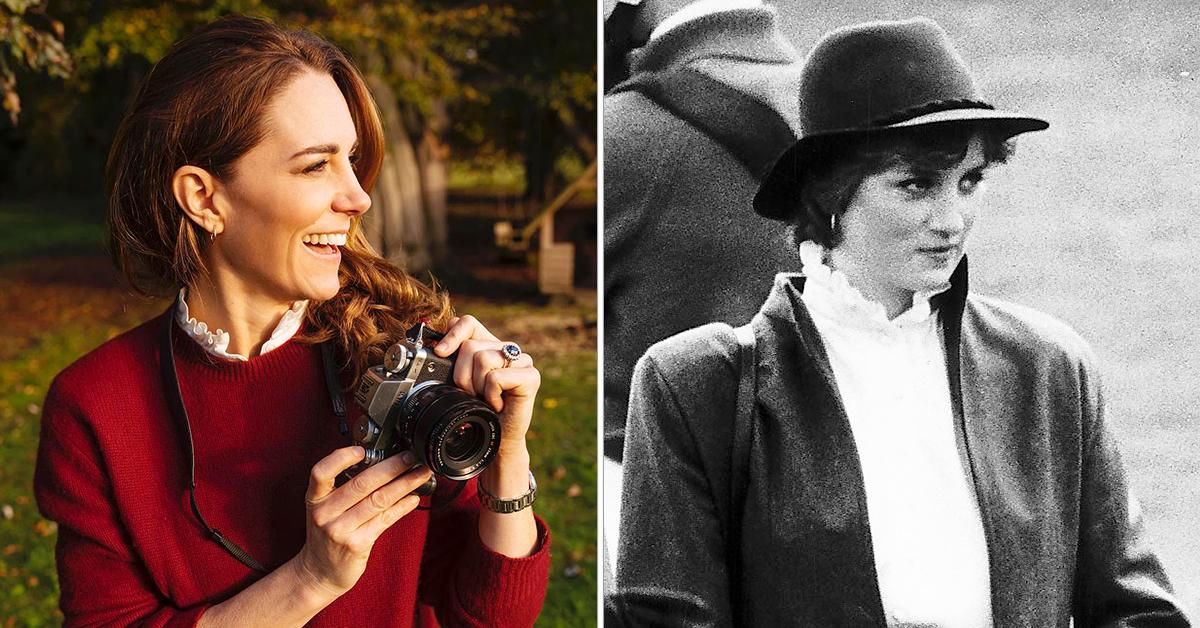 Taking fashion cues from her late mother-in-law! Kate Middleton subtly paid tribute to Princess Diana in a new portrait for her photography book, Hold Still: A Portrait of Our Nation in 2020, which is about life in lockdown.
Article continues below advertisement
In the new snap, the 39-year-old smiles while she holds a camera in her hand. Kate is wearing a red sweater, with a white collar popping out.
Diana wore the pie-crust collar trend in the '80s, and Kate has been known to wear the style while out and about.
Princess Diana often wore the pie-crust collar underneath a sweater or coat, while Kate has opted for a more toned down look.
Article continues below advertisement
This is hardly the first time Kate, 39, has emulated Diana, who passed away in 1997.
In 2018, she wore a red collared dress and coat when she left the hospital with Prince Louis in 2018, while Diana wore a similar outfit when she brought Prince Harry home in 1984.
Article continues below advertisement
On Sunday, March 28, the picture was released, along with a lengthy caption about the ongoing pandemic.
Article continues below advertisement
"When we look back at the COVID-19 pandemic in decades to come, we will think of the challenges we all faced – the loved ones we lost, the extended isolation from our families and friends and the strain placed on our key workers," the caption begins. "But we will also remember the positives: the incredible acts of kindness, the helpers and heroes who emerged from all walks of life, and how together we adapted to a new normal."
She continued, "Through Hold Still, I wanted to use the power of photography to create a lasting record of what we were all experiencing – to capture individuals' stories and document significant moments for families and communities as we lived through the pandemic. C."
Article continues below advertisement
Of course, people were ecstatic to hear about Kate's latest project. One person wrote, "Catherine is so beautiful inside & outside. Dignified, kind & truly compassionate. Well done Catherine," while another echoed, "Beautiful inside and out Catherine. You lead by example."
A third user added, "So glad we got this book after asking for it last year, it's a brilliant idea! The Duchess looks brilliant in this photo, her love of photography is so heartwarming to see ❤️."
The new book will be available online and in U.K. bookstores on May 7.
Funds from the book will be split between mental health organization Mind Charity, which Kate and Prince William have supported over the years, and the National Portrait Gallery.