Kate Middleton Borrowed Queen Elizabeth's Sapphire Earrings For The First Time For 'Cruella' Drive-In Movie Premiere In Scotland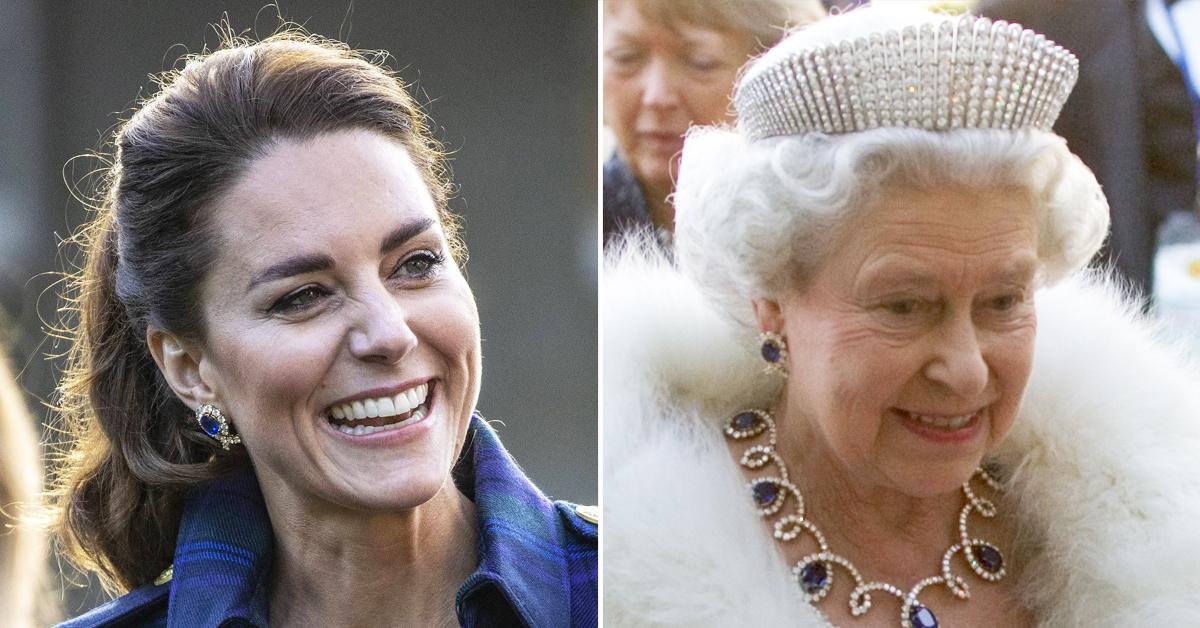 Earlier this week, Kate Middleton emulated the late Princess Diana. This time around, the mom-of-three borrowed earrings from Queen Elizabeth for the screening of Cruella in Scotland on Wednesday, May 26.
Article continues below advertisement
Originally, the Queen received the earrings from Sheikh Rashid of Dubai when she visited the Middle East in 1979.
Article continues below advertisement
However, the earrings that Kate wore were not part of the original set. The Queen had a necklace shortened, and as a result, she used the extra jewels to create two sapphire loops, which were eventually made into earrings.
Article continues below advertisement
The 95-year-old matriarch has previously worn the jewels in 2005 while she was in Canada.
This is hardly the first time Kate has borrowed something from the Queen. At Prince Philip's funeral, Kate was photographed wearing the Queen's necklace and veil.
Article continues below advertisement
Kate and William honored NHS workers for all of their hard work during the pandemic by showing an early screening of the new Disney movie.
"Movie night," they captioned one video. "#Cruella at the Palace of Holyroodhouse with NHS staff in recognition of their vital work throughout the pandemic."
Article continues below advertisement
"As Joint Patrons of @NHSCharities, William & I are absolutely delighted that so many of you could join us here tonight," the message continued. "We wanted to thank you for the extraordinary dedication, commitment and personal sacrifice you have shown in supporting our communities through this pandemic. Over the last year or so, William and I have spoken to many NHS workers and have heard first-hand what it has been like to be on the front line fighting COVID; supporting those suffering from the disease as well as their families."
The message concluded, "And tonight, we have so enjoyed speaking to so many of you. You have all been chosen for going above and beyond over the last year - and to hear what you have been through is truly humbling @NHSCharities. William and I invite you to grab your popcorn, cuddle up under your blankets and be transported to 1970s Britain for an evening of much-deserved fun, drama, glamour and escapism! We wish you a truly wonderful evening! #Cruella."