Kate Middleton 'Found Out' Meghan Markle 'Was Being Rude To Staff At Kensington Palace & Was Angry With Her,' Kirstie Allsopp Claims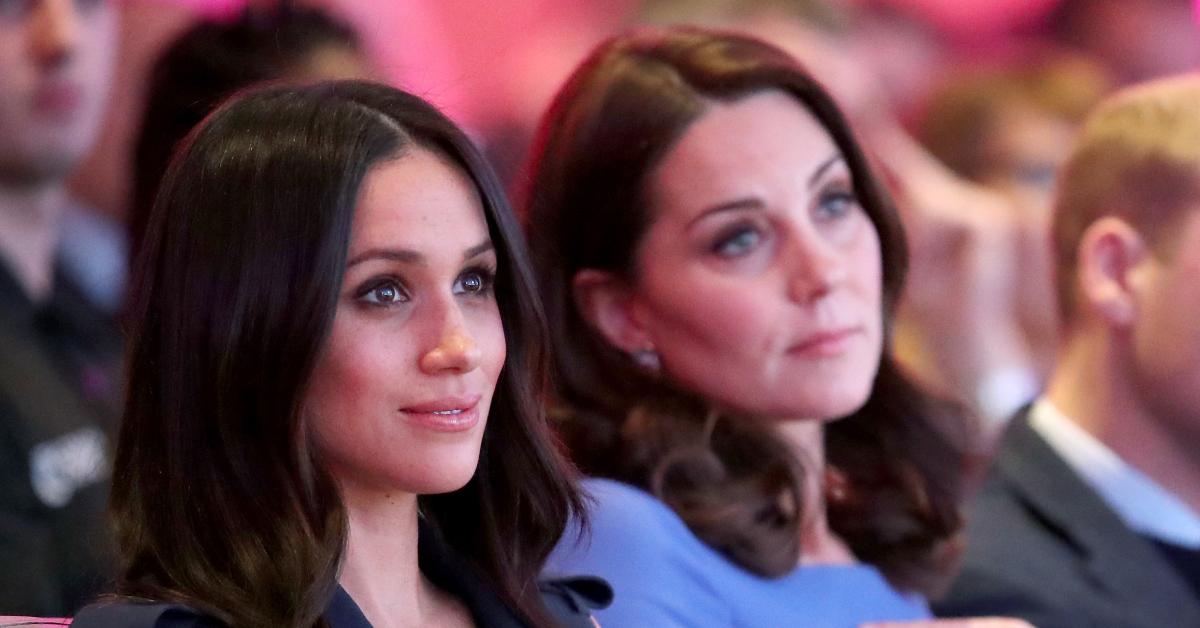 Kate Middleton and Meghan Markle apparently haven't been on the best terms over the years, and now British TV presenter Kirstie Allsopp claims the two got into another fight back in the day — this time, it was about the former actress' alleged bullying.
Article continues below advertisement
"Kate never ever loses her temper, but she found out Meghan was being rude to staff at Kensington Palace and she was angry with her," Allsopp, whose mother was childhood friends with Camilla, Duchess of Cornwall, claimed. "Then, Kate burst into tears because she'd lost control and she did take Meghan flowers to try and patch things up."
Earlier this year, several staffers came forward and claimed that Meghan, 40, was not nice to them while they working at the palace.
Article continues below advertisement
"I am very concerned that the Duchess was able to bully two PAs out of the household in the past year. The treatment of X* was totally unacceptable," Jason Knauf, the couple's former communications secretary, supposedly wrote in an email. "The Duchess seems intent on always having someone in her sights. She is bullying Y and seeking to undermine her confidence. We have had report after report from people who have witnessed unacceptable behaviour towards Y."
Article continues below advertisement
However, the TV star fiercely denied the accusations.
"Let's just call this what it is — a calculated smear campaign based on misleading and harmful misinformation," her team said. "We are disappointed to see this defamatory portrayal of The Duchess of Sussex given credibility by a media outlet."
"It's no coincidence that distorted several-year-old accusations aimed at undermining The Duchess are being briefed to the British media shortly before she and The Duke are due to speak openly and honestly about their experience of recent years," the note continued.
Article continues below advertisement
While speaking to Oprah Winfrey in March, Meghan also cleared the air about a fight she had with Kate prior to her 2018 wedding.
"A few days before the wedding, she was upset about something pertaining — the flower girl dresses, and it made me cry and it really hurt my feelings," she explained. "I thought in the context of everything leading up to the wedding, that it didn't make sense to not just be doing whatever anyone else was doing, knowing what I was going through with my dad and what not."
Article continues below advertisement
She added, "There wasn't a confrontation, I don't think it's fair to her to get into the details of that because she apologized and I have forgiven her. What was hard to get over was being blamed for something that not only I didn't do, that happened to me, and the people who were part of our wedding going to our comms. team and saying this didn't happen."
"Everyone in the institution knew it wasn't true. I am sharing that piece about Kate not to be disparaging to her, I think it's important for people to understand the truth," she admitted. "A lot of it that was fed into it by the media – I would hope that she would want it corrected because she's a good person. I think so much of what I have seen play out is this idea of polarity where if you love me, you don't have to hate me. If you love her, you don't need to hate me."