Piers Morgan Disses Meghan Markle On Her 40th Birthday, Gives Shout-Out To Barack Obama Instead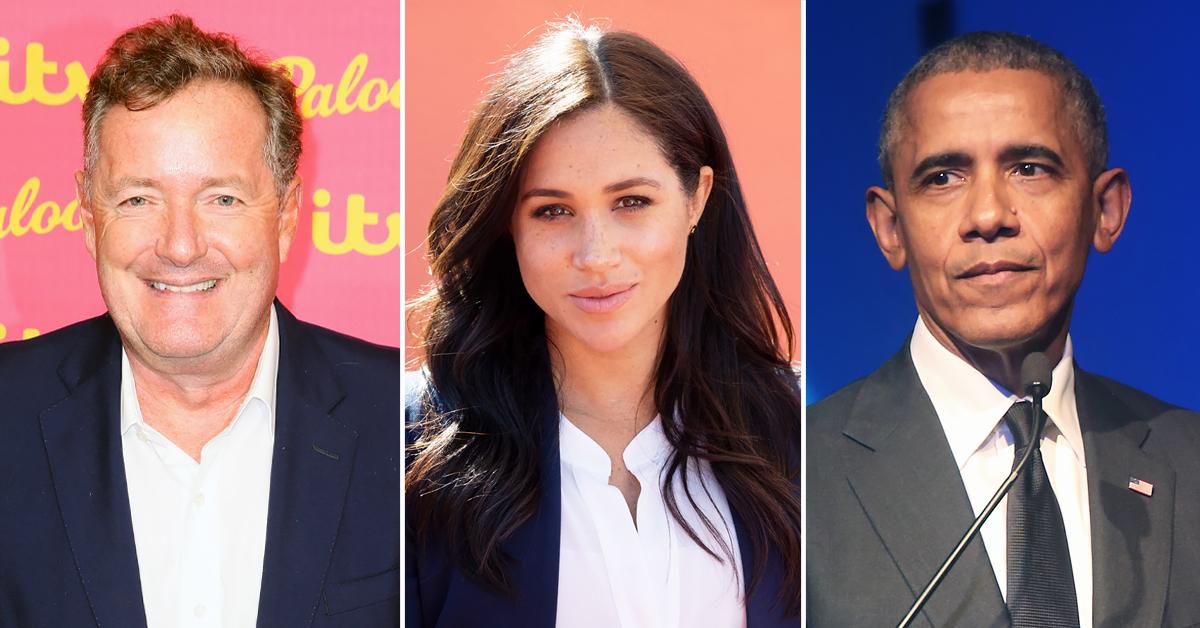 Piers Morgan made it clear that he wants nothing to do with Meghan Markle. On Wednesday, August 4, the TV personality gave a birthday shout-out to Barack Obama but failed to say anything about the Duchess, who turned 40 that same day.
Article continues below advertisement
"Happy 60th Birthday @barackobama — hard to believe you're only 4 years older than me, but I guess you must have a better surgeon," Morgan captioned a throwback photo of the two via Instagram.
Some users couldn't help but fuel the fire. One person wrote, "HAPPY BIRTHDAY MEGHAN 😍😍😍," while another added, "He shares a birthday with Meghan Markle …and with me 🤣🤣🎉🎉."
Article continues below advertisement
In March, Meghan admitted to Oprah Winfrey that she dealt with suicidal thoughts when she was in the royal family, but Morgan said he didn't believer her, which caused him to walk off the air of Good Morning Britain. The show let Morgan go but that hasn't stopped him from being vocal about Meghan and Prince Harry.
Article continues below advertisement
"In relation to the [Oprah] interview, we now know that there were at least 17 things that came out of Meghan Markle's mouth, which have now been proven to be untrue, so I don't know at what point I'm allowed to not have to apologize for disbelieving somebody who is palpably a liar," he said on Fox News.
"It is a farcical situation, and of course with all these situations at the minute, with the cancel culture, the Twitter mob come for you and say, 'Well if you don't believe Meghan Markle you are a racist,'" he continued. "To which I say, I've never said a racist thing about Meghan Markle or anybody else, it has nothing to do with the color of her skin and everything to do with her inability to tell the truth and her rank hypocrisy."
Article continues below advertisement
"I think it's about time those two gave up their titles, stop whining 24/7 and try to take a leaf out of the book of the Queen, whose nickname, Lilibet, they've hijacked for their daughter," he fumed. "Take a little tip from the Queen, less is more, and if you want to be a royal, a member of the royal family, less is more. We're hearing too much of your yapping, too much of your whining, it's time to pipe down."