Meghan Markle Slammed By Royal Commentator For Appearing Happy At Jubilee: 'Brazen Hussy'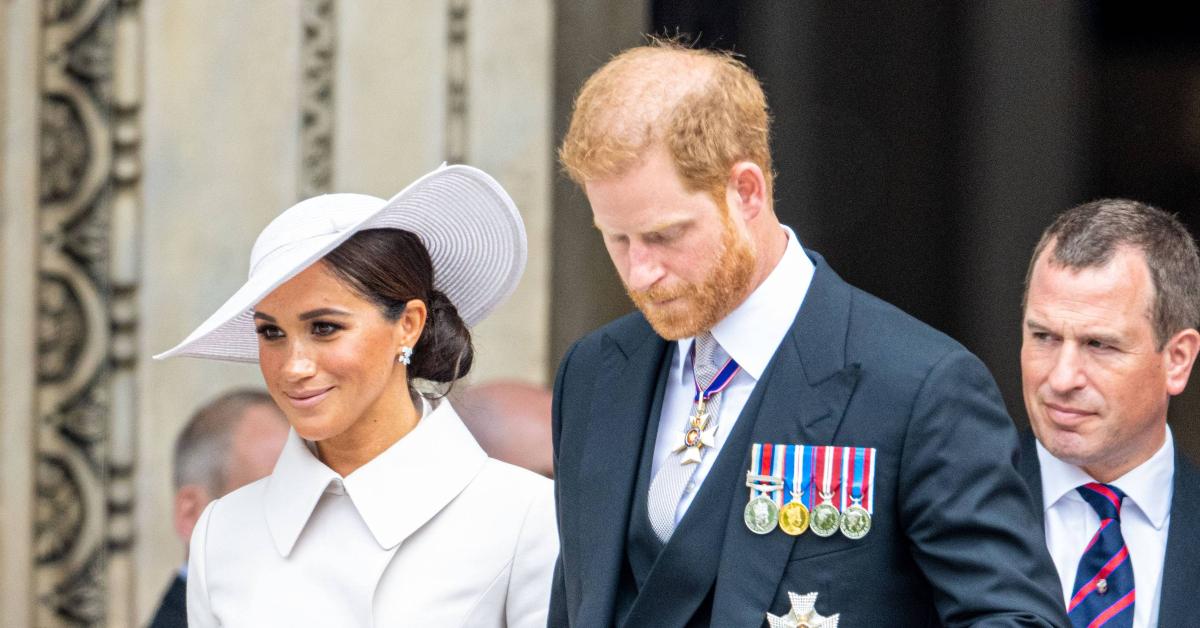 Meghan Markle is back in the U.K., which is not sitting well with some people — specifically, biographer Tom Bower, who has some words to say about the former actress, 40.
Bower and Piers Morgan were chatting about Meghan and Prince Harry, 37, making an appearance at several Jubilee events.
Article continues below advertisement
"They keep preaching this about the environment and the need to save our carbon footprint, and then we discover they got here from California on a private jet — I mean, when they do things like that, I am like, 'Who does this nonsense? Who lets them behave like this and thinks it is actually good?'" the TV host said while on his show Piers Morgan Uncensored.
Bower then noted he didn't understand why Meghan, who spoke to Oprah Winfrey about an alleged racism incident when she lived at the palace, has to make everything about her. "I get excited about Meghan appearing in this extraordinary hat with a big smile and letting down the window of the car so she can be seen. Here is a woman, as you know better than anyone else, according to you, lied 17 times on the Oprah interview and has yet apologized. Why has she come here? Has she come here to apologize to the Queen? Has she come here to say she is sorry to the Duchess of Cambridge or is she here to promote herself? And I thought her big smiles as she edged toward the window to make sure that the camera should see her with her oversized hat was all part of the Meghan show," he said. "That is really quite extraordinary, I thought."
"There's no doubt across the Caribbean, other parts of the world that Meghan's allegations about racism resounded and had a terrible effect on the image of the Queen and the royal family, and to see her then smiling through the window of the car and standing close to make sure that she should be seen at the parade today just shows what a brazen hussy she is," he continued.
Article continues below advertisement
While at the event, it seemed like Harry received the cold shoulder from his brother, Prince William, and Kate Middleton, as they sat on different sides of the room.
Prince Charles apparently didn't mingle with his younger son, either.
According to Morgan, things are still "frosty" between Harry and his brood. So much so, he and Meghan skipped the lunch after the Thanksgiving service.
"The rest of the family went into the garden and were milling around and they just disappeared," he claimed on his TV show. "So there is already a lot of tension there, and the only glue it seems in this whole tension is the Queen and she's not going to be there."