Meghan Markle Is 'Pushing Queen Elizabeth Into Even More Of A Corner' After She Used Her Royal Titles When Calling Senators, Expert Claims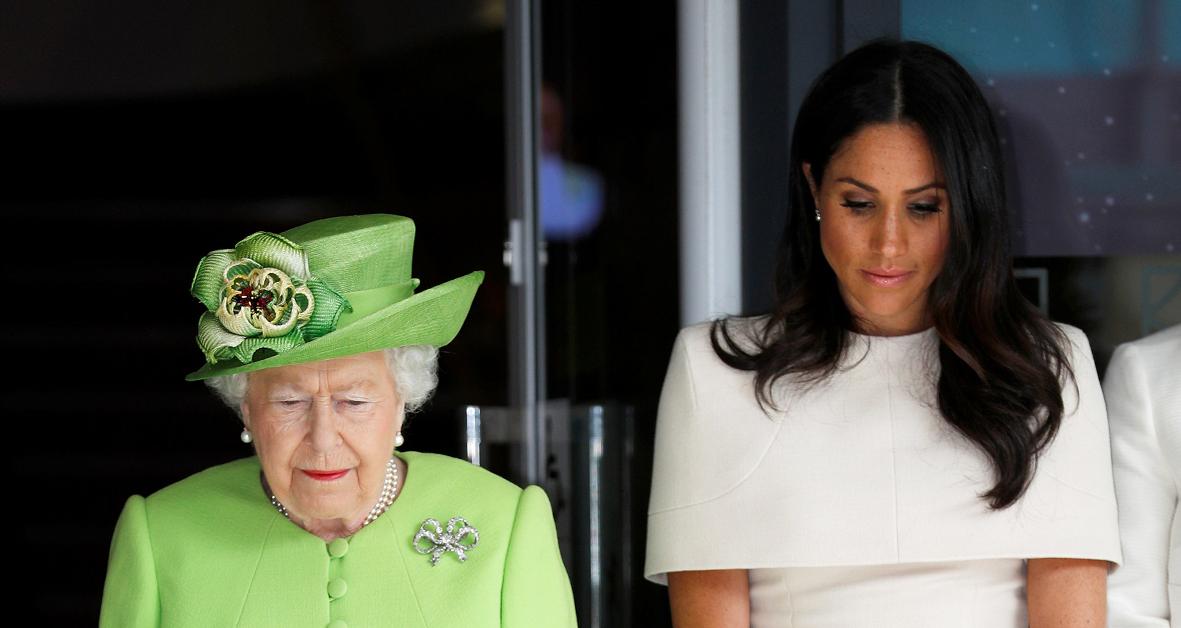 Though Meghan Markle and Prince Harry left the royal family, the former is still using her royal title — especially when she called GOP Senators recently to change their minds about paid parental leave.
Article continues below advertisement
"What is a real head scratcher here is why Meghan continues to wheel out her title in such instances as these calls to Senator when she must know it's like holding a red rag to a bull?" royal commentator Daniela Elser claimed in her column for News.com.au. "Why endanger the most marketable thing going for the couple?"
She continued, "For one thing, it makes her look like a hypocrite. She and Harry didn't want to remain a part of the royal stable but are happy to keep using the trappings that came with said job when it suits her purposes? Riiiight."
Elser said that since Meghan is now using her royal title in the politics world, she is "pushing the Queen into even more of a corner."
Article continues below advertisement
"How long can things continue along this trajectory before Her Majesty is forced to act?" Elser questioned.
Article continues below advertisement
"Not because of public opinion (though polling done in May this year found that only a scant 17 percent of Brits thought that they should not lose or stop using their titles) but because the Queen has proven again and again that her absolute first priority is protecting the sanctity of the crown," Elser stated. "If that means a very awkward conversation between Windsor and Montecito then, so be it."
As The Royal Observer recently reported, the former actress cold-called GOP Senators to speak to them about paid parental leave.
Article continues below advertisement
"I'm in my car. I'm driving. It says 'caller ID blocked.' I thought it was Senator [Joe] Manchin. His calls come in blocked. And she goes, 'Senator Capito?' I said, 'Yes?' She said, 'This is Meghan, the Duchess of Sussex,'" Senator Shelley Moore Capito recalled.
Others have agreed with Elser, saying that since the TV star is no longer in the family, her title should be taken away.
"If she wants to be a royal, she needs to be a royal — she can't have it both ways," Representative Jason Smith told TMZ on Thursday, November 4. "I think it's great for a U.S. citizen or for a former movie star of Suits to be lobbying U.S. senators. But when you lobby U.S. senators, as Meghan Markle has done, as: 'I'm Meghan Markle, the Duchess of Sussex' — she's lobbying Congress and interfering from a position of using her royal title."