Meghan Markle's Alleged Email To Palace About False Kate Middleton Feud Revealed Following Tell-All Interview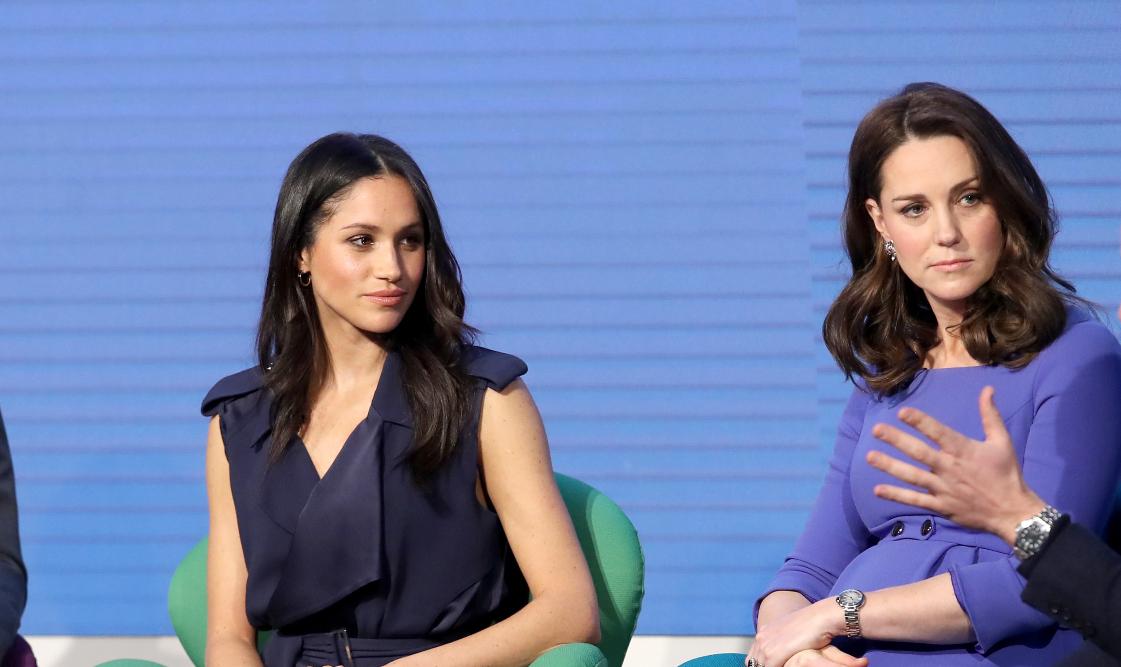 Meghan Markle's alleged email shows the Palace didn't support her while she was part of the royal family — just a few days after the former actress claimed to Oprah Winfrey that Kate Middleton made her cry before her 2018 nuptials.
Article continues below advertisement
During the sit-down, which aired on March 7, Meghan revealed she and Kate, 39, got into a tiff leading up to her big day, even though the U.K. press reported that Meghan made Kate cry.
"The reverse happened, and I don't say that to be disparaging to anyone because it was a really hard week of the wedding and she was upset about something, but she owned it — she brought me flowers, she apologized, a note apologizing – she did what I would do if I knew I hurt someone," Meghan claimed. "What was shocking – six, seven months after our wedding that the reverse of that would be out in the world. I would have never wanted that to come out about her, ever, even though it had happened. I protected that from ever coming out in the world."
Article continues below advertisement
Now, Harper's Bazaar reported on March 10 that the Palace did nothing to squash the rumors.
Kensington Palace requested that Prince Harry sign a statement against an "offensive" report about his brother, Prince William, which claimed the dad-of-three "bullied" Harry and Meghan before they decided to step away from the royal family.
"Well, if we're just throwing any statement out there now, then perhaps KP can finally set the record straight about me [not making Kate cry]," Meghan allegedly wrote to an aide.
However, Meghan's suggestion was ignored, and she was told that Kate would not comment on gossip, the outlet reported.
Meghan also revealed to Winfrey that there was no "confrontation" between her and Kate at the time.
"I don't think it's fair to her to get into the details of that because she apologized and I have forgiven her. What was hard to get over was being blamed for something that not only I didn't do, that happened to me, and the people who were part of our wedding going to our comms. team and saying this didn't happen," she explained.
Article continues below advertisement
"Everyone in the institution knew it wasn't true. I am sharing that piece about Kate not to be disparaging to her, I think it's important for people to understand the truth," she added. "A lot of it that was fed into it by the media – I would hope that she would want it corrected because she's a good person. I think so much of what I have seen play out is this idea of polarity where if you love me, you don't have to hate me. If you love her, you don't need to hate me."
Article continues below advertisement
The Palace responded to the couple's allegations, writing, "The whole family is saddened to learn the full extent of how challenging the last few years have been for Harry and Meghan. The issues raised, particularly that of race, are concerning. Whilst some recollections may vary, they are taken very seriously and will be addressed by the family privately. Harry, Meghan and Archie will always be much loved family members."
Meanwhile, it's unclear if Kate and Meghan will ever be able to repair their relationship since they haven't spoken "directly in over a year," a source revealed.
"They were never that close, but the reason they're not speaking is because of the rift between Prince Harry and Prince William," the insider dished.