Kate Middleton Subtly Pays Tribute To Princess Diana During Remembrance Day Service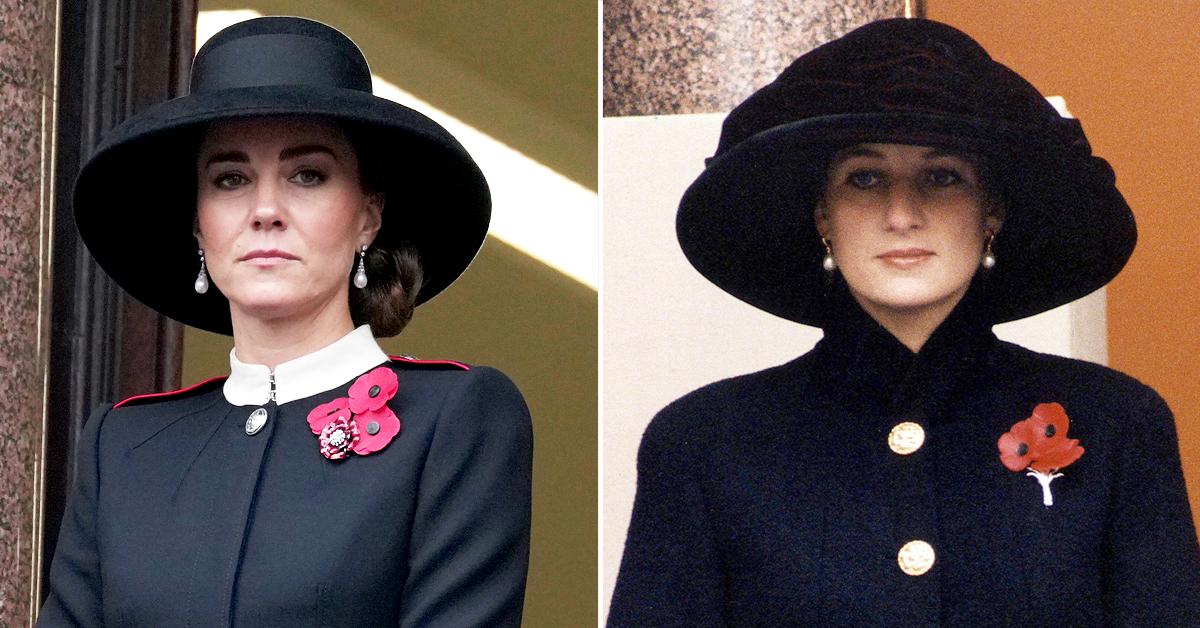 Article continues below advertisement
When the brunette beauty, 40, appeared on a balcony for the ceremony, she wore an all-black outfit, with a wide-brimmed hat — an accessory she hardly wears.
Meanwhile, Diana, who died in 1997, wore a similar look when she appeared at the same event in 1992. Kate's mother-in-law also wore pearl earrings and a poppy pin which featured three red flowers, which is exactly what Diana wore back in the day.
Elizabeth Holmes, author of HRH: So Many Thoughts on Royal Style, also noted that the hat might have been a tribute to Queen Elizabeth as well, as she is always spotted wearing those types of headpieces.
Article continues below advertisement
This is hardly the first time the mom-of-three has taken some notes from Diana.
Article continues below advertisement
In September, Kate attended the No Time to Die premiere, and she wore a gold sparkly dress — very similar to something Diana wore when she was photographed at the 1985 premiere of the James Bond film A View to Kill.
Sunday Times royal editor Roya Nikkhah previously pointed out that Kate and Diana had a lot in common, including how they are willing to talk about controversial topics.
Article continues below advertisement
"Kate is very, very keen to raise awareness about things that are still quite taboo, and it echoes Diana, very early in the days of her royal career, getting behind causes like homelessness or HIV and AIDS that senior members of the royal family just weren't going for," she said. "I think addiction is still one of those issues that is perhaps slightly under the radar in terms of people being honest and talking about it."
Article continues below advertisement
When Kate attended the launch of the Taking Action on Addiction campaign for The Forward Trust, she spoke candidly about what people are dealing with on a daily basis. In the past, Diana was not shy when talking about AIDS/HIV.
"Addiction is not a choice. No one chooses to become an addict. But it can happen to any one of us. None of us are immune. It is all too rarely discussed as a serious mental health condition and seldom do we take the time to uncover and fully understand its fundamental root causes," Kate stated in her speech. "The journey towards addiction is often multi-layered and complex. But, by recognizing what lies beneath addiction, we can help remove the taboo and shame that sadly surrounds it."