Kate Beckinsale Says She Understood What Prince Harry & Prince William Were Going Through When Princess Diana Died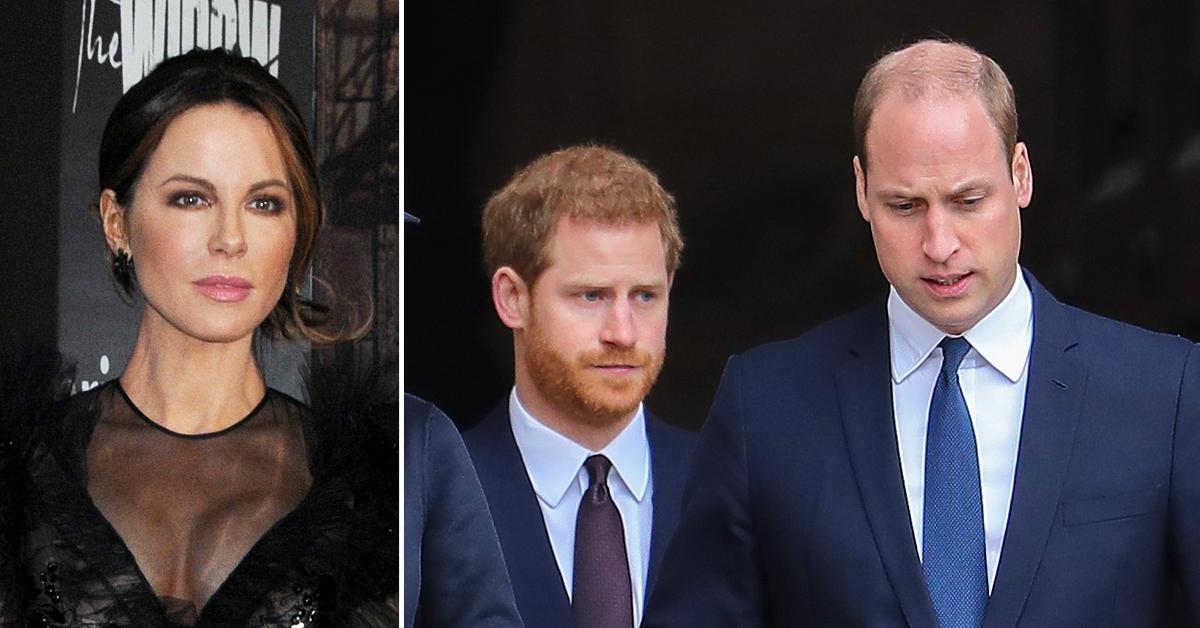 Prince William and Prince Harry lost their mother, Princess Diana, when they were just 15 and 12 years old, respectively — something actress Kate Beckinsale can relate to, as her father, Richard Beckinsale, died when she was just 5 years old.
Article continues below advertisement
"I remember when their mother died, I was in New York, and seeing them in the context of other people sort of grieving for somebody they didn't know … I thought, 'Oh my God, I really know what that feels like,'" the star, 47, told Dax Shepard on his "Armchair Expert" podcast. "When there's a cataclysmic event, it puts everything into a real sharp focus."
Since Harry and William had been in the spotlight their whole life, Beckinsale understood the "weird" feeling of strangers grieving alongside them, despite them not knowing the person who died.
Article continues below advertisement
"It was hard at the very, very beginning because it did feel like you were having this very personal, horrible crisis — and so was everybody else, but you didn't know them," she said. "People would talk about how terrible they felt that they had lost him, but then say, 'Oh, but you probably don't remember anything, do you, because you were a child.' That would really upset me as a child. I found that really difficult."
Article continues below advertisement
She added, "But then the person you're sharing it with is saying, 'You have less right to this than I do,' which is really odd. I found that, as I'm older, I'm less offended by it. There is something incredibly special and comforting about how much other people loved him, that, sort of the longer it goes on, [it's] lovely."
Article continues below advertisement
"28 to probably 32 was a nightmare time in my life," he said in the AppleTV+ series The Me You Can't See, adding that he was "just all over the place mentally."
Article continues below advertisement
"I would probably drink a week's worth in one day on a Friday or a Saturday night," he told Oprah Winfrey in the new series. "And I would find myself drinking not because I was enjoying it but because I was trying to mask something. I was willing to drink, I was willing to take drugs," he said. "I was willing to try and do the things that made me feel less like I was feeling."
Fortunately, Harry is in a great place today, and he credits therapy for getting him through the tough times. "One of the biggest lessons that I've ever learned in life is you've sometimes got to go back and to deal with really uncomfortable situations and be able to process it in order to be able to heal," he explained.
"I've learned more about myself in the last four years than I have in the 32 years before that. I have my wife to thank for that," the dad-of-two added. "I'm still the person that I was, but I'm just a better version of that. I kind of feel that this was always meant to be."