Howard Stern Says Meghan Markle & Prince Harry 'Come Off Like Such Whiny B**tches' In Netflix Series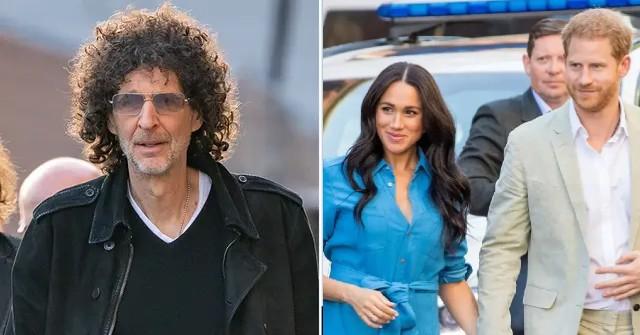 Howard Stern isn't impressed with Meghan Markle and Prince Harry after their Netflix docuseries, Harry & Meghan, premiered on Thursday, December 8.
"They come off like such whiny b**ches," the 68-year-old said on Monday, December 12, on his Sirius XM show. "I gotta tell you man, I just don't get it."
Article continues below advertisement
The radio host did speak out about how he feels sorry for Harry, as he's had to publicly deal with the loss of his mother, Princess Diana, who died in a car crash in 1997.
"They treated her like s**t," the reality star noted. "That Prince Charles was such a f**king c**t to Lady Diana … and I feel bad for Prince Harry losing his mother there."
"But Jesus Christ, when those two [Harry and Markle] start whining about 'wha wha wha and they don't like me,' and she [Markle] wants to be beloved in this country," he stated. "It's just weird to see two people who keep screaming, 'We wanted our privacy, we wanted the press to leave us alone,' and then what is their special that they put out on Netflix? Showing you them and their kids and their life."
Stern concluded, "It's like the Kardashians except boring."
As The Royal Observer previously reported, royal expert Nick Bullen thought it was ridiculous that Harry, 38, and Meghan, 41, would reveal text messages with her father, Thomas Markle, when they claimed they left the royal family due to privacy concerns.
Article continues below advertisement
"I think it is the most enormous pile of self-serving twaddle that I've watched in quite a long time," Bullen told Fox News Digital. "I mean, please, how much of this have we heard before? I think Netflix is probably really angry with the Oprah interview [from March 2021] because she got all the really juicy stuff. This is just a rehash of lots of things we've heard about like Harry's anger with the press. We've heard about the so-called institutional racism in Britain. We've heard about the formality of the British royal family, how Meghan was a breath of fresh air at first – we've heard it all before."