Journalist Amelia Adams Criticizes Meghan Markle For Wearing $4,000 Oscar De La Renta Blouse During Appearance On Ellen DeGeneres' Show: 'Safe To Say She Has Moved Up In The World'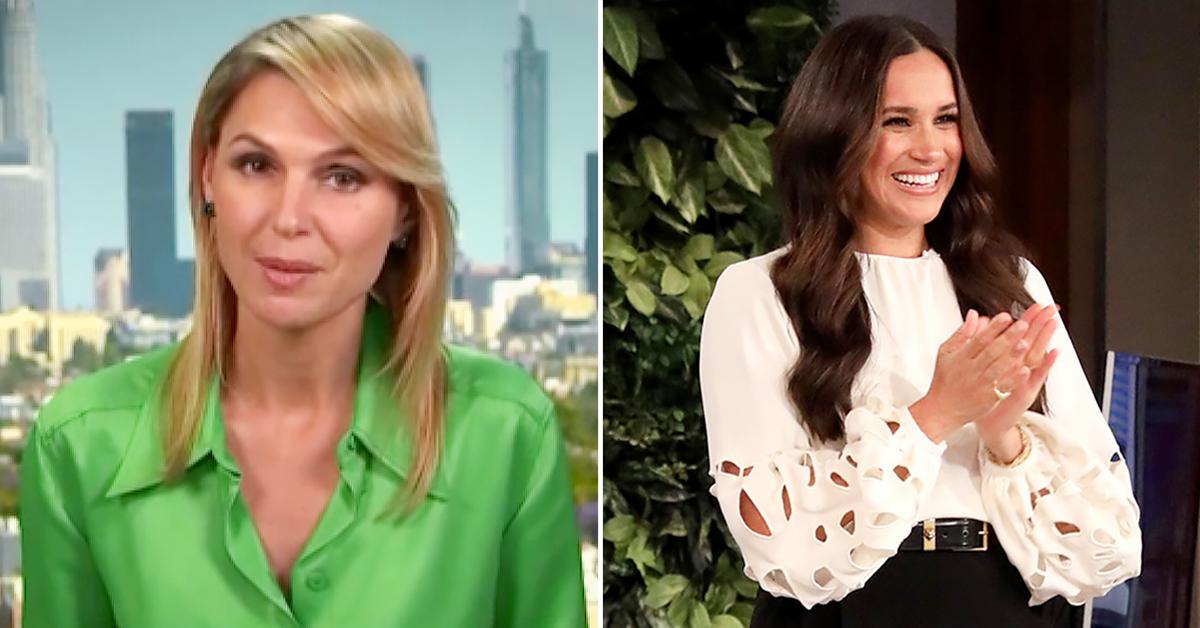 Amelia Adams, who is the U.S. correspondent for Australia's Today show, critiqued Meghan Markle's relatable attitude when she appeared on Ellen DeGeneres' show this week.
Article continues below advertisement
"Not sure we'll hear any bombshells [about the royal family] in tomorrow's chat with her old friend Ellen," Adams said after the trailer aired. "Certainly, at this stage, the clip they've released is Meghan reminiscing about her days as a struggling actress."
Article continues below advertisement
"She spent a fair bit of time at the Warner Bros. studio, where the Ellen Show is recorded, and she said she used to show up there in an old Ford Explorer with a broken door," she continued.
Article continues below advertisement
When the clip wrapped up, Adams couldn't help but note that the Duchess tried to be down-to-earth, despite wearing an expensive piece of clothing.
"Yeah, she's just keeping it real there ... in a $4,000 Oscar de la Renta blouse," Adams stated. "Safe to say she has moved up in the world since those days."
Adams' cohost replied, "Well done, Amelia, well done. A little sting in the tail there, I like that."
Article continues below advertisement
The actress, 40, spoke with the comedian about the start of her career. "I parked in gate three, and then what was so nice is the security guards would always be like, 'Break a leg, we hope you get it!' So, driving today was very different. I think they probably said it to everybody, that is how nice they were!" she quipped of arriving at the Warner Bros. lot.
Article continues below advertisement
"It had a life of its own. I had this very, very old Ford Explorer Sport, and at a certain point, the key stopped working on the driver's side, so you couldn't get yourself in the door," she said of her vehicle. "So, I would park in the back of the parking lot, I would open the trunk and climb in and then pull it shut behind me and climb over my seats to get out — that is how I would come to-and-fro."
Royal expert Angela Levin also didn't appreciate Meghan's recent interview. "I think the palace dread everything she says because she can be so rude," she said. "The interview with Oprah was bad timing. Prince Harry's grandfather was ill. It is all about what is good to her. She's ruthless and she thinks of herself first."