Queen Elizabeth Wears Special Brooch At G7 Summit — Is It A Nod To Prince Harry & Meghan Markle?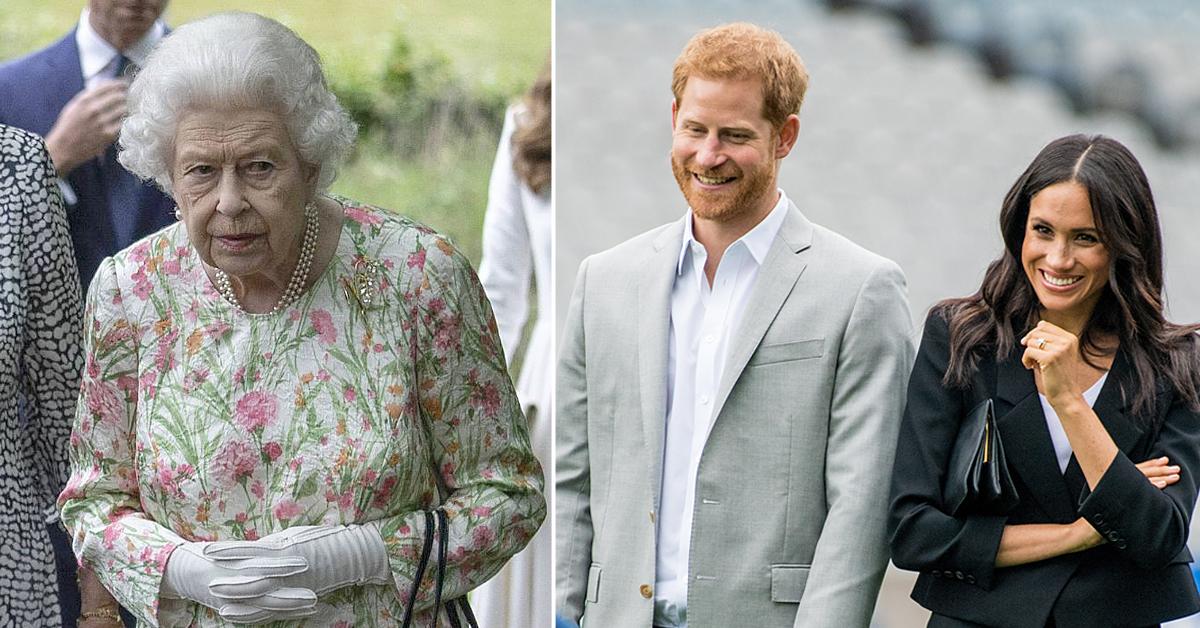 Queen Elizabeth was seen wearing a special brooch on Friday, June 11, as she attended the Eden Project in Cornwall.
Article continues below advertisement
The 95-year-old donned the Millet Brooch, which was given to her in 2007 by the President of the Republic of Botswana at the Commonwealth Heads of Government Meeting in Uganda.
Meghan Markle and Prince Harry love Botswana since that is where their love story began. "I managed to persuade her to come join me in Botswana, and we camped out with each other under the stars," he said of their third date.
Article continues below advertisement
Of course, fans thought the Queen was giving a subtle shout-out to the couple, who moved to California in 2020.
Article continues below advertisement
One social media user wrote, "Botswana brooch = supposedly means I love you Harry and Meghan!" while another added, "The Queen wore her flower brooch from Botswana to the G7 Meeting. This is the way she communicates. She was saying 'Hello – I love you to Harry & Meghan & her new little flower!'"
A third user claimed the brooch was for the Queen to show "support for Meghan."
Article continues below advertisement
The pair recently welcomed their daughter, Lilibet Diana, who is named after the Queen and Princess Diana. Although Harry hasn't been on the best terms with his family, it seems like things are looking up. In fact, the Queen was the first member to meet the little one!
"Meghan is now resting at home and she and Harry have already introduced the Queen to her great granddaughter via Zoom," an insider exclusively told The Royal Observer. "Since the couple moved to L.A., the Queen has become very familiar with Zoom. She talks to Harry, Meghan and Archie via technology, and now she is using it to meet her granddaughter. She is a very modern grandmother."
Article continues below advertisement
"This is the beginning of a new chapter within the family that will hopefully heal old wounds. Finally, there is hope that the family can reunite," an insider added. "No one knew it at the time, but when Archie was born, Harry and Meghan were so angry with the family that they wanted nothing to do with them moving forward. That is why they broke all traditions and went with a totally new royal name. Now things have changed and they both very much want their daughter to be part of the family, which is why they chose the name Lilibet, the Queen's childhood nickname."