Prince Harry & Meghan Markle Realized They 'Wouldn't Be The Superstars Of The Monarchy' After Photo Of Prince George With The Queen & Prince William Was Released In 2020, Expert Claims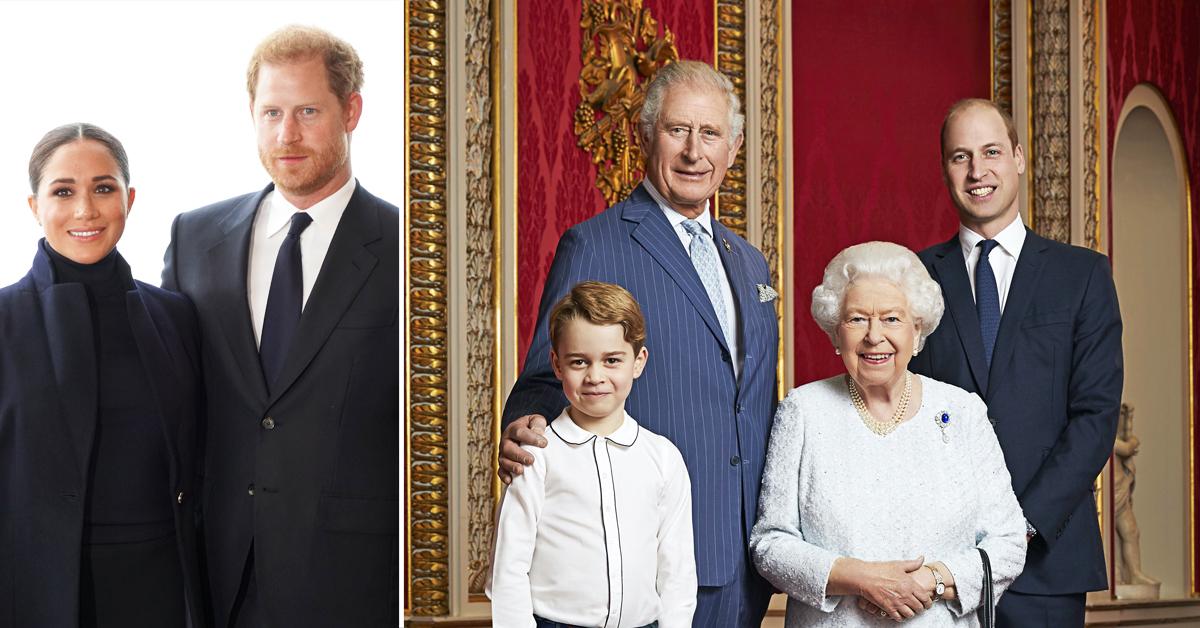 In 2020, a new photo of the future heirs to the throne was released to the public, which apparently prompted Prince Harry to re-think about his priorities.
Article continues below advertisement
"We have Prince Charles, Prince George, and of course, Her Majesty the Queen. And this was going to be showing, alongside William, where the next phase is," expert Neil Sean said. "Well, of course, if you look at the picture, it makes perfect sense. Obviously, that is the next line-up."
Article continues below advertisement
"I do believe that it could have been something of a wake-up call to realize that perhaps he and Meghan would never really truly be the superstars of the British monarchy," he continued. "That's not to say that they don't garner as much more interest than other senior members of the British monarchy, but sometimes it can be the wrong interest."
That same year, Meghan, 40, and Harry, 37, revealed to the world that they were uprooting their lives to America. However, seeing the photo of Prince George, 8, with his father and grandmother wasn't necessarily the straw that broke the camel's back.
Article continues below advertisement
"Harry and Meghan had decided more or less within the first few months of meeting that they could have a different life," he shared. "It wasn't exactly mapped out word for word, what we've ended up with, but certainly for Prince Harry, he wanted to have a different role in his life. We'd seen that already with him trying to branch out within the military, and of course, alongside Kate and William, he started those mental health charities."
Article continues below advertisement
The two settled into their Montecito, Calif., home last year, but according to expert Richard Hillgrove, he believes that the dad-of-two isn't thrilled with his new lifestyle.
"Unfortunately, Harry's just like a rabbit in the headlights and caught up in it. He doesn't look like a happy person at all. He looks jaded. The funny thing is, what he said in the ITV interview was that he's withdrawing from royal life, because he doesn't want to be in the limelight," he said, referring to Harry's interview with Tom Bradby, which aired in 2019.