The Fab Four! Meghan Markle & Prince Harry Finally Share First Photo Of Daughter Lilibet On Their Holiday Card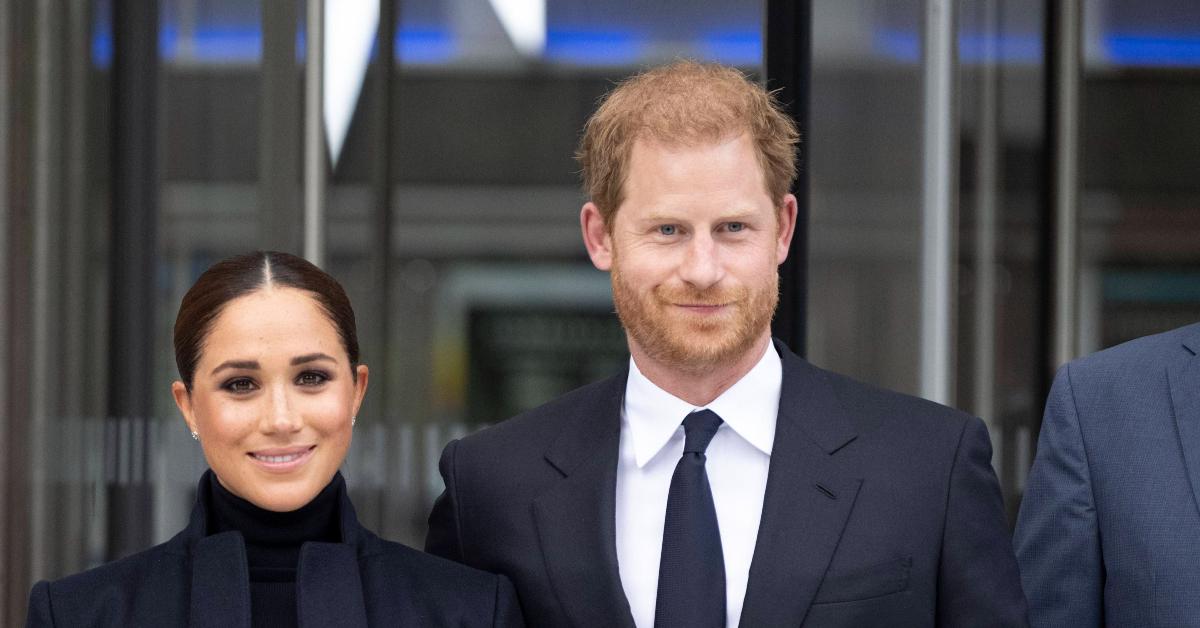 There she is! Six months after Meghan Markle and Prince Harry's daughter, Lilibet, was born, the couple finally shared the first photo of their tot — on their holiday card.
Article continues below advertisement
In the photo, which was taken by Alexi Lubomirkski this past summer at their home in Montecito, Calif., Harry, 37, who is wearing a blue top and jeans, holds son Archie, 2 — who has similar locks to his father — on his lap. For her part, Meghan, 40, is wearing a black sweater and jeans while holding her daughter in the air.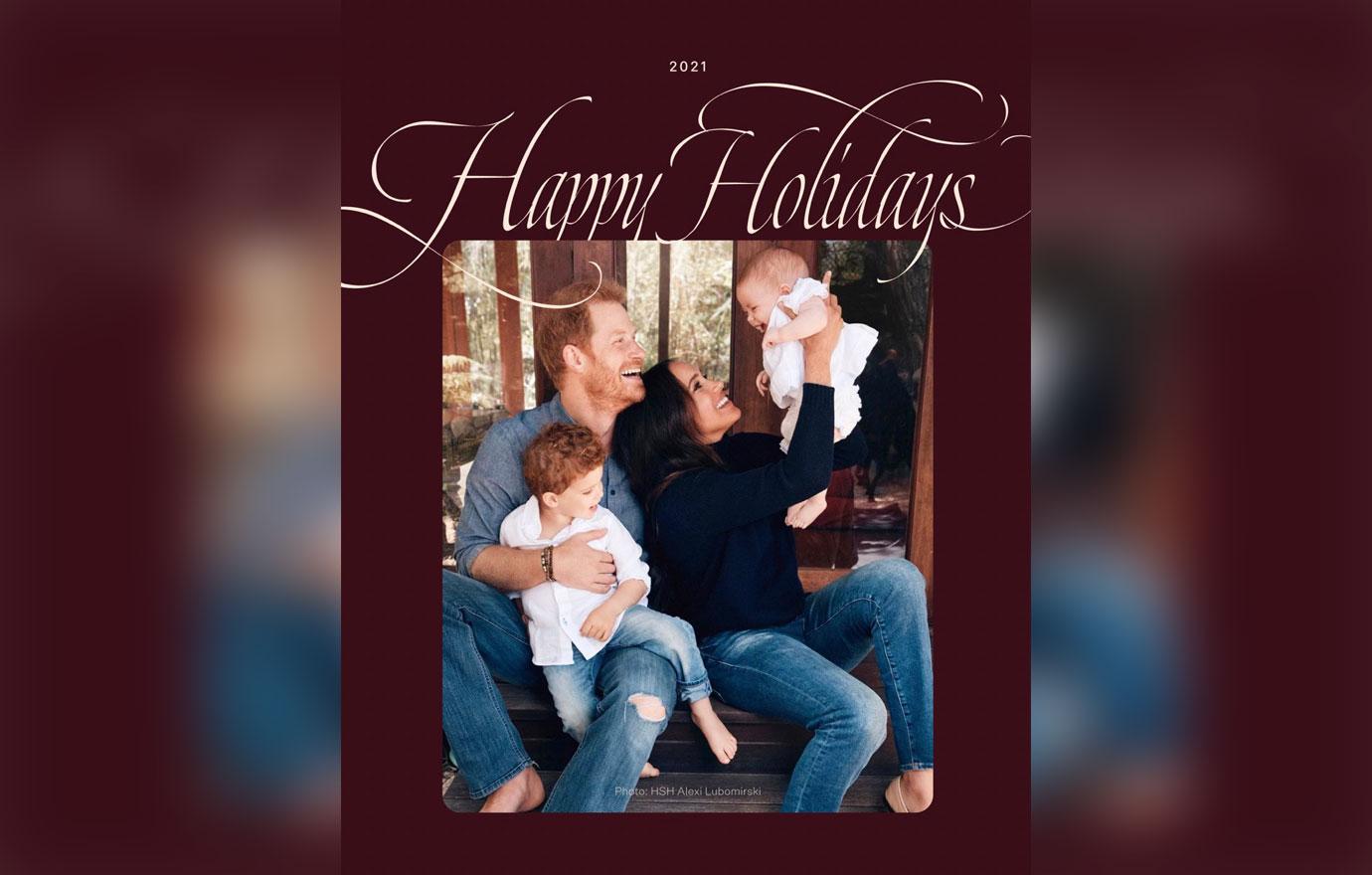 Article continues below advertisement
"Happy Holidays," the card reads. "This year, 2021, we welcomed our daughter, Lilibet, to the world. Archie made us a 'Mama' and a 'Papa', and Lili made us a family. As we look forward to 2022, we have made donations on your behalf to several organizations that honor and protect families – from those being relocated from Afghanistan, to American families in need of paid parental leave."
Article continues below advertisement
Team Rubicon, "an international non-government organization specializing in disaster response," shared the first snapshot on their website.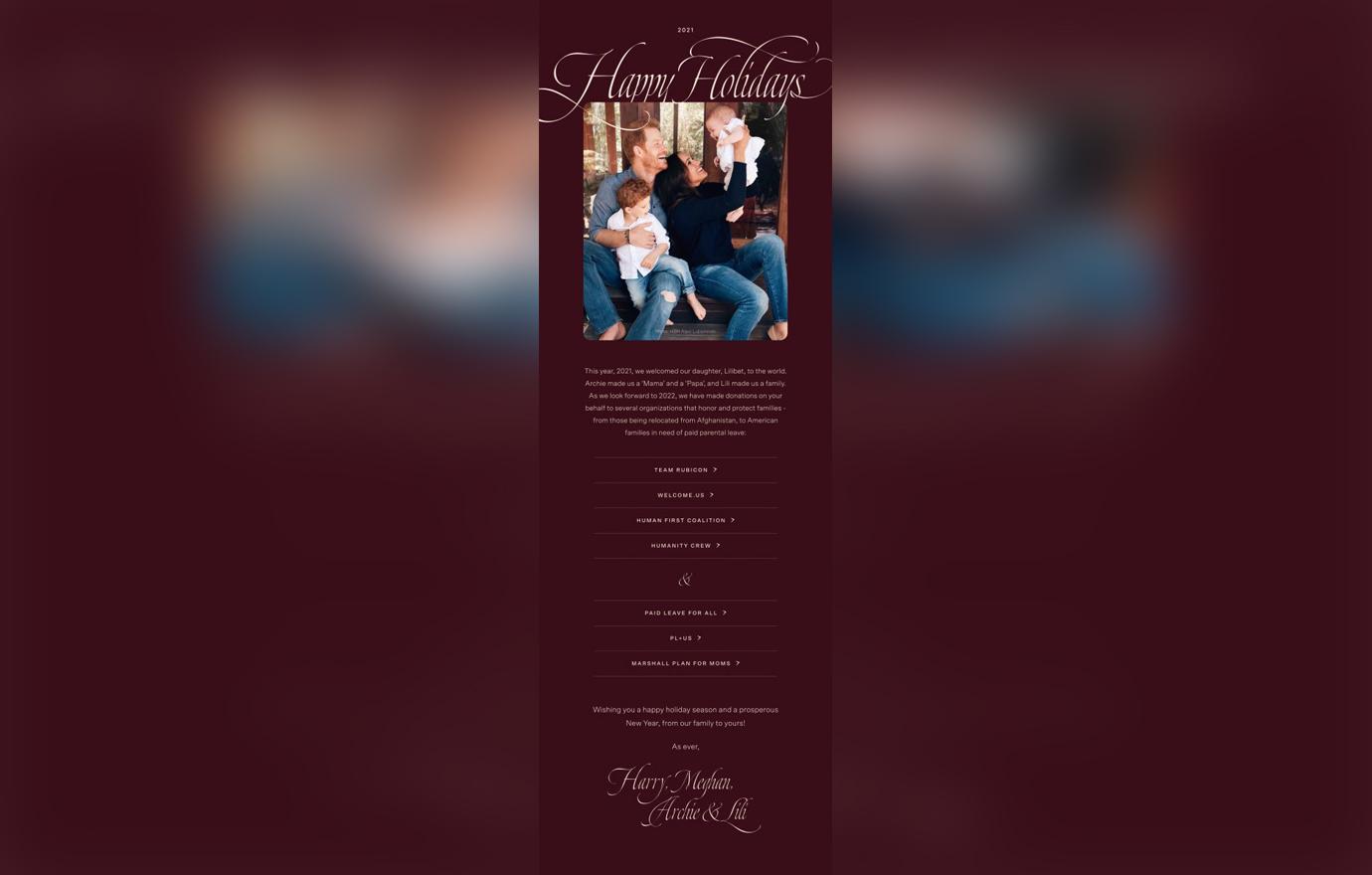 Article continues below advertisement
"The Duke and Duchess of Sussex had the opportunity to connect with Team Rubicon earlier this year during their visit to Joint Base McGuire-Dix-Lakehurst," a spokesperson for the couple said in a statement. "They were moved by Task Force Liberty, home to 10,000 Afghan refugees, and their donation will support resettlement sites like TF Liberty across the country, particularly as they find permanent homes for Afghan refugees in 2022."
"In addition to focusing on Afghan resettlement, we are also making contributions to organizations supporting families through paid leave, something The Duchess of Sussex has previously noted is a humanitarian issue that she believes must be urgently addressed in the United States," the message continued.
Article continues below advertisement
In November, the former actress gushed over how Archie is adjusting to his new role.
"He loves being a big brother. I think everyone tells you — actually someone told H [Prince Harry] and I that you have one kid it's a hobby and two children is parenting, and suddenly we realized, 'Oh, right. Everyone talks about what it's like for the second child, but no one talks about the adjustment for the first child when the second one comes along.' I think they have that moment of, 'This is fun. Oh, this is how it is now.' He is so sweet," she said on Ellen DeGeneres' show.