Meghan Markle & Prince Harry Were 'Hoping To Mend Fences' With The Royal Family, But They 'Ran Into A Brick Wall,' Author Claims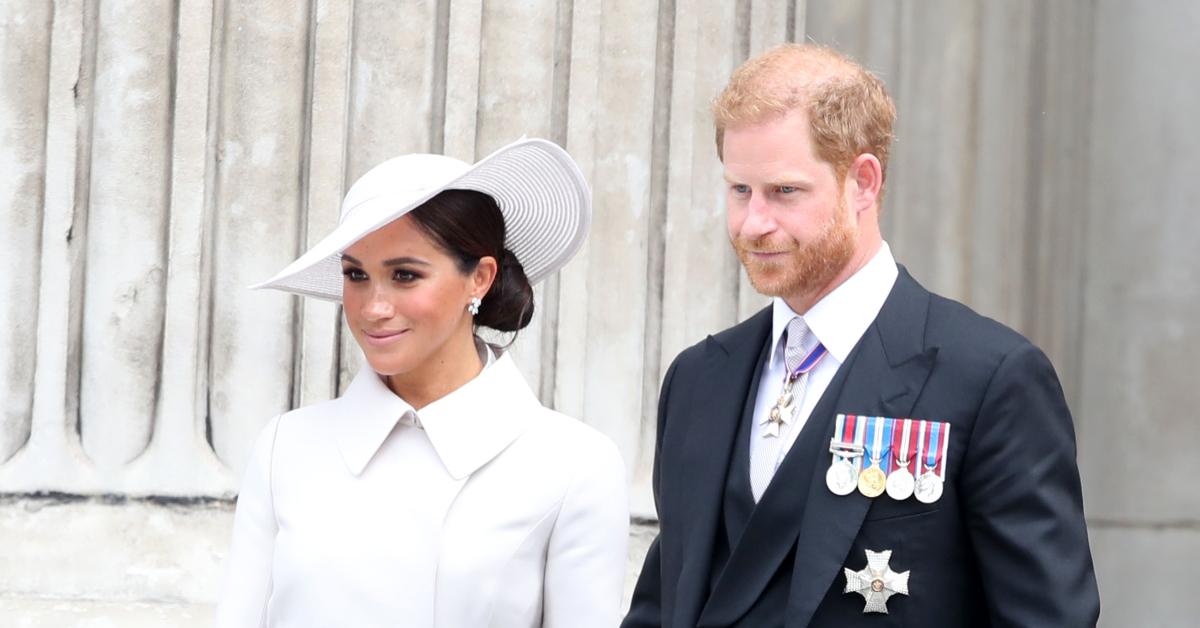 Meghan Markle and Prince Harry were seen out and about at a couple of events at the Queen's Platinum Jubilee, but it seems like their mission was not completed.
"They went there hoping to mend fences and ran into a brick wall," expert Christopher Andersen told Us Weekly, adding that he "was personally surprised" that the pair weren't on the balcony at the Trooping of the Colour. "I thought that there would be an opportunity for [Harry] to show up there to show the solidarity [and] the future of the monarchy. … I'm sure they expected to have a warmer welcome than what they received."
Article continues below advertisement
Despite the couple not being on the best terms with Prince William and Kate Middleton, it seems like they got some much-needed time with Queen Elizabeth. "[Elizabeth] thinks they're adorable and gave Lili and Archie gifts," a source shared.
Over the weekend, Harry, 37, and Meghan, 40, got to celebrate their daughter's first birthday. "It was a lovely do and had everything you'd expect from a child's birthday party," a source divulged of the June 4 festivities. "But there was no formal entertainment. The idea was for it to be very relaxed and casual, with people free to pop in and out as they wished."
Article continues below advertisement
"Her first birthday is such a milestone, there was lots of discussion ahead of time about the presents that she would be given on the day," the source continued. "One idea that proved very popular was a £75 pink Volkswagen Beetle ride-on toy, which had been spotted in Selfridges."
Apparently, the red-headed prince reached out to his brother about coming to the shindig.
"Allegedly, they asked Kate and William and the children to the party," expert Angela Levin claimed. "However, they didn't take the trouble of finding out the Cambridges would be in Wales on the morning, and coming back to get ready for the Jubilee concert in the afternoon, so they couldn't go."