Meghan Markle Accused Of 'Mocking The Queen' & British Culture In Her 40th Birthday Video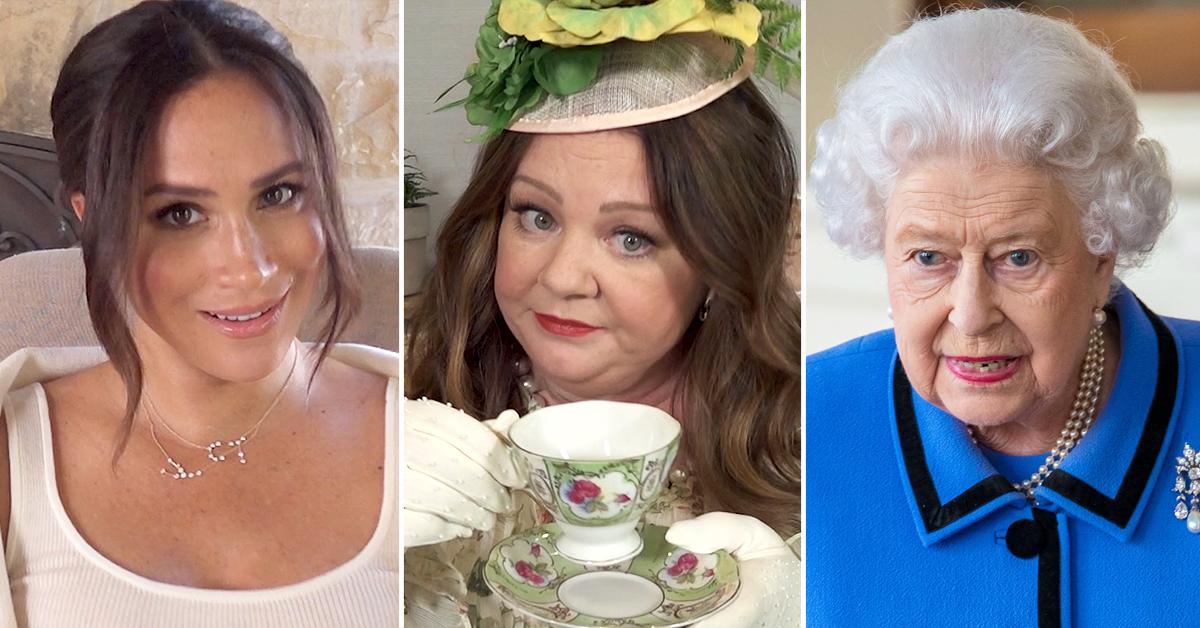 Even though Meghan Markle was trying to do something good by announcing her 40x40 initiative on her 40th birthday, some people thought the video — which featured actress Melissa McCarthy — went too far.
Article continues below advertisement
During the two-minute clip, the Suits star and McCarthy — who wore a hat and gloves — chat and even drink some tea out of nice glassware.
Royal expert Angela Levin took to Twitter to express her thoughts, writing, "Anyone else think that Meghan and her friend Melissa McCarthy were mocking the Queen in the birthday video? Both holding old fashioned cup and saucer like Meg used in her blog after 1st meeting with queen. Melissa sipping from the cup wearing fancy hat and gloves?"
Article continues below advertisement
Levin added, "The mockery shows what she thinks of the Royal Family. She's got what she wanted and is confident she can outsmart us all. We just have to wait for Harry's outpouring in his memoir."
Article continues below advertisement
Royal biographer Robert Jobson seemed to agree with Levin's comments. "Maybe. Certainly poking fun at the Brits … with an outdated caricature. Par for the course," he said.
Other people also chimed in, with one person writing, "Not just the queen but the British culture imo. Selling it and mocking it at the same time," while another defended Meghan, writing, "It was supposed to be funny — not mocking Her Majesty. Just my opinion."
Article continues below advertisement
Meghan and Prince Harry left the royal family in 2020, and even though they might not be on the best terms with the clan, Prince William, Kate Middleton, Queen Elizabeth and Prince Charles still made an effort to send her some well-wishes on her big day.
Article continues below advertisement
"Wishing The Duchess of Sussex a very Happy Birthday today!" The Royal Family's Twitter account, which represents Queen Elizabeth, captioned three photos of Meghan.
"Wishing a happy 40th birthday to The Duchess of Sussex!" Prince William and Kate Middleton captioned a photo of Meghan from her 2018 trip to New Zealand, Australia and the South Pacific.
Lastly, Prince Charles and Camilla, Duchess of Cornwall wrote: "Wishing The Duchess of Sussex a very happy 40th birthday."