Meghan Markle Announces New 40x40 Initiative By Hilariously Bantering With Actress Melissa McCarthy — And She Shares A Glimpse Of Lilibet!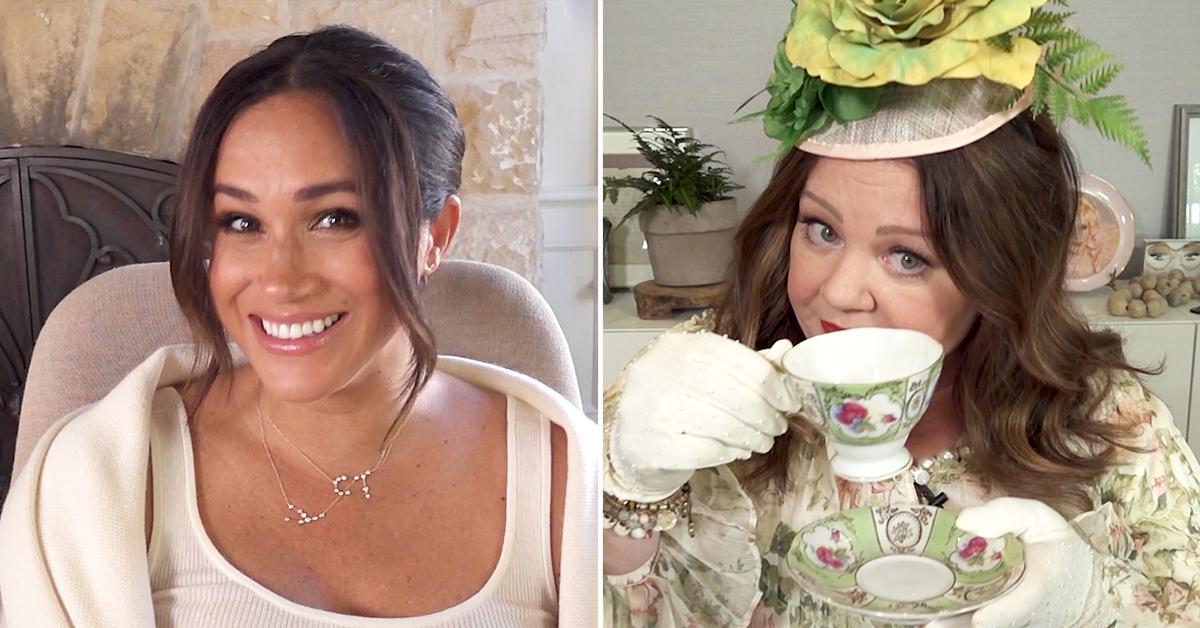 Ringing in 40 the only way Meghan Markle knows how — by giving back to others! On Wednesday, August 4, the Duchess of Sussex announced a new initiative via her Archewell website in honor of her milestone birthday, in which she appeared alongside actress Melissa McCarthy.
Article continues below advertisement
The video begins with McCarthy playing with a Rubik's cube, but then she puts on a dress and hat while drinking tea. "It's my 40th birthday, and I have got an idea," Meghan says.
"I know what it is. My first guess is it a photoshoot under the tree where you're looking very peaceful," McCarthy asks, referring to Meghan and Prince Harry's photo when they announced the former was pregnant with daughter Lilibet. "Are we finally getting matching tattoos? Are you finally going to do a Suits reunion?"
Article continues below advertisement
"I love Suits, but why would I do a Suits reunion for my birthday?" Meghan replies. "Here's the idea, because I am 40, I am asking 40 friends to donate 40 minutes of their time to help mentor a woman who is mobilizing back into the workforce. Over two million women in the U.S. alone and tens of millions around the world have lost their jobs due to COVID, and I think if we all do it and all commit 40 minutes to some sort of active service, we can create a ripple effect. Are you in?"
Article continues below advertisement
"Yes, times 40," the Bridesmaid star says.
At the end, Prince Harry can be seen juggling through a window, and McCarthy can't help but crack up.
Article continues below advertisement
Fans were also quick to notice there were some family photos on Meghan's desk — one of Archie and one of what looks to be Lilibet. Give the people what they want, Meghan!
Article continues below advertisement
"In reflecting on my 40th birthday and the many things I am grateful for, I'm struck that TIME IS AMONG OUR GREATEST AND MOST ESSENTIAL GIFTS: Time with our loved ones, time doing the things we love, time spent learning, laughing, growing, and the sacred time we have on this earth," the mom-of-two wrote. "Amongst the most valuable gifts of time is also time spent in service to others knowing that it can contribute to incredible change. To that last point, and with my 40th lap around the sun in mind, it made me wonder: what would happen if we all committed 40 minutes to helping someone else or to mentoring someone in need? And then what would happen if we asked our friends to do the same?"
"For my birthday, I have asked 40 friends, activists, athletes, artists, and world leaders to help kickoff a global effort by contributing 40 MINUTES OF MENTORSHIP to support women re-entering the workforce. With this time, I hope they each help someone advance a professional life on her own terms, and, I hope that they inspire countless others to give 40 minutes of their time as well," she continued.
Adele, Amanda Gorman, Amanda Nguyen, Deepak Chopra and more have contributed their time so far.