Kate Middleton Chops Wood During Visit To An Outdoor Kindergarten Class — See The Amazing Photos!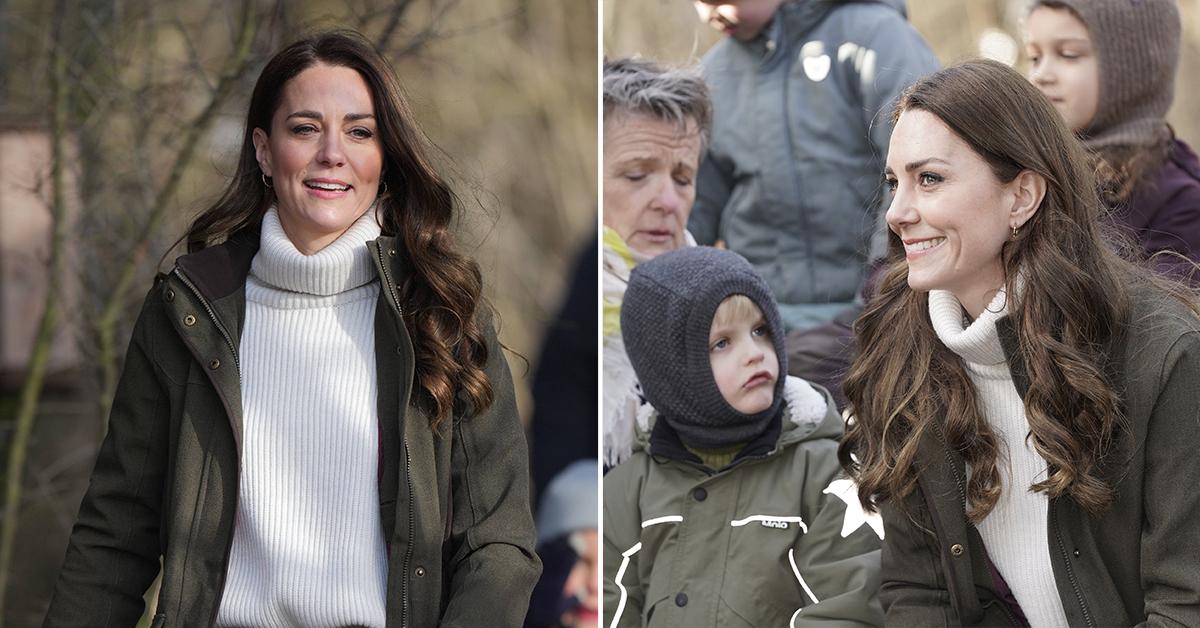 She's got skills! Kate Middleton wasn't afraid to get down and dirty when she attended an outdoor kindergarten class in Denmark on Wednesday, February 23.
Article continues below advertisement
The 40-year-old spent time with the children, where she got to hear about their approach to learning.
Scroll through the gallery below to see more photos!
Article continues below advertisement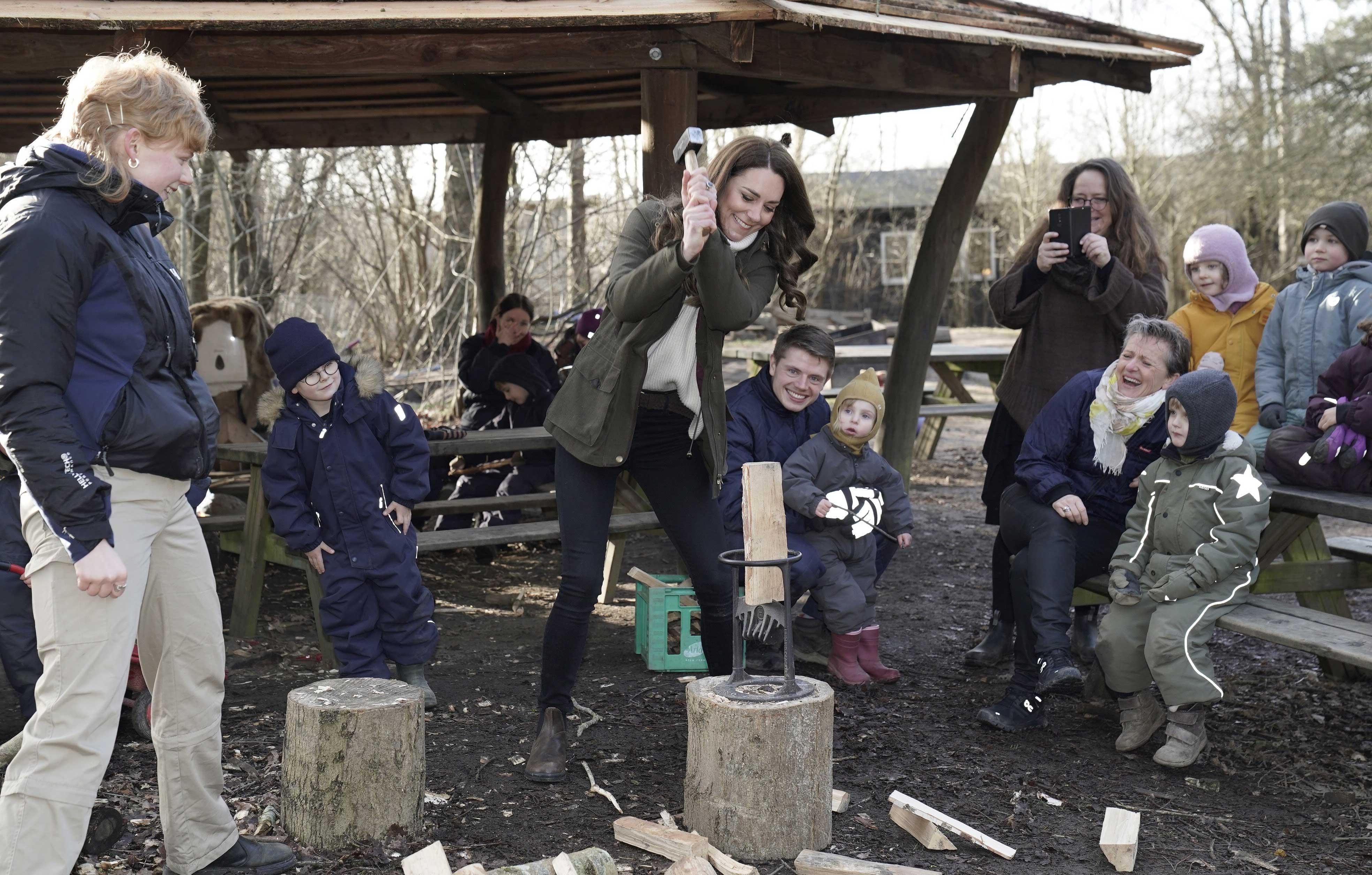 The brunette beauty sported a green jacket, jeans and boots while out and about.
"Yesterday was all about understanding the very earliest stages of a child's development here in Denmark 🇩🇰. Today we move on to learn about the next stage of their life, focusing on children's mental health and well-being," a message said. "Stenurten Forest Kindergarten uses the power of nature and the outdoors to help build children's self-awareness, strengthen relationships with others and understand their value in society."
Article continues below advertisement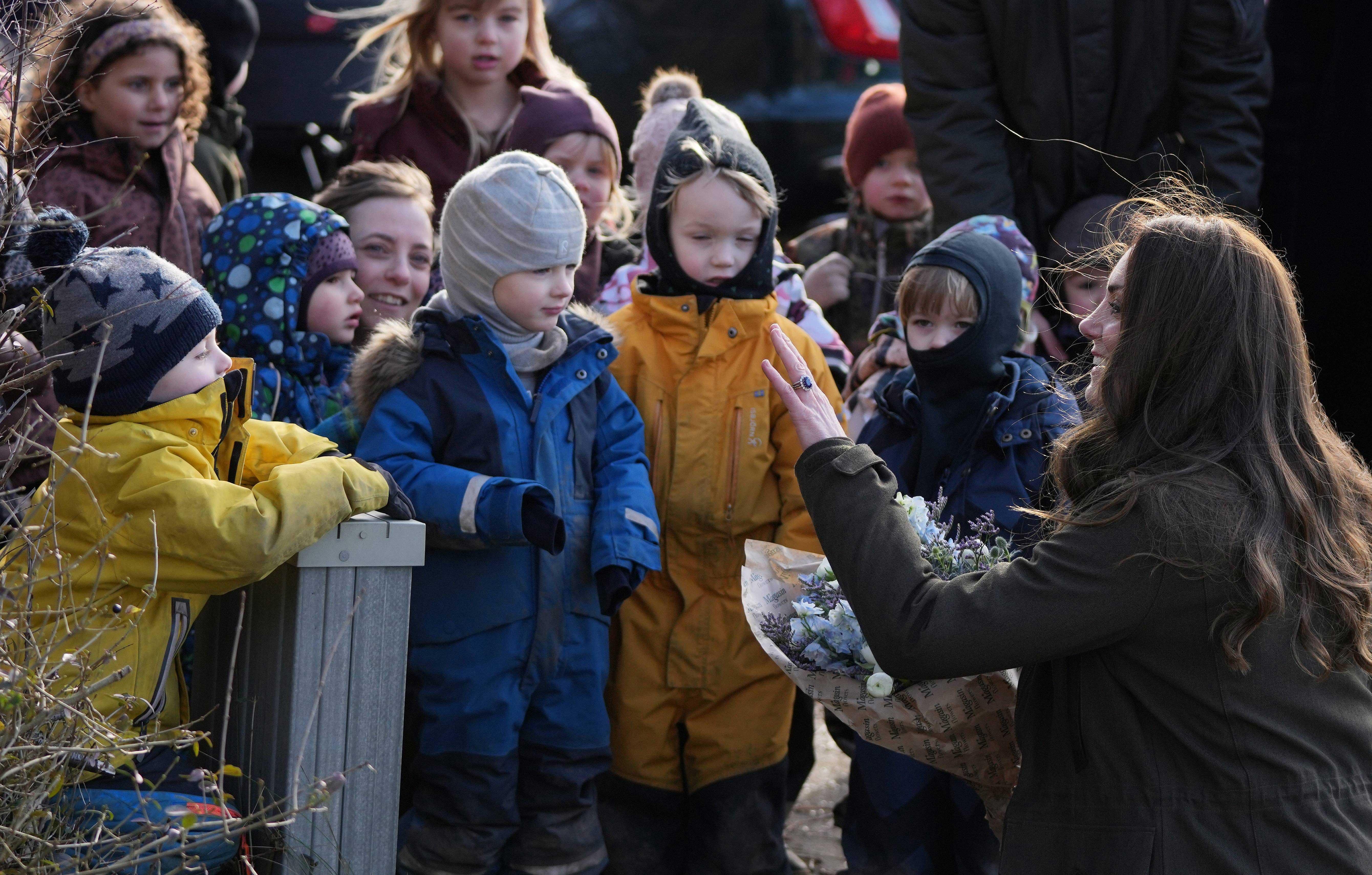 Too cute! Kate received flowers from the tots and looked so happy to be interacting with the little ones.
Royal fanatics loved seeing the princess bond with the tots. One person wrote, "This kindergarten is such a cool idea 👏🏻👏🏻👏🏻 our Duchess was in full Children's Princess mode and it's so clear the love is mutual 🥺🥺❤️❤️❤️❤️," while another added, "How lucky we are she really is the best 💜."
A third person added, "What an amazing asset to the royal family, a wonderful girl."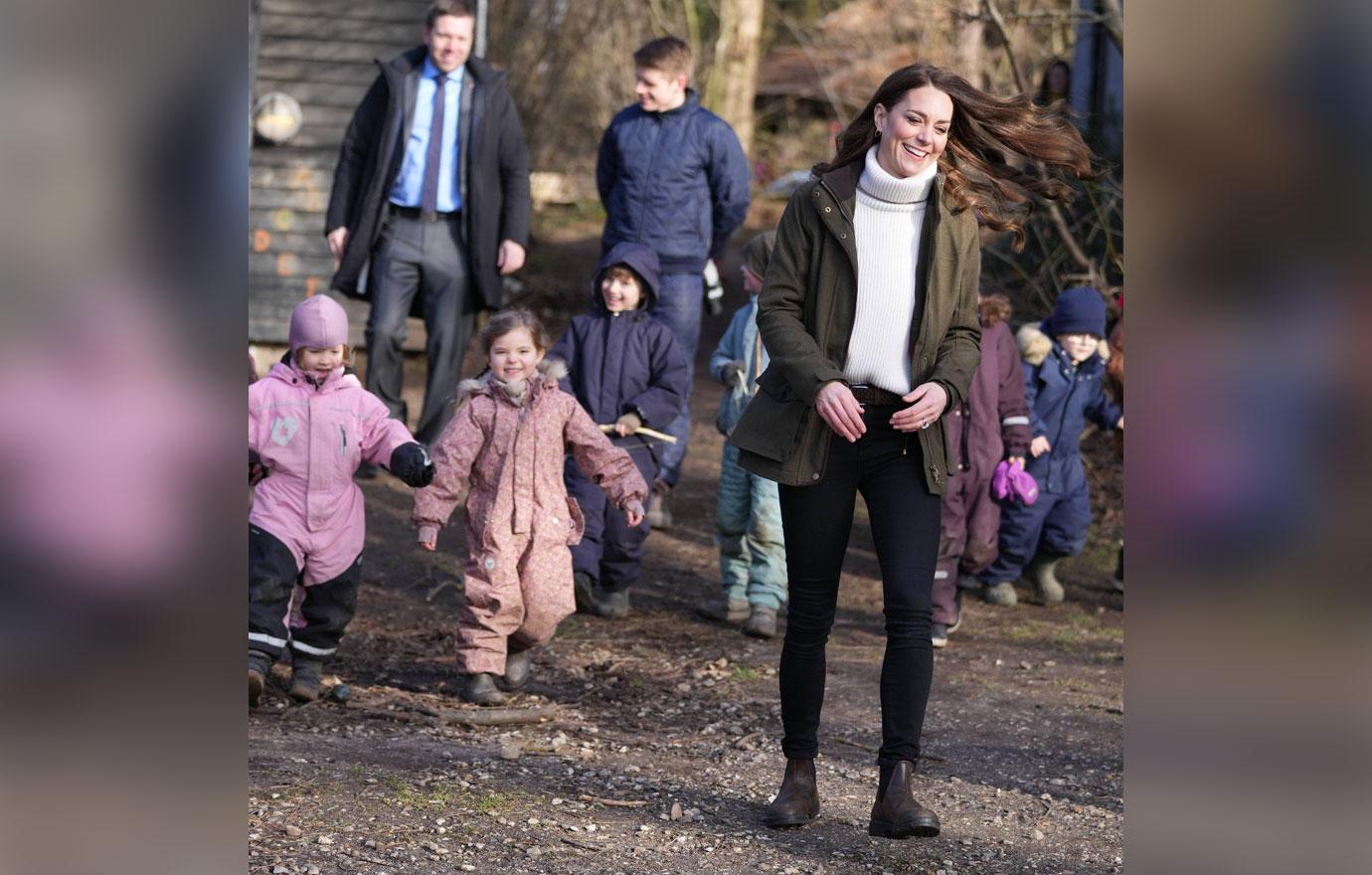 Later that day, Kate met with Princess Mary of Denmark and Queen Margrethe.
"Joining The Queen of Denmark and The Crown Princess to celebrate a Jubilee year for both the United Kingdom and Denmark – a Golden Jubilee here in Denmark, and Her Majesty The Queen's Platinum Jubilee back in the UK. Thank you for the warm welcome! 🇩🇰," a message read.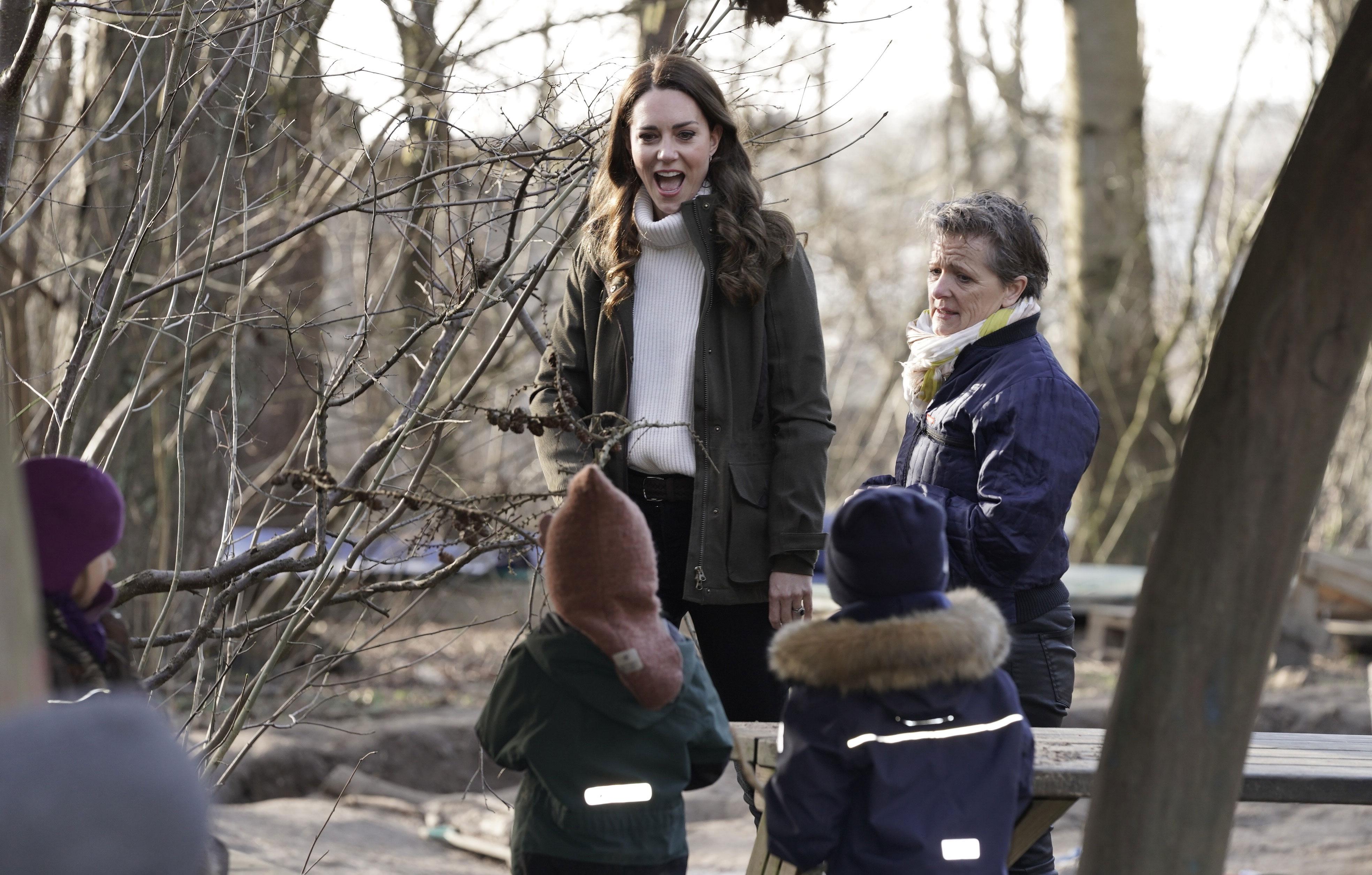 For her part, Princess Mary's Instagram stated, "🇬🇧 A short while ago, Her Majesty The Queen and Her Royal Highness The Crown Princess welcomed Her Royal Highness The Duchess of Cambridge to Denmark during a reception at Amalienborg. The Duchess is on a two-day working visit in Copenhagen, where Her Royal Highness is visiting a number of institutions in the capital.The reception of The Duchess took place in Christian IX's Palace, where The Queen resides. The palace is named after Christian IX, who is the great-great grandfather of both The Queen and Her Majesty Queen Elizabeth of Great Britain. The king resided in the palace during his 42-year reign, and the familial bond between the two royal families thus goes back many years."