David & Victoria Beckham Are 'Concerned' About Inviting Prince Harry & Prince William To Their Son's Wedding, Worried 'It Will Create Conflict,' Source Claims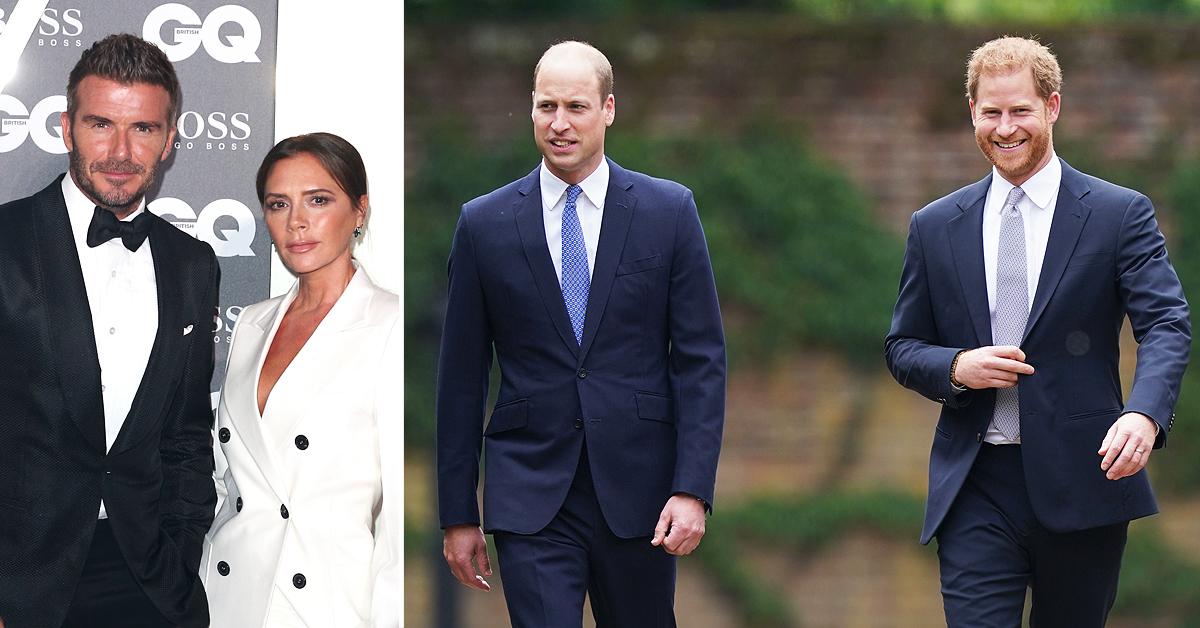 It looks like Victoria and David Beckham are being forced to pick sides when it comes to Prince Harry and Prince William. The famous power couple are planning their son Brooklyn's wedding, and it seems like they are having trouble putting together the guest list.
Article continues below advertisement
"Vic's a bit concerned about inviting both couples and all the attention being focused on the warring royals rather than her son and his future wife," a source told Closer magazine. "Whoever they don't invite, it will look like a snub and she's worried that if she invites both, it will create conflict for her and David given they want to remain on good terms with both couples. She's understandably worried about being dragged into Meghan's feud."
Article continues below advertisement
The soccer player — who was pictured with Prince William at the Euro 2020 match in July — has previously spoken about his bond with the brothers.
"We've done a lot of functions together," he said of William and Harry in a 2013 Esquire UK interview. "It's a very normal relationship. With Harry, as well. They're very easy to get along with. They love their sport. William loves Aston Villa, unfortunately, which obviously I give him a bit of stick about."
Article continues below advertisement
Victoria has also been a supporter of Meghan in the past.
"I liked what Meghan Markle said at the Fashion Awards. That it used to be cool to be cruel, and now it's cool to be kind," she previously said. "Kindness has always been at the core of girl power."
Article continues below advertisement
Meanwhile, the source claimed that David is remaining "neutral" when it comes to the invite list.
Article continues below advertisement
"I am told that despite claiming she was unable to attend, Meghan desperately wanted to be the special guest at the Obama's amazing party," author Angela Levin claimed while writing for The Sun.