Princess Charlotte & Princess Beatrice's Sweet Interaction At Prince Philip's Memorial Service Was Too Cute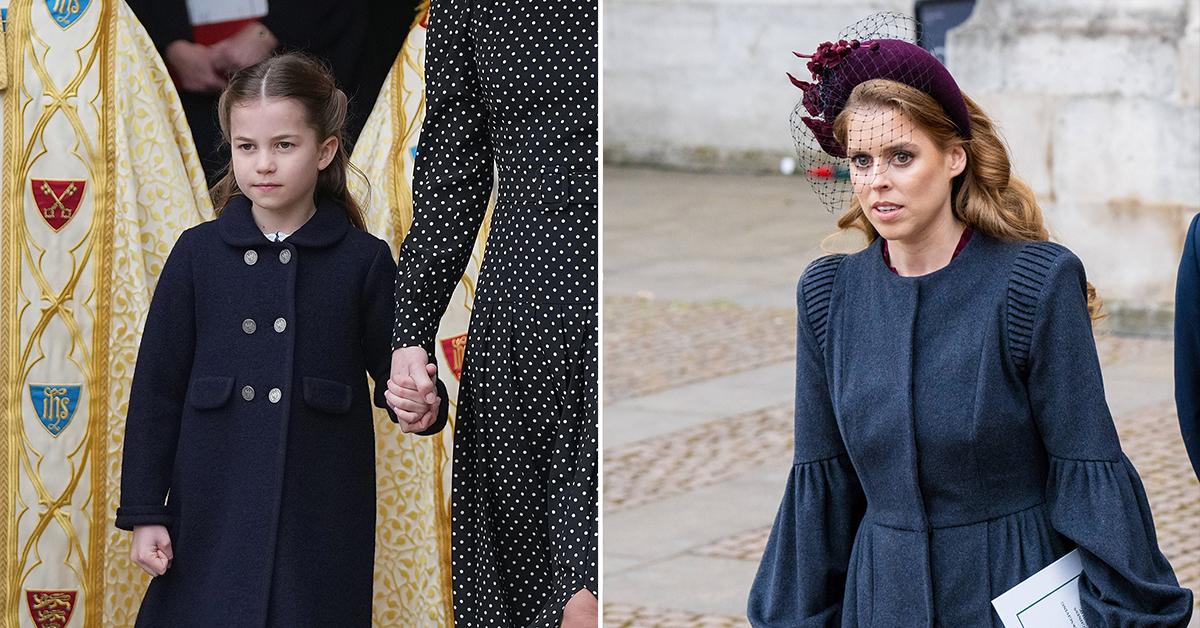 So adorable! During Prince Philip's memorial service, which took place on Tuesday, March 29, Princess Beatrice and Princess Charlotte shared a very sweet moment.
While inside Westminster Abbey, Charlotte, 6, and Beatrice, 33, locked eyes, which made the latter grin from ear-to-ear.
Article continues below advertisement
"Judging from the strength of her tears it is possible she might have been heard sobbing, and this could have prompted little Charlotte to turn to see if she was OK," body language expert Judi James noted. "Children can be very tuned into adult emotions and also lack the adult skills of ignoring displays out of politeness. Beatrice's response was a lightning smile, i.e. one that flashed up quickly, in what could have been a desire to reassure Charlotte that she was OK."
Article continues below advertisement
The royal family — except for Prince Harry and Meghan Markle — attended the shindig, and Beatrice even got emotional when her grandfather was mentioned.
In photos from the event, the blonde beauty started crying as everyone read the first hymn. Fortunately, her husband, Edoardo Mapelli Mozzi, was there to console her.
The Dean of Westminster spoke highly of the late father-of-four, who died in April 2021. "There is no doubt that he had a delightfully engaging, and often self-deprecating, sense of humor. It is quite clear that his mind held together both speculation and common sense. Moreover, nobody would ever doubt his loyalty and deep devotion to our Queen and to their family," he shared. "Yet, there were times when he could be abrupt; maybe, in robust conversation, forgetting just how intimidating he could be."
Article continues below advertisement
"A kind of natural reserve sometimes made him seem a little distant. He could be somewhat sharp in pricking what he thought to be bubbles of pomposity or sycophancy. On the other hand, we should not forget that he himself was sometimes wounded by being unfairly criticized or misunderstood," he continued. "Like the rest of us, he was part of flawed humanity. Unlike most of us however, he was one of those rare people who remained true to, and guided by, what you might call 'an inner spiritual compass'; a sense of being called to play a part in the making of a God-intended world."