Princess Anne & Prince Edward Could Be Included In Counsellors Of State Since Prince Andrew & Prince Harry Are No Longer Senior Members Of The Royal Family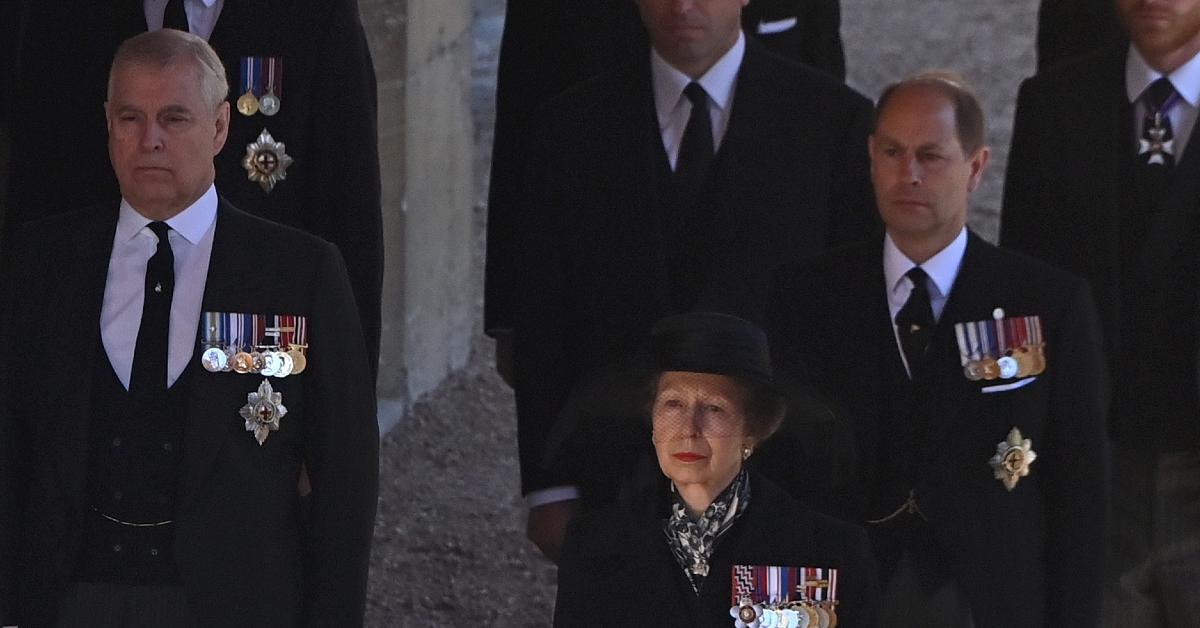 Since Queen Elizabeth experienced some health issues in the past few weeks, the family is already thinking about things going forward.
Article continues below advertisement
Former politician Gyles Brandreth discussed who would take over the 95-year-old's duties if something were to happen to her. "Camilla is already doing much more than she used to do, she is regularly standing in for the Queen," he noted. "This issue is to do with Counsellors of State. If they Queen is unable to fulfill her duties, a Counsellor of State has to do it."
Article continues below advertisement
"There are currently four: Prince Charles, Prince William, the Duke of Sussex and the Duke of York," he continued. "The Duke of Sussex is away, the Duke of York is lying low. If Prince Charles is out of the country — for example, he will be in Egypt and Jordan in a couple of weeks time — and Prince William isn't available, I suspect they could include Princess Anne or Princess Edward."
Meanwhile, Dr. Craig Prescott, a constitutional expert at Bangor University, agreed, saying, "The Counsellors of State are a Plan B from a constitutional point of view, but what happens when Plan B isn't quite ideal? The Queen may look to add the Duchess of Cornwall, who would become a Counsellor of State when Charles is King anyway. Or they could go down the line to Princesses Beatrice or Eugenie, or add more members of the family, like Princess Anne or Prince Edward to the list."
Article continues below advertisement
"Following on from their recent advice that The Queen should rest for a few days, Her Majesty's doctors have advised that she should continue to rest for at least the next two weeks," the palace in a statement. "The doctors have advised that Her Majesty can continue to undertake light, desk-based duties during this time, including some virtual Audiences, but not to undertake any official visits. Her Majesty regrets that this means she will be unable to attend the Festival of Remembrance on Saturday, 13th November."
Article continues below advertisement
The statement concluded, "However, it remains The Queen's firm intention to be present for the National Service of Remembrance on Remembrance Sunday, on 14th November."
Despite the setback, it seems like the monarch is determined to bring her family together for the holidays.
"This year, more than ever, it is incredibly important to Her Majesty to be surrounded by her loved ones," a palace insider said, The Mirror reported. "The Queen is totally committed to hosting everyone as she hopes to make it back to full health in the coming weeks. Her Majesty is resting under doctors' orders with the intention of being able to fully enjoy the company of her extended family over the holiday period."