How Prince William & Prince Harry Honor Princess Diana On Anniversary Of Her Death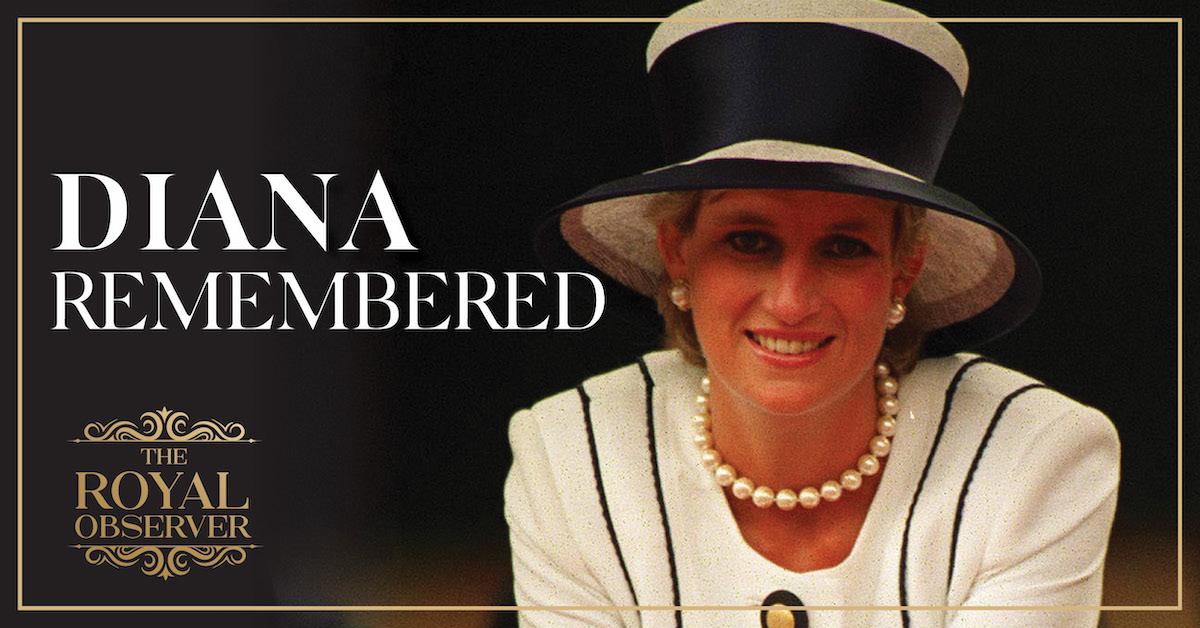 Unless the siblings are out of town on royal business, the source said Prince William, 37, and Prince Harry, 34, always meet up and spend the somber day together, remembering all the good times they had over lunch or dinner at Kensington Palace. Said the insider, "They talk about the little things about Diana that made them laugh: the ski trips and outings to Thorpe Park; the effort she went to on their birthdays — all of it."
Article continues below advertisement
And there are so many joyous memories to look back on, especially since Diana had a wonderfully cheeky sense of humor. William re- called a story about his 13th birthday, when Diana made him a custom cake in the shape of two, ahem, breasts, and when he got home from school that day, supermodels Claudia Schiffer, Naomi Campbell and Christy Turlington were there waiting for him!
"I was a 12- or 13-year-old boy who had posters of them on [my] wall. I went bright red and didn't quite know what to say, and sort of fumbled," William recalled. "I think I pretty much fell down the stairs on the way up. That was a very funny memory that's lived with me over the past year.
With the upcoming anniversary of Princess Diana's tragic death in a car crash on August 31, 1997, a royal insider said the brothers are expected to rekindle their bond by honoring their late mom. "While there continues to be tension between William and Harry, Diana's death is the toughest thing the boys have ever had to deal with, and they've depended on each other to stay strong," the source said. "Despite not always seeing eye to eye, the love they have for [their mother] is something they'll bond over for the rest of their lives."
While much of the day is spent reminiscing about the past, Harry and William also mull over what they can do in the present and future to help keep her warm-hearted spirit alive. "They always discuss Diana's charity work and brainstorm ways they can continue her legacy," added the insider. "Helping others and being a role model to those less fortunate is at the top of their priority list."
Article continues below advertisement
Fortunately for Diana's sons, the support system that helps them process this trauma has grown larger over the years, with the addition of their wives and children. "William and Harry usually spend a few hours together, just the two of them, and their other halves and the kids join them later," said the source.
Even though supposed quarrels between the Duchesses of Cambridge and Sussex have been at the heart of speculation over Harry and William's falling-out, the insider is confident the sisters-in-law will set aside their disagreements out of respect for Diana. "Kate and Meghan are polar opposites, and while they don't have much in common, their No. 1 priority is the happiness and well-being of their families. They're determined to put their differences aside as they celebrate the life of William and Harry's mom."
Article continues below advertisement
Meghan, in particular, has been especially supportive of Harry's desire to remember and honor his mother, creating a home that celebrates her — there's a photograph of Diana in Archie's nursery — and aspiring to live her life by Diana's example. "It was during their first trip to Africa together, shortly after they started dating, that Harry first opened up to Meghan about his mom and the pain he suffered following her death," the insider said. "He still gets very emotional talking about it. One of the things that first attracted Harry to Meghan was the way her kindness, determination and strength reminded him so much of his mom," added the source.
"While no one could ever replace Diana, Meghan does her best to follow in her footsteps." Harry's naturally warm and outgoing — like his mom — so he's always expressed his grief more openly. But William, the older and more introverted of the two, has traditionally been more private about the loss. "William and Kate's apartment at Kensington Palace is full of framed photos of Diana with William as a child. But he's much more reserved than Harry, and there are times he has difficulty talking about his feelings," said the insider.
Article continues below advertisement
William took cues from the close-to-the-vest manner of mourning displayed by his dad, Prince Charles. "When Diana passed, obviously Charles was there for the boys and tried his best to help them overcome the trauma," said the source. "William had difficulty talking about Diana after her death," but 22 years later, he's starting to break out of his shell. "Since having kids," the source added, "we've seen his warmer side come out."
The royal insider added that even though William doesn't talk about it openly, he and Kate have always looked to Diana as a guiding light in parenting decisions: "Diana was such a wonderful mother. William and Kate are doing their best to take after her when it comes to raising George, Charlotte and Louis. They're determined to give their kids a normal life, just like Diana did." That includes everything from wisdom to discipline, added the source: "If the kids misbehave, William often thinks to himself, 'What would my mom have done in this situation?'"
And Diana's legacy will continue to live on through the generations. "George and Charlotte know all about their late grandmother and what an amazing woman she was," the source said. "William tells them she's watching over them from heaven."