Piers Morgan Calls Sophie, Countess Of Wessex An 'Impressive Lady' After Her 'Moving' Comments About Prince Philip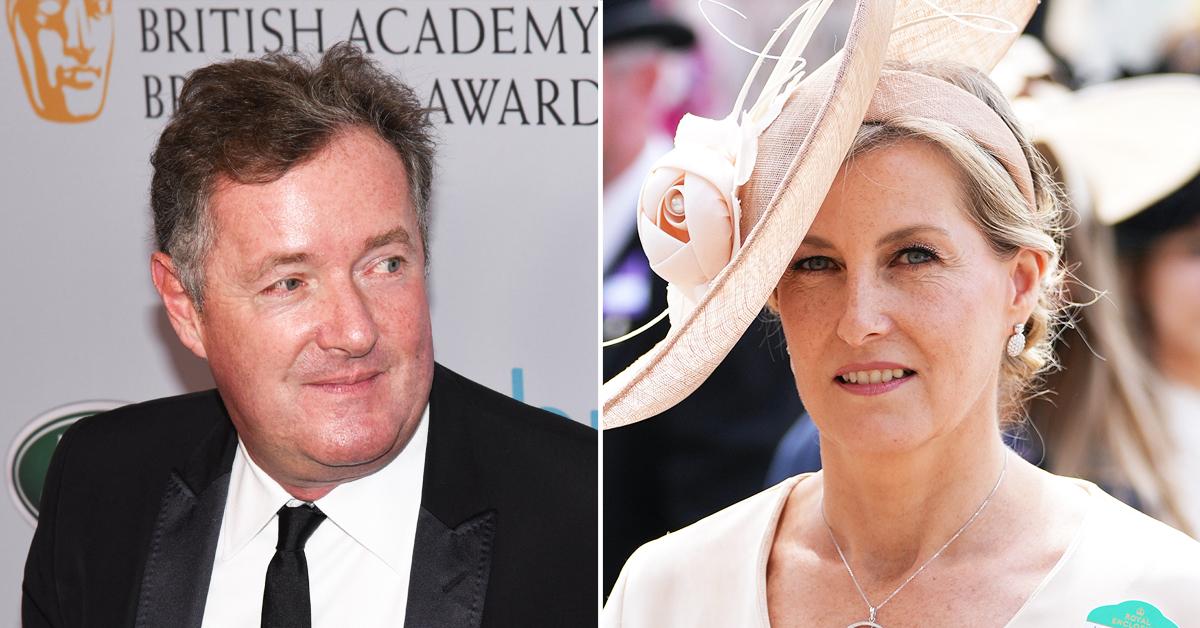 Well, at least he has one nice thing to say about the royal family! Piers Morgan praised Sophie, Countess of Wessex after she gave an interview about how their brood has been coping ever since Prince Philip passed away in April.
Article continues below advertisement
"Very moving, and one of the best descriptions of grief that I've heard. Sophie's an impressive lady," he wrote on Twitter.
Article continues below advertisement
Earlier that day, Sophie was emotional when talking about the late Duke.
Article continues below advertisement
"Well, he has left a giant-sized hole in our lives," she told BBC Radio 5 Live. "I think the pandemic has unfortunately slightly skewed things in as much as it's hard to spend as much time with the Queen as we would like to. We've been trying to, but of course it's still not that easy."
"And of course the normal way of things isn't normal yet so we're not necessarily doing the things that we would normally have done with him," she continued. "So I think the whole grieving process is probably likely for us to take a lot longer. It may be the same for many other families out there. Because if you're not living with somebody, 24/7, the immediate loss isn't necessarily felt in the same way, as if somebody was in the house with you all the time."
Article continues below advertisement
Earlier this week, the TV personality didn't hold back when talking about Meghan Markle and Prince Harry.
"In relation to the [Oprah Winfrey] interview, we now know that there were at least 17 things that came out of Meghan Markle's mouth, which have now been proven to be untrue, so I don't know at what point I'm allowed to not have to apologize for disbelieving somebody who is palpably a liar," he said on Fox News.
Article continues below advertisement
"It is a farcical situation, and of course with all these situations at the minute, with the cancel culture, the Twitter mob come for you and say, 'Well if you don't believe Meghan Markle you are a racist,'" he continued. "To which I say, I've never said a racist thing about Meghan Markle or anybody else, it has nothing to do with the color of her skin and everything to do with her inability to tell the truth and her rank hypocrisy."
Article continues below advertisement
Morgan gave the couple — who moved to California in 2020 — some advice going forward.
"I think it's about time those two gave up their titles, stop whining 24/7 and try to take a leaf out of the book of the Queen, whose nickname, Lilibet, they've hijacked for their daughter," he fumed. "Take a little tip from the Queen, less is more, and if you want to be a royal, a member of the royal family, less is more. We're hearing too much of your yapping, too much of your whining, it's time to pipe down."