Meghan Markle's Body Language With Daughter Lilibet In Christmas Card Is 'An Almost Direct & Perfect Copy Of A Pose Adopted By Diana,' Body Language Expert Says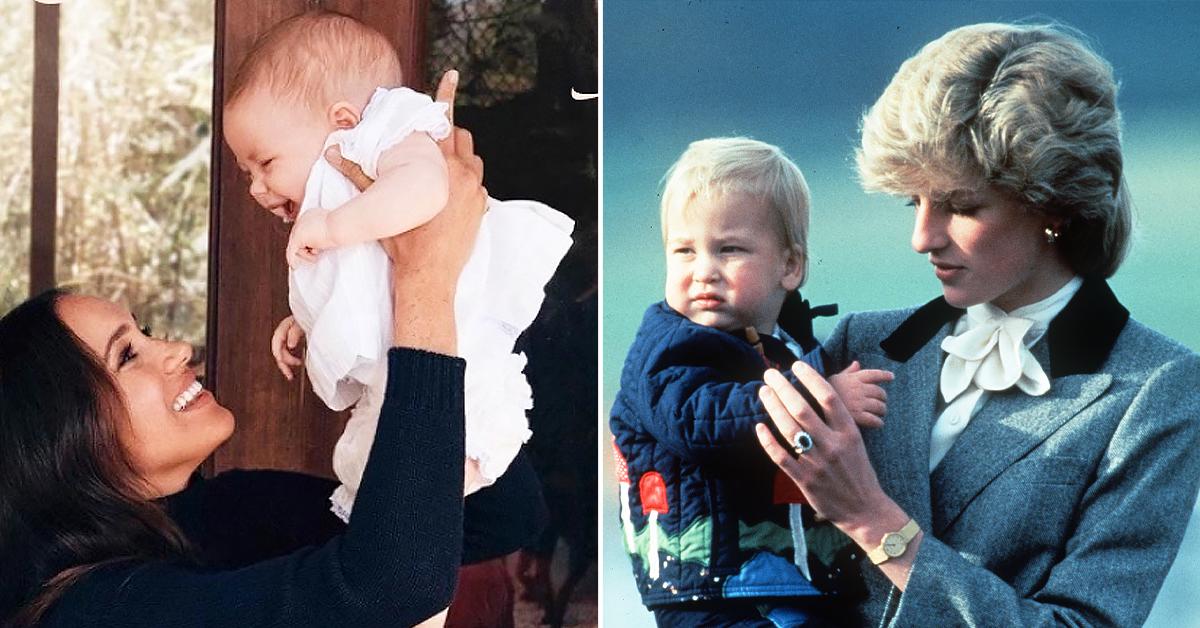 Meghan Markle and Prince Harry finally released a photo of their daughter, Lilibet Diana, last week via their Christmas card, which showed the family-of-four outside their home in California.
While royal fanatics can't stop gushing over the happy brood, one thing that stuck out to body language expert Judi James is that when Meghan, 40, picks up Lilibet, 6 months, in the photo, it's very similar to the way the late princess held Prince William in 1983.
Article continues below advertisement
"The body language that Meghan uses with her baby here is an almost direct and perfect copy of a pose adopted by Diana with her own baby many years before," James told the Daily Express. "Both women define themselves as loving, doting mothers with this pose and both allow their babies to be seen in a playful mood as they laugh and smile down at them."
"Both Meghan and Diana are seen in profile, leaning back to look up at their children as they raise them higher than their own heads," the expert continued. "But, although Meghan's head leans back onto the chest of the royal prince she so clearly loves and is loved by, Diana's head is sadly supported by a cushion alone."
Article continues below advertisement
Article continues below advertisement
Princess Diana will never get a chance to meet the former actress or Prince William's wife, Kate Middleton, but author Andrew Morton claimed that she would find both of them fascinating.
"She would warm to Catherine, her initial shyness on the public stage reminding her so much of her own early trepidation in front of a screaming crowd," Morton said. "As for Meghan, she would find the energetic American mesmerizing and intimidating."
Article continues below advertisement
"Diana was desperate to be known for speeches, rather than fashions, and took lessons to learn how to deliver talks. She would have been taken aback on first meeting Meghan, a force of nature able to speak with passion and precision – and all without notes," he stated. "But as she got to know her and see the vulnerable side of a woman who suffered mental trauma during her first pregnancy – as did Diana – they would have bonded."