Meghan Markle & Prince Harry's Reunion With Kate Middleton & Prince William Was 'Awkward,' Source Reveals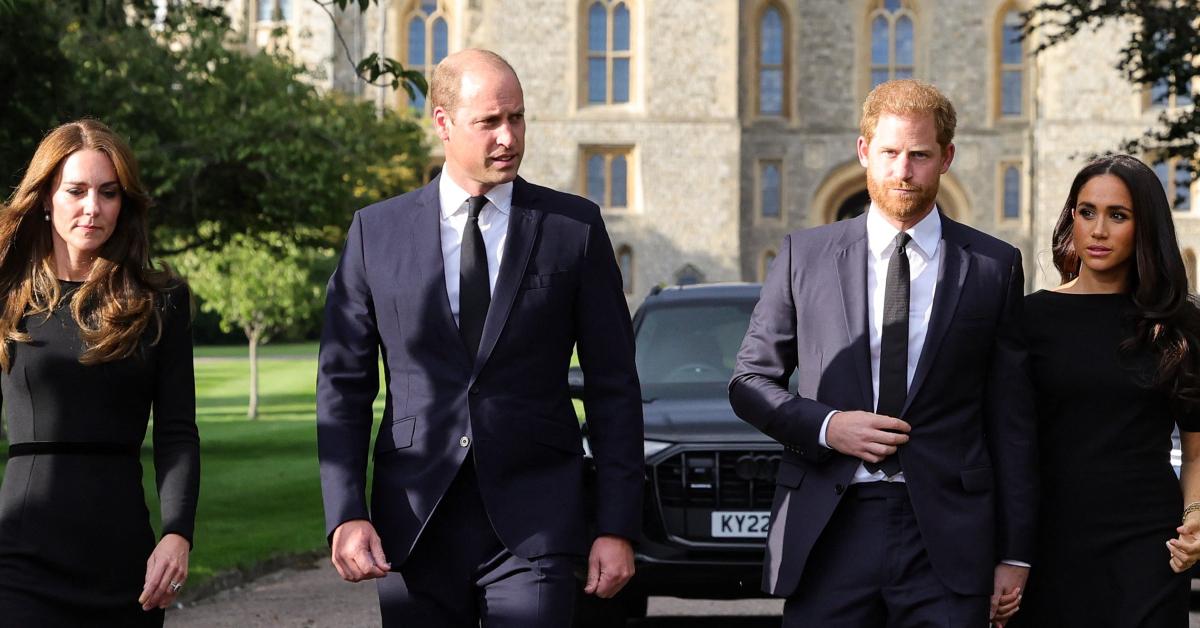 Though Prince Harry and Meghan Markle reunited with the royal family at Queen Elizabeth's funeral, things took an uncomfortable turn when the pair met up with Prince William and Kate Middleton outside of Windsor Castle on September 10.
"It was awkward. Both couples found it hard," an insider dished to People. "They were in a stoic spirit of just getting through it for the Queen."
Article continues below advertisement
It's no surprise there's still tension between Harry and his family, as it looked like Meghan, 41, struggled with being at the funeral.
"Meghan, with her head tilted down, covering her face, indicating feelings of shame and victimization," Dr. Robi Ludwig said. "There is a sense that she is upset and uncomfortable. Her body language indicates a disconnection with the other family members and a discomfort with her current status among the working royals."
Article continues below advertisement
Article continues below advertisement
As The Royal Observer previously reported, the siblings have had a tough few weeks with the matriarch gone.
"This is such an intensely difficult time for the princes," an insider told Us Weekly. "They both adored their grandma and it will take some time to process the reality of her passing."
"There's still this horrendous sense of loss and emptiness thinking that she'll no longer be around," the source noted, adding that the brothers "console themselves with the fact she's at peace with their grandfather in heaven and watching over them and in their hearts forever."
"Harry looks sad about the day and one can imagine feels like a man between two worlds," Ludwig said. "He's given up a lot and his contemplative face is showing the pain for everything that has happened over the years. I don't think Harry ever anticipated that his actions would cause this type of lasting strife. If the queen was his anchor to the family, that, too, has been lost."
Article continues below advertisement