Ann Widdecombe Believes Prince Harry Is 'Very Damaging To The Royals': The Dad-Of-Two & Meghan Markle 'Are Privileged Beyond Belief'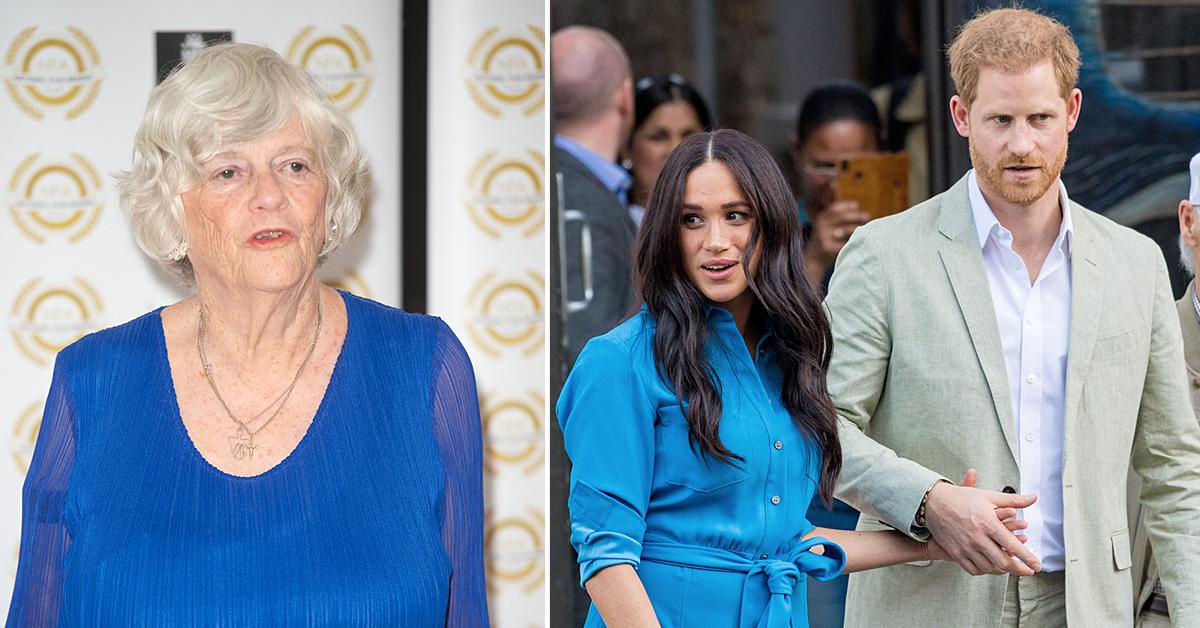 It's been a while since Prince Harry and Meghan Markle left the royal family, but people are still criticizing their every move. Recently, Ann Widdecombe was asked about her views on the couple, and she didn't hold back.
Article continues below advertisement
"On a more serious note, I think Harry is very damaging to the royals, he must be personally very hurtful to the Queen," she said. "And I think they should keep quiet, I mean they are privileged beyond belief and they moan that they were cut off financially. What a joke, $14 million California mansion, and it's just unbelievable. They are privileged, they are professional victims, they are professional whingers and having said that they wanted privacy they've done nothing except publicize every last detail of life."
Article continues below advertisement
This is hardly the first time the British politician has slammed the pair, who moved to California in 2020.
After the duo were nominated for an Emmy for their interview with Oprah Winfrey, she said: "I saw the interview with Harry and Meghan. The idea that it is non-fiction is a joke. The other stuff Bridgerton and The Crown, I do not watch it."
At the 2021 Emmy Awards, Meghan and Harry's tell-all was up against David Letterman's My Next Guest Needs No Introduction, United Shades of America W. Kamau Bell, VICE and Stanley Tucci: Searching for Italy, but Tucci took home the award.
Article continues below advertisement
Cedric the Entertainer, who hosted the awards show, also poked fun at the former actress and the red-headed prince.
"As great as The Crown is, it pales in comparison to the real monarchy," he began. "Ooooh, I mean that Oprah interview with Prince Harry and Megan. That was the real tea right there, wasn't it!?"
Article continues below advertisement
Article continues below advertisement
During the chat with Winfrey, Meghan and Harry got candid about being in the royal family and claimed that someone was "concerned" over Archie's skin color.
"The whole family is saddened to learn the full extent of how challenging the last few years have been for Harry and Meghan. The issues raised, particularly that of race, are concerning," Queen Elizabeth said in a statement. "While some recollections may vary, they are taken very seriously and will be addressed by the family privately. Harry, Meghan and Archie will always be much-loved family members."