All The Queen's Presidents Men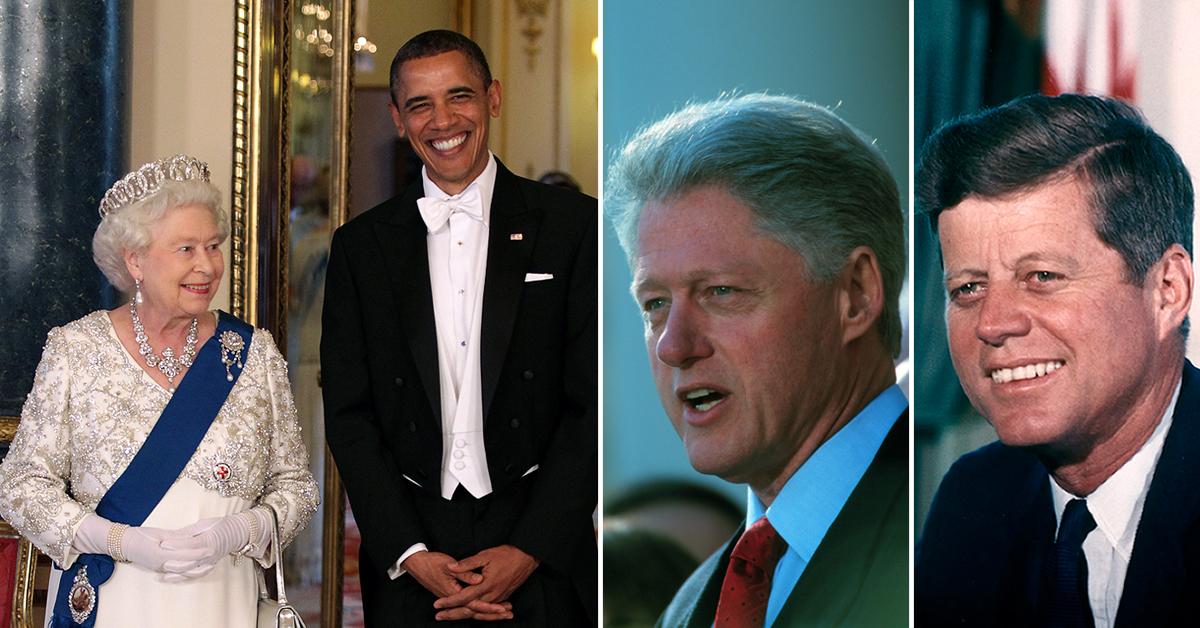 It's always been said that during her extraordinary 69-year reign the Queen has met every U.S. President except one — Lyndon Baines Johnson.
Bogged down in the Vietnam war and seismic domestic changes, LBJ didn't travel to Europe and no state visits were arranged.
But now I can reveal Her Majesty and the long tall Texan probably did meet after all!
Article continues below advertisement
Historian Nigel Fletcher has uncovered evidence that the pair met — albeit briefly — at a White House dinner in 1957.
Then Senate majority leader, Johnson was in a receiving line, a few places down from Vice President Richard Nixon, to greet Elizabeth II.
"A note in the Eisenhower library lists guests and it's likely there was a handshake," said Fletcher.
Harry S. Truman was the first serving President the then Princess Elizabeth met in 1951 on a visit to Washington.
During her first State visit as Queen she dined with Dwight D "Ike" Eisenhower in 1957 and later invited him onto the Royal Yacht Britannia and to stay at Balmoral in Scotland.
On that 1957 visit she also met Herbert Hoover, who left office in 1933 and died aged 90 in 1964.
John F. Kennedy and his wife Jackie dined with the Queen and Prince Philip at Buckingham Palace in 1961 and JFK later wrote to her saying: "We shall always cherish the memory of that evening."
But sadly, they never met again, as he was assassinated in 1963.
Article continues below advertisement
Pregnant with her fourth child Prince Edward, the Queen was unable to attend Kennedy's funeral, another occasion when she would have met LBJ.
The Queen lunched with Richard Nixon at Buckingham Palace in 1969, and the following year at Chequers, the country home of British Prime Ministers.
Famously, Nixon allegedly tried to pair his daughter Tricia off with Prince Charles when he visited the U.S. aged 21 in 1970, but he wasn't smitten.
In 1976, the Queen danced with Gerald Ford at a dinner for the U.S. Bicentennial celebrations.
Article continues below advertisement
And Jimmy Carter described Buckingham Palace as "one of the most beautiful places I have ever seen" when he was entertained there in 1977.
He got so carried away that he kissed the Queen Mother squarely on the lips.
Apparently mortified, she said later: "Nobody has done that since my husband died!"
Ronald Reagan and the Queen famously went riding together when he stayed at Windsor Castle in 1982, the first of three meetings in the U.K., and he also hosted a dinner in her honor in San Francisco in 1983.
Article continues below advertisement
In 1991, the Queen became the first British monarch to address a joint session of congress, but she also disappeared behind a podium on the White House lawn as George H.W. Bush looked on, not realizing the microphones were too high.
Bill Clinton attended D-Day 50th anniversary celebrations with the Queen in 1994 and said: "She knows a lot about the world and I always marvel at what a keen judge she is of human events."
And when George W. Bush fluffed his lines during a 2007 visit to the U.S. by the Queen, he said: "She responded with a look that only a mother can give a child."
Barack and Michelle Obama were great fans, so much so, that the First Lady put her arm around the Queen.
And Donald Trump was truly starstruck when he met the Queen on two visits to the U.K., hailing her as a "great great woman" during a Buckingham Palace dinner in 2019.
And so we come to the 46th President Joe Biden.
Despite his friendship with Prince Harry — wife Jill has been a keen supporter of Harry's Invictus Games for disabled servicemen and women — I can find no evidence the President has met the Queen.
As the only person in the world who has met every President of the last 70 years she will want to keep up her record — and with two visits to the U.K. scheduled for Biden this year, it's surely a matter of time!