Royal Wruffians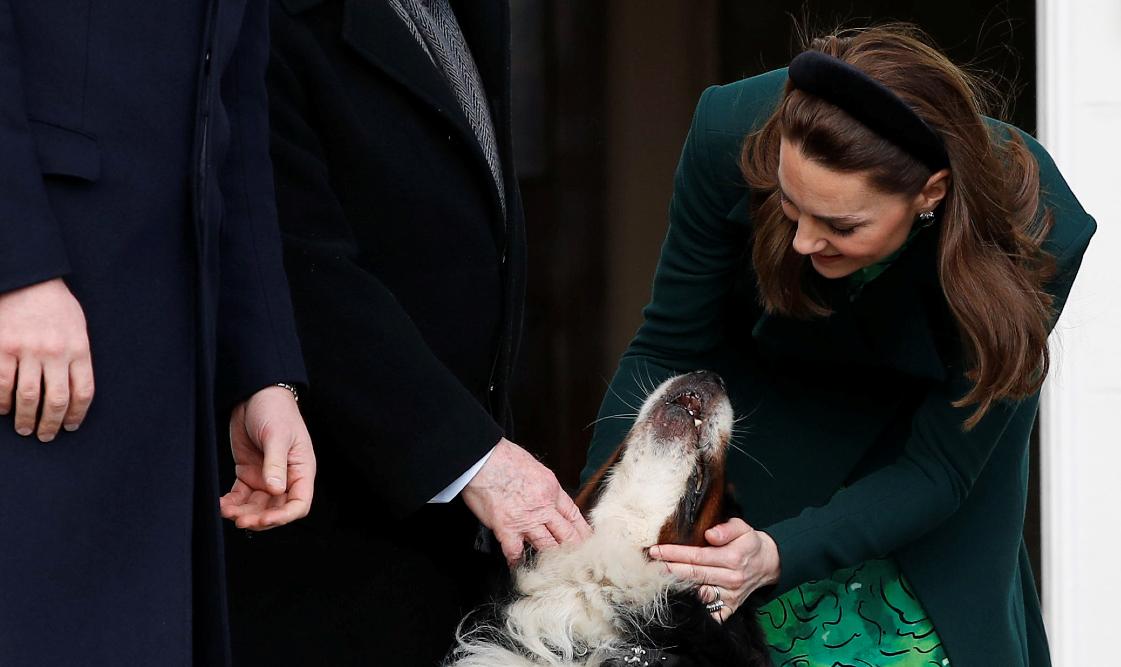 News that the Duke and Duchess of Cambridge have got a new puppy comes as no surprise.
One of the first things you learn as a royal reporter is that everyone in the Queen's family has a dog — and I mean EVERYONE!
William and Kate, as well as their three children, were said to be "devastated" when they recently lost their cocker spaniel Lupo.
"He has been at the heart of our family for the past nine years and we will all miss him so much" they posted in a message, receiving 300,000 sympathy replies within an hour!
Article continues below advertisement
But now George, 7, Charlotte, 5, and Louis, 2, have a new companion after Kate's brother, James Middleton, bred a litter of six puppies from Lupo's sister Luna.
We haven't been told a name yet, but before handing over the pooch James and his French fiancée, Alizee Thenet, posed up with the litter and their other dogs.
Royal hounds go back to the days of Henry VIII when they were hunters but domestic dogs began in earnest with Queen Victoria and Prince Albert, who kept greyhounds and a favourite dachshund shipped over from Germany called Waldman VI.
Today's Queen is famous for her corgis of course, but the 94 year-old monarch is now down to one dog and that's a cross between a corgi and a dachshund called Candy.
Article continues below advertisement
She stopped breeding them two years ago because she didn't want to leave dogs without an owner if she died and also was worried about tripping over them.
But in the past, there were some extraordinary canine capers to report on.
As far as Her Majesty was concerned, her pets could do no wrong, but servants were often the victims of bites and barking attacks.
In 1999, one footman got so fed up with a corgi he spiked its food and drink with gin and whisky and laughed as it staggered about.
When the Queen found out she was not happy — but stopped short of sacking the servant who was demoted.
In 1989, one of the Queen's favourites Chipper was savaged to death by a pack led by the Queen Mother's dog Ranger.
Animal psychologist Dr. Roger Mugford was called in and diagnosed the problem — the two Queens had too many dogs between them and they were fighting for supremacy.
But nothing could compare to the events of Christmas 2003 at Sandringham — the Queen's home in rural Norfolk.
When her daughter, Princess Anne, arrived with her English bull terriers Dotty and Florence, six corgis raced down the stairs to greet them like excited kids.
Their barks set Anne's dogs off and soon the Queen's oldest corgi, Pharos, was lying in a pool of blood, with its hind legs broken.
The dog was put down the next day, but as the blame game between Dotty and Florence started, worse was to come.
Article continues below advertisement
Five days later a long-serving housemaid named Ruby Brooker was cleaning the sitting room when Florence bit her leg, drawing more blood.
Despite profuse apologies from the Queen and Anne, Ruby quit her job after 18 years.
The next year servants had taken to entering Anne's rooms in packs of four, with tea trays to protect them like Roman soldiers, and in 2005, Dotty and Florence had been banished to the car.
But despite the punch-ups, the dogs will always be part of the family.
As one aide put it: "The Queen prefers dogs to humans — for one thing they don't talk so much!"