Queen Elizabeth II To Make TV Appearance The Same Day As Meghan Markle & Prince Harry's Tell-All Interview With Oprah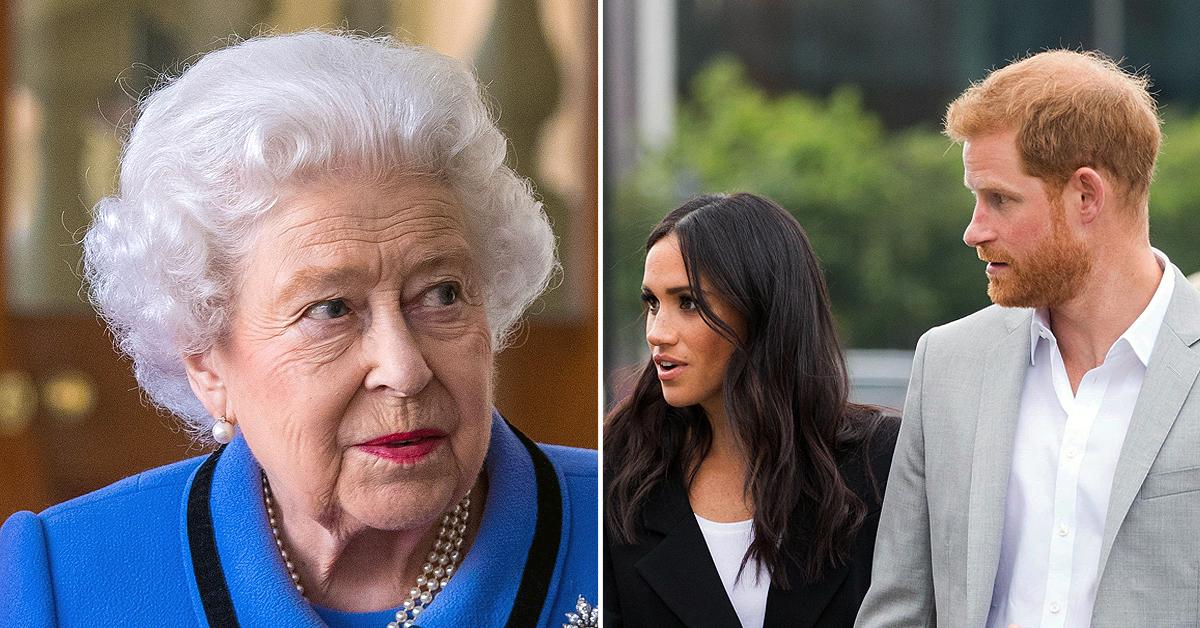 Just one big coincidence? Queen Elizabeth II will speak on television on Sunday, March 7 — the same day Prince Harry and Meghan Markle will sit down with Oprah Winfrey to discuss what their life away from the royal family is like.
Article continues below advertisement
In honor of Commonwealth Day, the 94-year-old will share a message in a pre-recorded speech, which will air on BBC One, the Daily Mail reported on Monday, February 22. The Queen was supposed to attend the Commonwealth Service on March 8, but it was canceled for the first time due to the ongoing coronavirus pandemic.
Prince Charles, Camilla, the Duchess of Cornwall, Prince William, Kate Middleton and more royals will supposedly appear in the special.
Article continues below advertisement
"The decision was taken jointly by the Abbey, the BBC and the royal household about three weeks ago," a Westminster Abbey spokesperson said.
Last week, Harry, 36, and Meghan, 39, announced they were stepping away from the royal family for good.
"The duke and duchess have confirmed to Her Majesty The Queen that they will not be returning as working members of the royal family," Buckingham Palace said in a statement on Friday, February 19.
"Following conversations with the duke, the queen has written confirming that in stepping away from the work of the royal family it is not possible to continue with the responsibilities and duties that come with a life of public service," the statement continued. "The honorary military appointments and royal patronages held by the duke and duchess will therefore be returned to Her Majesty before being redistributed among working members of the royal family."
Article continues below advertisement
Now, the pair — who are expecting baby No. 2 later this year — might be able to speak freely when they talk with Winfrey during their 90-minute chat.
"Winfrey will speak with Meghan, The Duchess of Sussex, in a wide-ranging interview, covering everything from stepping into life as a Royal, marriage, motherhood, philanthropic work to how she is handling life under intense public pressure," CBS said in a statement.
Meghan and Harry want to "tell their side of the story," royal expert Katie Nicholl previously said. "Up until now, we've heard versions of their story through the voices and re-telling of other people. This is their first opportunity to sit down and talk about the past year in their own words."
However, the Palace is reportedly "nervous" about what the two will spill.
"One only has to look at the previous installments of the tell-all interview to know these things never end up with a wholly positive experience for any party," one source told the Mirror. "Everyone will be watching with intense interest."