'Like Mother, Like Daughter': Princess Charlotte Adorably Twirls Her Hair Like Kate Middleton — Watch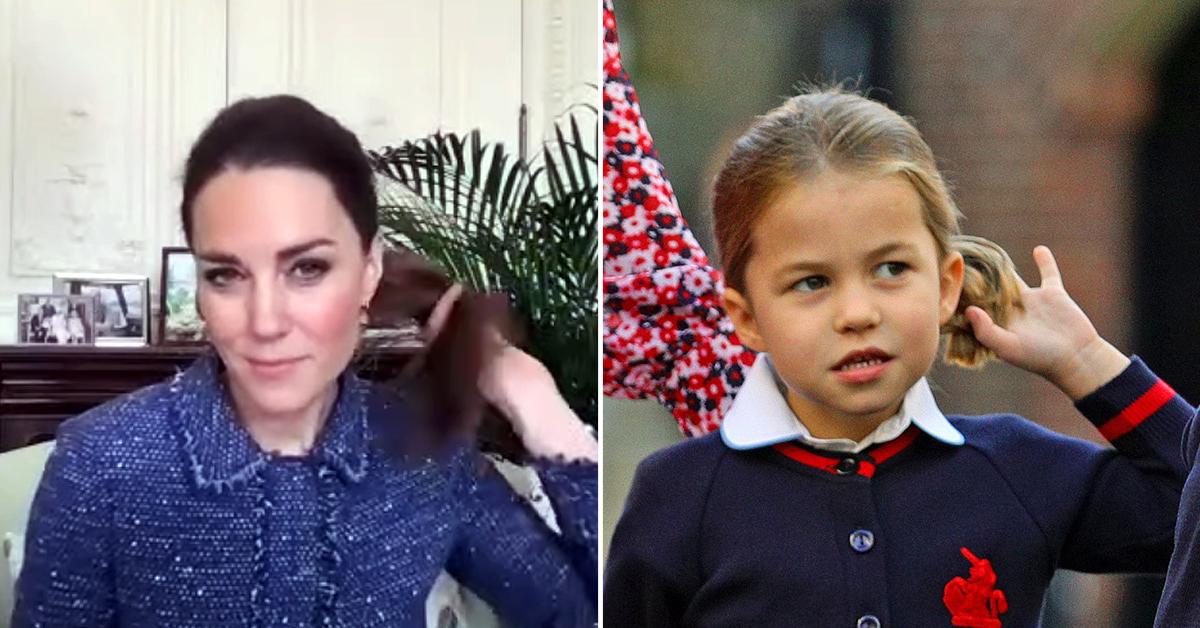 Seeing double! Princess Charlotte has picked up an adorable habit from her mom, Kate Middleton.
During a video call last week, the Duchess of Cambridge, 39, was seen twirling her ponytail while she spoke with teachers from the Ribbon Academy.
Article continues below advertisement
Fans immediately noticed that Princess Charlotte, 5, also did the same thing while walking to her first day of school in September 2019. As Charlotte was en route to school — alongside her parents and big brother Prince George — she tousled her tresses.
Instagram account @dofcambridge captured the cute moment in side-by-side clips. "Like mother like daughter, hair goals 💕 #duchessofcambridge #princesscharlotte," they captioned the video.
Article continues below advertisement
Of course, people couldn't help but gush over the similarities. One person wrote, "Lovely girls," while another echoed, "So cute." A third user added, "We love this moment!"
Ever since the pandemic wreaked havoc on the globe, Kate got candid about staying at home with their three kids. "As parents, we have day-to-day elements of being a parent, but, I suppose, during lockdown we've had to take on additional roles that others in our community and lives would have helped us with," she revealed in January.
Article continues below advertisement
"I have become a hairdresser in lockdown – much to my children's horror!" she quipped.
Previously, the mom-of-three discussed what her children had been up to during quarantine. "The children have got such stamina," she shared. "You pitch a tent, take the tent down again, cook, bake. You get to the end of the day — they've had a lovely time, but it's amazing how much you can cram into a day, that's for sure."
Kate also said that her children are connecting with their friends and family via video chat — just like everyone else!
"In some ways, I suppose we've got a lot more contact, a lot more FaceTime than perhaps you would have done before, but it really is difficult. It's hard to explain for a 5- and a 6-, nearly 7-year-old what's going on, but the schools have been great in supporting them as well," she explained.