'They've Seen Archie Running Around': Prince Harry Reveals Grandparents Queen Elizabeth & Prince Philip 'Do Zoom' — Watch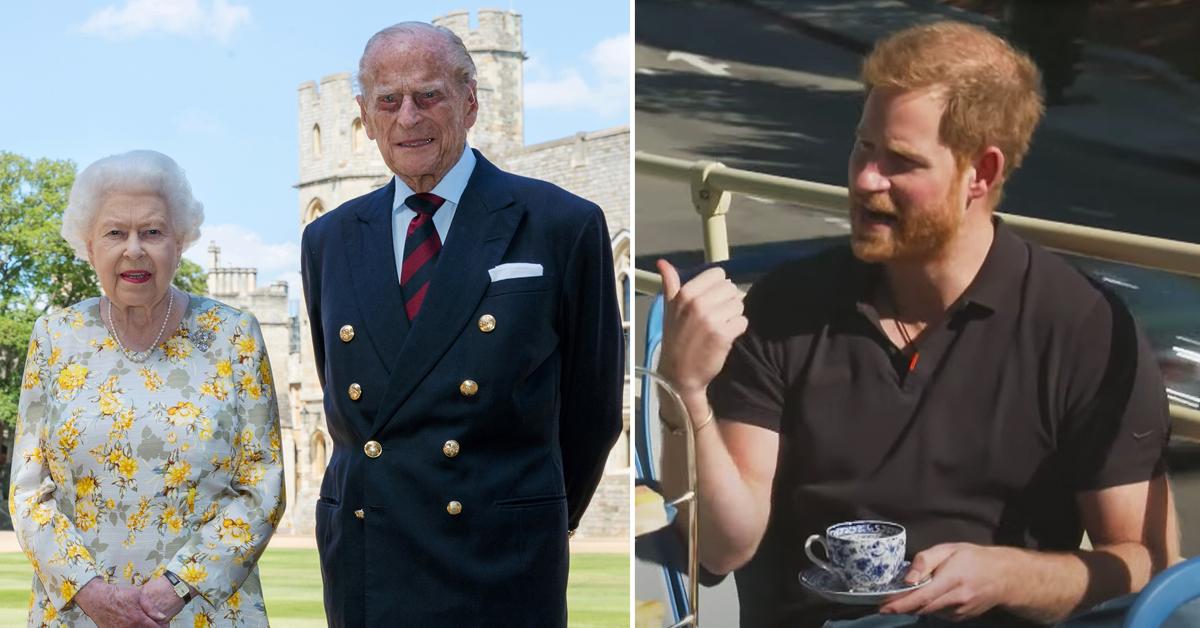 They're in the know! Prince Harry revealed that he keeps in touch with his grandparents, Queen Elizabeth II and Prince Philip, via video chat.
"Both my grandparents do zoom," the 36-year-old told James Corden during the Thursday, February 25, episode of The Late Late Show. "They've seen Archie running around."
Article continues below advertisement
However, Philip, 99 — who is currently in the hospital fighting an infection — isn't the best at hopping off the call. "My grandfather instead of pressing 'leave meeting' he just goes 'doof,'" he said while showing how his grandfather closes his laptop. "So, we're like, 'OK, bye.'"
Later on, Harry mentioned that the Queen, 94, gave him and his wife, Meghan Markle, an interesting Christmas present.
"My grandmother asked us what Archie wanted for Christmas and Meg said a waffle maker. She sent us a waffle maker for Archie. So breakfast now, Meg makes up a beautiful organic mix in the waffle maker," he explained of the new gift.
Harry added, "Bit of yogurt, bit of jam on top. I don't know if that's the right thing to do. Bit of berries, maybe honey."
Article continues below advertisement
Just last year, the couple revealed they were taking time away from the royal family. However, the red-headed prince explained the reasoning behind his decision.
"It was never walking away, it was stepping back rather than stepping down," he told the host.
Article continues below advertisement
"It was a really difficult environment as I think a lot of people saw. We all know what the British press can be like. It was destroying my mental health," he added. "This is toxic, so I did what any husband and what any father would do, which is I need to get my family out of here, but we never walked away."
Despite being far away from his family, the Queen won't get to see the pair's second child as much going forward.
"The family will be over the moon for Harry and Meghan," royal expert Katie Nicholl said. "It will be a real moment to celebrate. It's just tinged with sadness that they won't get to see this grandchild as much as they might like."