A Royal Snub! Prince Harry & Meghan Markle's Pregnancy Reveal Once Again Steals The Spotlight From New Mom Princess Eugenie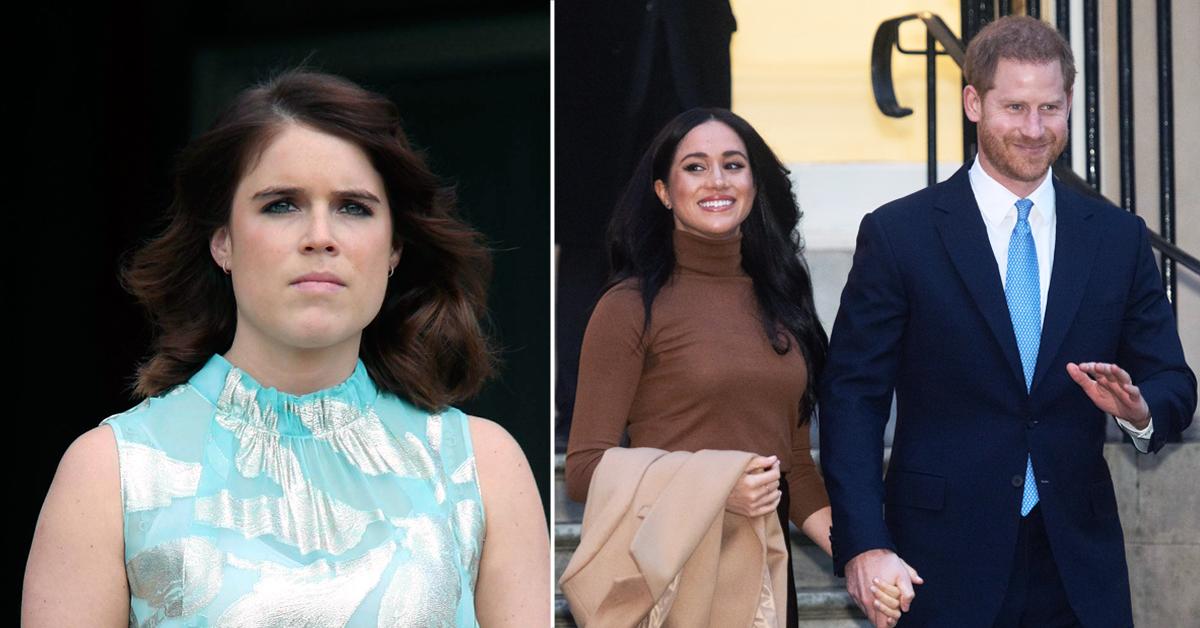 Are Prince Harry and Meghan Markle purposely trying to steal Princess Eugenie's thunder? On February 14, the couple announced they were expecting their second child together; and though some fans found the news to be a sweet way to celebrate Valentine's Day, others thought the timing was off, since Eugenie and her husband, Jack Brooksbank, had welcomed their first child together, a boy, just a few days prior.
Article continues below advertisement
"They had to announce it when Eugenie just gave birth. It looks like something against her. They did the same at her wedding," one
social media user noted of the baby news, while another expressed, "It's Eugenie's first baby so yes another week would of been nice. But NO! Meghan had to make the announcement now..."
As fans pointed out, this isn't the first time that the duo's news overshadowed Eugenie: they revealed to friends and family that they were expecting their first child during Eugenie's 2018 wedding.
Article continues below advertisement
"It did not go down particularly well with Eugenie, who, a source said, told friends she felt the couple should have waited to share the news," reporters Omid Scobie and Carolyn Durand shared in their biography, Finding Freedom.
According to reports, the couple chose to tell their inner circle their exciting news while at the nuptials because they were then heading off to Australia. The official baby announcement came four days later.
One source claimed that the move upset Eugenie so much that she "disappeared" from her own wedding reception for a period of time, and her mom, Duchess of York Sarah Ferguson, didn't handle it very well.
"Meghan put her foot in it when she decided that [Eugenie's wedding day] would be the ideal moment to announce that she and Harry were expecting their first child," stated Royals at War authors Dylan Howard and Andy Tillett. "This was a huge social gaffe, even if you were not a royal — stealing the limelight from Eugenie, who was furious, as was her mother, Sarah."
Article continues below advertisement
However, some fans pointed out that the timing of Meghan's second pregnancy actually has a special meaning, as Princess Diana announced she was pregnant with Harry on February 13 in 1984.
In their black-and-white announcement photo, Meghan is laying down on the grass, with her head in Harry's lap while cradling her bump. "We can confirm that Archie is going to be a big brother," a spokesperson announced on February 14. "The Duke and Duchess of Sussex are overjoyed to be expecting their second child."