Prince Carl Philip & Princess Sofia's Youngest Son Prince Julian Of Sweden Is Too Cute In New Christening Portraits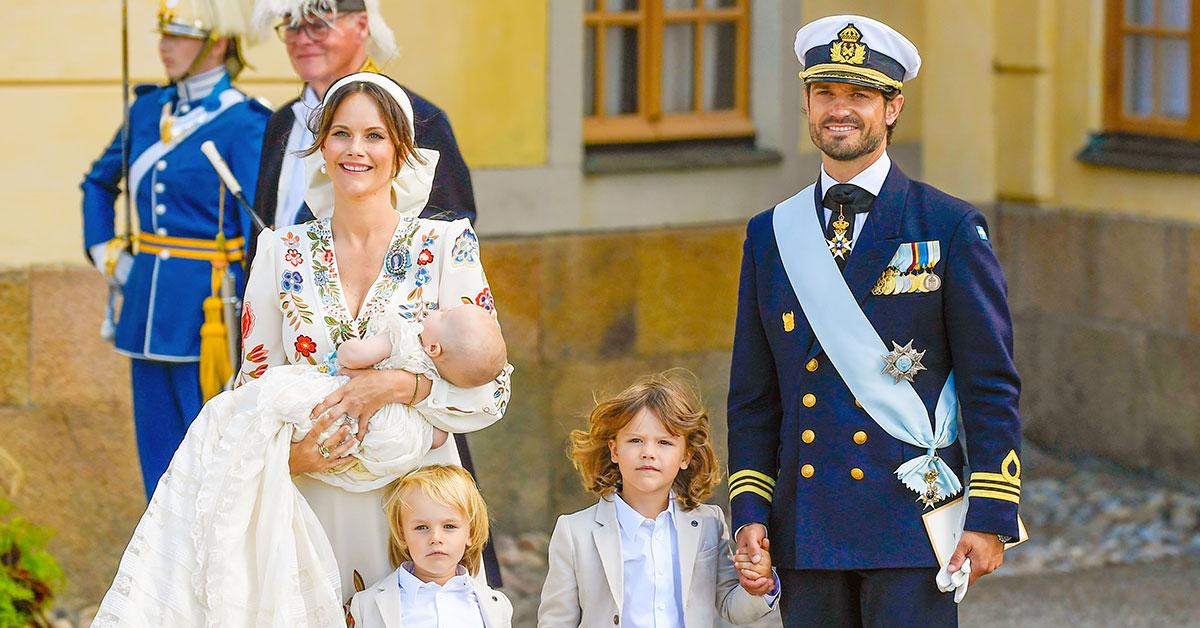 So smiley! Princess Sofia and Prince Carl Philip's youngest son, Prince Julian of Sweden, looked adorable in his new christening portraits, which were posted on Instagram on Wednesday, August 18.
Article continues below advertisement
"Official photographs from Saturday's baptism of Prince Julian," the caption read alongside a photo of the pair and their three kids — Prince Julian, Prince Alexander, 5, and Prince Gabriel, 3. "The first picture shows the newly baptized Prince together with his family and his [godparents] Jacob Högfeldt, Frida Vesterberg, Patrick Sommerlath and Stina and Johan Andersson. In the second picture, Prince Julian is surrounded by his parents, brothers, the royal couple and Erik and Marie Hellqvist."
Of course, people loved seeing the family together. One person wrote, "Great photos! 💙," while another added, "The portraits look amazing!! 😍😍."
A third user added, "Stunning portraits ♥️🤍😍."
Article continues below advertisement
Last weekend, the family got together to celebrate the milestone event. Prince Julian's grandparents, King Carl Gustaf and Queen Silvia, were in attendance, as well as Princess Madeleine, Prince Daniel, Princess Estelle, Princess Victoria and Prince Oscar.
On August 14, Princess Sofia and Prince Carl gushed about the event. "Earlier today, Prince Julian, Duke of Halland, was baptized in Drottningholm's castle church," they captioned the photo. "Officers at the baptism were the Supreme Court preacher Bishop Johan Dalman and Michael Bjerkhagen. The prince's [godparents] are Mr. Johan Andersson, Mrs. Stina Andersson, Mr. Jacob Högfeldt, Mr. Patrick Sommerlath and Miss. Frida Vesterberg. During the baptismal service, the assembled guests sang hymns 289 ('God's love is like the beach and the grass') and 201 ('Summer hymn'). Music was also performed by, among others, Lilla Akademien."
"At the Council of State, HM The King informed the Government that the Prince/Princess, who is seventh in line to the Throne, will be named Julian Herbert Folke and known as Prince Julian," a statement from the Swedish Royal Court said. "Prince Julian has been granted the Duchy of Halland. In accordance with His Majesty The King's decision of 7 October 2019 regarding changes in The Royal House, Prince Julian is a member of the Royal Family but not of The Royal House. The Prince will therefore not enjoy the style of Royal Highness."