Kate Middleton Adorably Calls Prince Charles 'Grandpa' As She Greets Him At G7 Event — Watch
Too cute! Kate Middleton had a special greeting for Prince William's father, Prince Charles, when she saw him at the G7 reception at the Eden Project in Cornwall on Friday, June 11.
Article continues below advertisement
According to CornwallLive's lip reader, the mom-of-three said, "Hello, Grandpa! How are you?"
Kate, William, Charles, Camilla, Duchess of Cornwall and Queen Elizabeth all attended the event. In the clip, the 95-year-old is seen talking to U.K. Prime Minister Boris Johnson.
Article continues below advertisement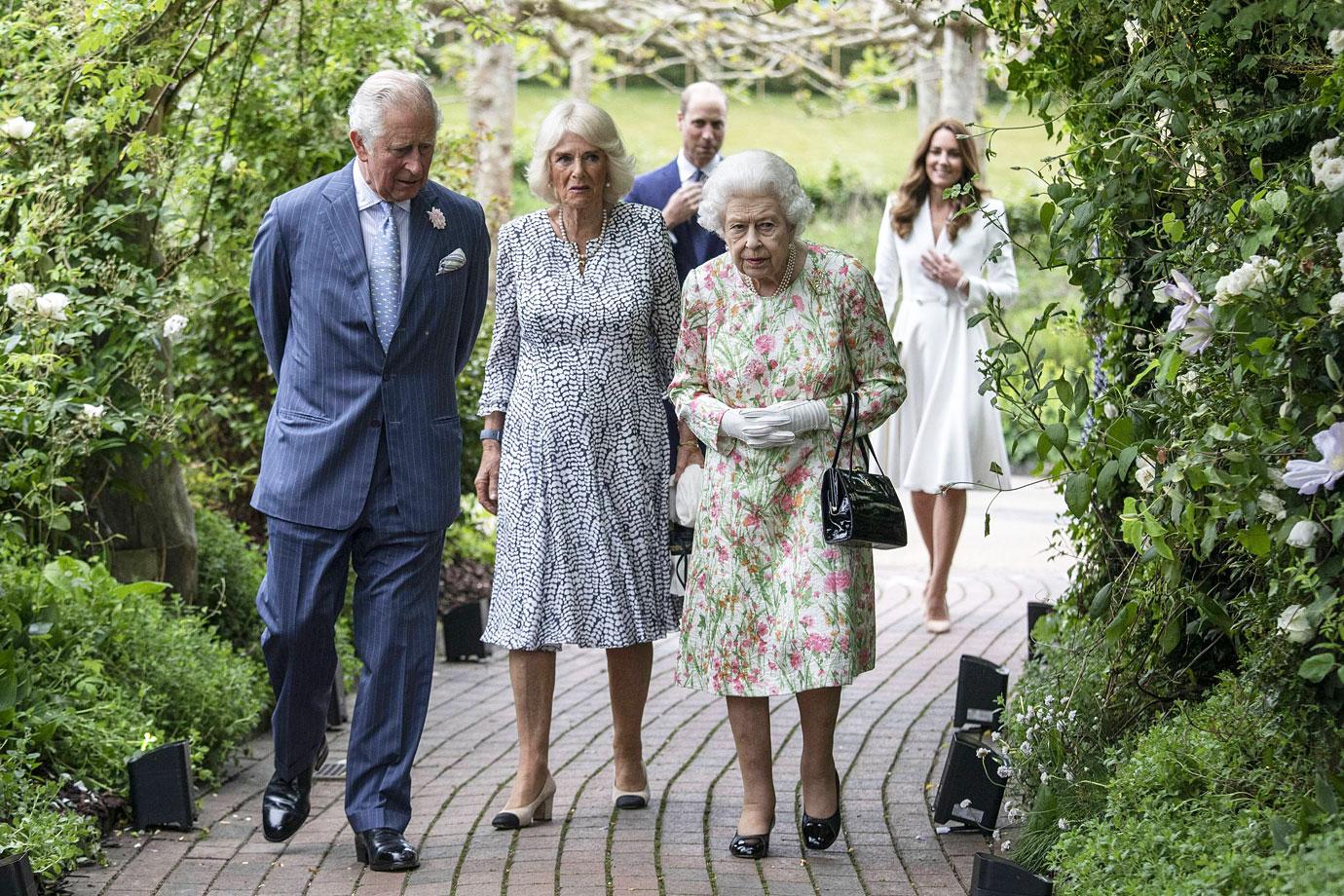 Article continues below advertisement
Prince Charles loves to spend time with William and Kate's three children — Prince George, Princess Charlotte and Prince Louis — and recently, he gushed over Prince Harry and Meghan Markle's newborn daughter, Lilibet Diana, not too long after she was born.
"The development of technology like electric vehicles … is vital for maintaining the health of our world for future generations, something I am only too aware of today, having recently become a grandfather for the fifth time," he said while visiting the BMW Mini factory in Oxford, U.K.
Article continues below advertisement
"Such happy news really does remind one of the necessity of continued innovation in this area — especially around sustainable battery technology — in view of the legacy we bequeath to our grandchildren," he added.
Article continues below advertisement
Meanwhile, Kate was asked about the new addition to the royal family during a June 11 press conference. "I wish her all the very best," she said about Lili. "I can't wait to meet her. We haven't met her yet. I hope that will be soon."
There has been some tension between Harry and his brood in the past few months, as he aired out his dirty laundry in several interviews.
Article continues below advertisement
However, it seems like things might be getting better. "Meghan is now resting at home and she and Harry have already introduced the Queen to her great granddaughter via Zoom," an insider exclusively told The Royal Observer. "Since the couple moved to L.A., the Queen has become very familiar with Zoom. She talks to Harry, Meghan and Archie via technology, and now she is using it to meet her granddaughter. She is a very modern grandmother."
"This is the beginning of a new chapter within the family that will hopefully heal old wounds. Finally, there is hope that the family can reunite," adds the insider. "No one knew it at the time, but when Archie was born, Harry and Meghan were so angry with the family that they wanted nothing to do with them moving forward. That is why they broke all traditions and went with a totally new royal name. Now things have changed and they both very much want their daughter to be part of the family, which is why they chose the name Lilibet, the Queen's childhood nickname."